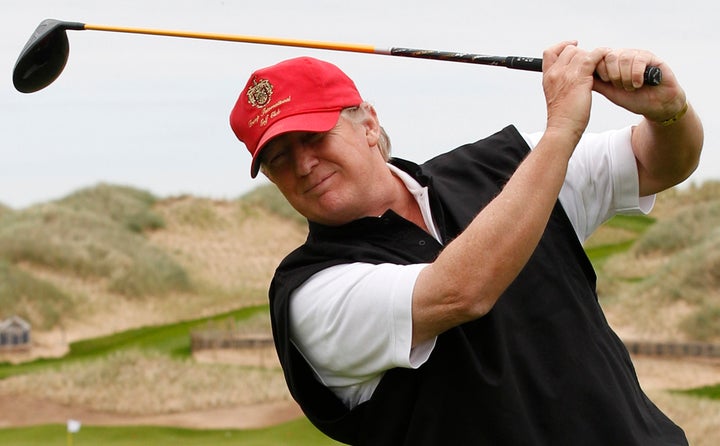 For Oscar De La Hoya, one's conduct on the golf course is indicative of his or her character off the links. And, unfortunately for the GOP, the fairway isn't a flattering mirror for presumptive presidential nominee Donald J. Trump.
Speaking in Las Vegas, the former boxing champion relayed a story from 2014, when he and his friends were about to tee off at Trump's Los Angeles-based National Golf Club. Trump apparently approached the group and asked if he could join, to which they agreed. Trump then picked up a club, squared his shoulders and promptly began to cheat his way through the course, leaving De La Hoya and partners surprised and amused behind him.
According to De La Hoya, Trump's first shot landed in the water. The next went out of play. The third sliced back into the water. And the fourth was lost to the surrounding bushes.
But the next thing the group knew, Trump was standing over a ball in prime location.
"Donald, what he does is he tees off first so we go off to our balls, and what do we see but Donald Trump right in the middle of the fairway," De La Hoya explained. "He said, 'Hey, look, I found my first ball.'"
"We're like, 'OK, yeah.' We're cracking up, [but] not in front of his face," he said.
And on the game went. On the next hole, history seemed to repeat itself, as a ball that Trump hit into the bushes showed up right in the heart of the course, just about three feet from the hole.
"'And by the way, I'm picking it up,'" De La Hoya remembered The Donald declaring. "'It's a gimme.'"
It's not the first -- or the second, or the third -- time someone's accused Trump of lying his way down the fairway. But two years after they teed off, De La Hoya no longer seems to be laughing about the incident.
For De La Hoya, in the wake of the ugly, volatile Republican primary season we just witnessed, a man who would cheat on his own course is surely a man whose presidential caliber and qualifications we should question.
"[His course conduct] shows something about his character," he said. "Golf is a gentleman's sport. You don't lie about your score, you don't lie about moving your ball."
"It goes to show what we're dealing with," he said.
Here's What The 10 Leading GOP Candidates Think Of Climate Change
Popular in the Community