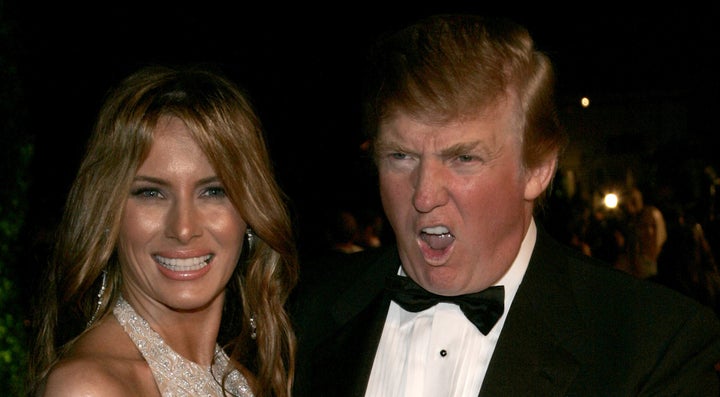 The annual Vanity Fair Oscars party is perennially a destination for the A-listers of Hollywood in any given year, and 2005 was no exception.
Tom Cruise entered the venue ― the since-closed restaurant Mortons ― through a back entrance after riding over on his black Ducati motorcycle. Beyoncé and Jay Z hung out at a back table with Usher, Gwen Stefani and Mary J. Blige. Tom Brady apparently was the only one wearing a white tie at the party, but GQ remarked he was "proportioned like the Oscar statuette." Jake Gyllenhaal (with a shaved head presumably for "Jarhead") made conversation near a wall as his sister, Maggie, posed for a photograph a few feet away.
"Everybody you can read about in every single gossip rag is in there!" Destiny Child's Kelly Rowland told People outside the party. And perhaps surprisingly, many of these "gossip rag" stars from Vanity Fair's party in 2005 are just as relevant now, if not more so.
This is no more true than with Donald Trump, who attended the party with his new wife, Melania. Given their recent wedding and the early success of "The Apprentice," Trump's incredible fame at this time was arguably at its most innocent. In 2005, he had graduated from being little-more than a blowhard personality in the New York City real estate scene and had not yet developed into a voice for the political far right.
But given multiple accounts of Trump's behavior at the party, his now infamously known traits in the genre of self-aggrandizement were still seemingly on full display. And of course, Trump's comically gaudy love for gold played a part in this story.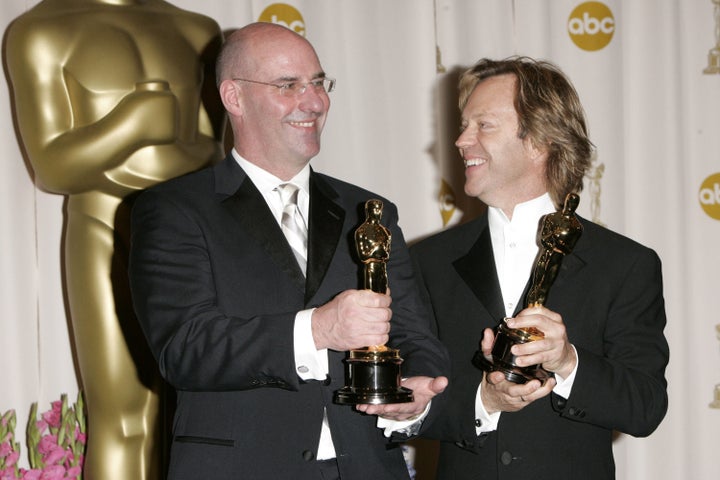 At the ceremony before the Vanity Fair party that year, Robert Hudson and Bobby Houston won the Documentary (Short Subject) Oscar for their movie, "Mighty Times: The Children's March." Natalie Portman presented the award to the then romantic and business partners.
"Bob and I live together and we work together," said Hudson during the acceptance speech. "If you're watching this on TV, don't try that at home. He directs, I produce." They kissed on stage.
Later in the night, the duo made their way to Mortons with their statues. Speaking to The Huffington Post over email, Houston recalled mingling around celebrities such as Jake Gyllenhaal and Cate Blanchett.
And then, as Houston described, Trump "commandeered" Hudson's Oscar.
Trump grabbed Hudson's Oscar and made off with it.

Oscar winner Bobby Houston
A Ventura County Star story about the two from the time described that Trump tried to "abscond" with the Oscar as the current president "paraded [the statue] around and acted like he didn't want to give [it] back."
"He asked to hold my Oscar at a Vanity Fair party," Hudson told HuffPost over a Facebook message. "I handed it to him. He said, 'Wow, it's heavy.' I chuckled. 'Why [are you] laughing?' he said. 'Ha, I have something you'll never be able to buy.'"
Hudson stated this as a "bonding moment" and described the conversation more fully, "I'll admit it was a guy thing, a little bit of a friendly peeing contest."
But after that, Trump wandered off with the statue.
"Trump grabbed Hudson's Oscar and made off with it," recalled Houston. "Hudson told me, 'Donald Trump just stole my Oscar!'" By Houston's account, Trump didn't do the common play-acting move of hefting the statue up briefly and then giving it back― he just took it.
"I think Hudson thought it was funny ― I thought it was tacky," said Houston. "Hudson had to go find him to retrieve it."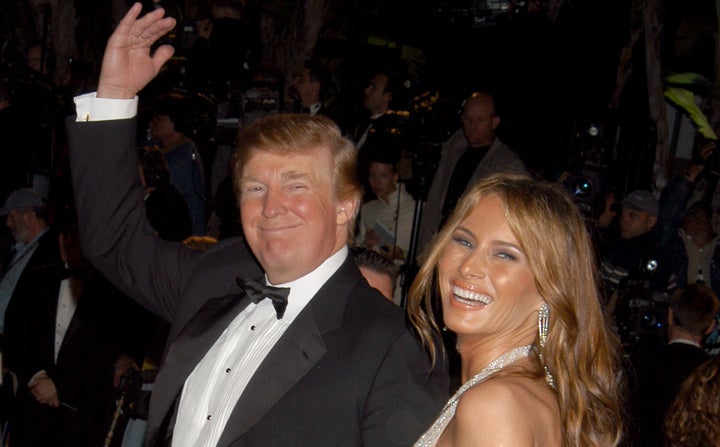 For unclear reasons, both former partners sought to cast doubt on the other's credibility. Although Houston and Hudson agreed on the basics that Trump took the statue and began showing it to other members of the party, it's debatable whether this was a party foul or not.
Hudson defended Trump's actions from Houston's account with the response, "Holding an Oscar is like ... well, it's a feeling of elation." Hudson continued. "There [are] many things in life people should do, but one is to walk into a room holding an Oscar. Donald turned around to show his family."
Trump made the rounds and told a Washington Post party reporter, with a beaming smile, that marrying Melania was the "best thing [that] ever happened to me."
When asked about the actual Oscars ceremony by Variety, Trump criticized elements of the show for seeming "forced."
In the original Ventura County Star story from 2005 that highlighted the Trump moment with the Oscar, Houston got in a pretty good joke about the reality TV star. The Star summarized Houston's statement about the whole incident as, "that it's probably the closest Trump will ever come to getting one of the golden statues."
That, to me, would deserve an asterisk, and you don't strike me as an asterisk kind of guy.

Chicago Tribune reporter Mark Caro, speaking to Trump at the party
At some point in the night, Trump asked The Chicago Tribune, "Should I make my building taller than the Sears Tower?" The party reporter told him that if he were to do that, the actual building should be bigger, rather than just the spire. "That, to me, would deserve an asterisk, and you don't strike me as an asterisk kind of guy," said the Tribune reporter, Mark Caro. "You're right," responded Trump, who then moved along.
Vanity Fair apparently provided around 1,000 lollipops with Hollywood's "most famous faces" from the time at this party, according to People. In perhaps an obvious and intended metaphor, the Los Angeles elite swallowed up and consumed many of these faces by the end of the night. The restaurant that housed everyone also couldn't find a way to survive. But more than a decade later, a man known for his determination to get whatever he wants still refuses to leave.
Hit Backspace for a regular dose of pop culture nostalgia.
REAL LIFE. REAL NEWS. REAL VOICES.
Help us tell more of the stories that matter from voices that too often remain unheard.
BEFORE YOU GO