In January, Meryl Streep's pro-immigration speech became the most memorable moment from the Golden Globes. Later in the year, many Grammys performers and attendees spent that night creating musical moments of resistance. It was clear: The 89th Academy Awards were simply going to get political.
The ceremony quickly became political as messages of opposition began surfacing during the first minutes of the red carpet.
Here are a few notable moments.
Many celebrities wore blue ribbons to the event in support of the ACLU.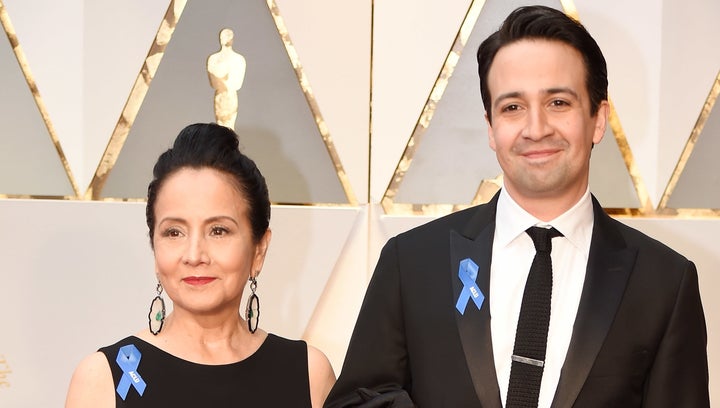 On the red carpet, a Syrian refugee featured in a nominated short film advocated for help.
Famous chef Wolfgang Puck spoke about the official Oscar after-party meal he made for the guests and used it as an opportunity to comment on Trump.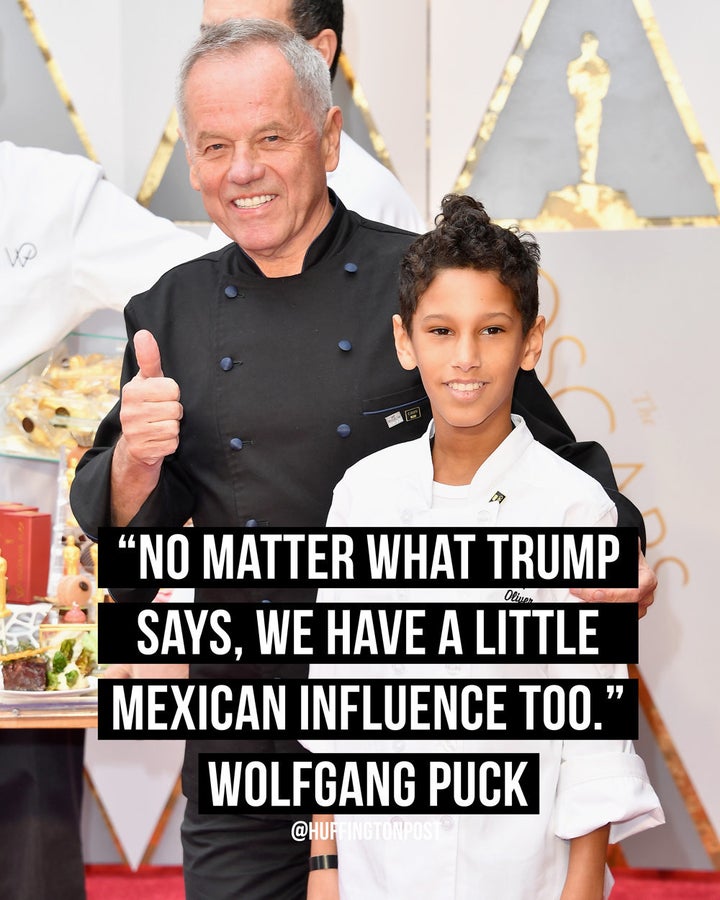 Jimmy Kimmel spent much of his monologue making Trump jokes.
Kimmel said that besides airing in the U.S., the Oscars were also airing in 225 countries "that now hate us."
He said the Oscars weren't like Homeland Security and that Hollywood doesn't discriminate. (Instead, he continued, "We discriminate against them based on their age and weight.")
He repeatedly went after the "over-rated" Meryl Streep, much like how Trump attacked the actress on Twitter after her Golden Globes speech.
This moment from Kimmel's monologue was also notable:
There are millions and millions watching right now, and if every one of you took a minute to reach out to one person you disagree with ... and have a positive, considerate conversation — not as liberals or conservatives, but as Americans. If we would all do that, we would make America great again. We really could. It starts with us.
Kimmel went on to make jokes about Trump throughout the whole night.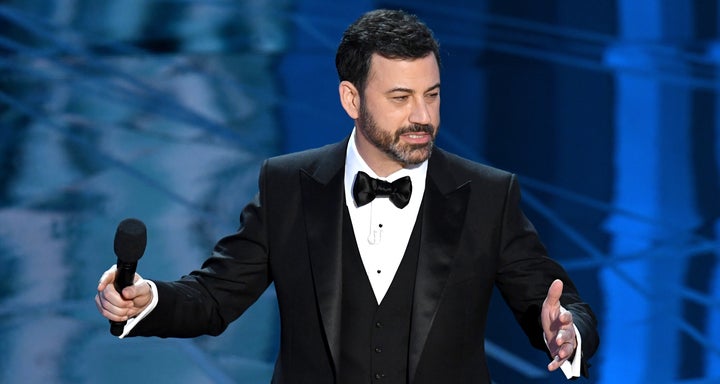 The comedian made a joke about Trump likely tweeting about the ceremony in all caps during the middle of the night while using the bathroom.
He called out Trump for his attack on the media with an extended satirical rant on fake news, as he said, "We have no tolerance for fake news ... fake tans, we love."
When introducing the president of the Academy, Cheryl Boone Isaacs, Kimmel made sure to distinguish her as "a president who believes in both arts and sciences." While onstage, Isaacs further said, "Tonight is proof that art has no borders, no single language and does not belong to a single faith."
When introducing Best Supporting Actress, Mark Rylance said that opposition is "really good in society," but "opposition without hatred" is important.
He also claimed that opposition is "something women seem to be better at than men, opposing without hatred."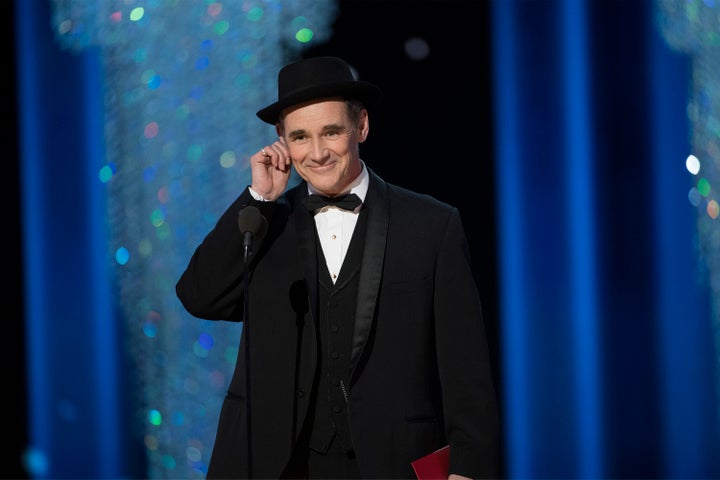 Director Asghar Farhadi boycotted the ceremony because of Trump's travel ban. He ended up winning Best Foreign Language Film for "The Salesman." A surrogate presented his speech, in which he called the travel ban an "inhumane law."
While onstage to introduce Sting's performance, Dev Patel also referenced Trump's attack on the media, explaining that this is "a time when journalists around the world are under attack."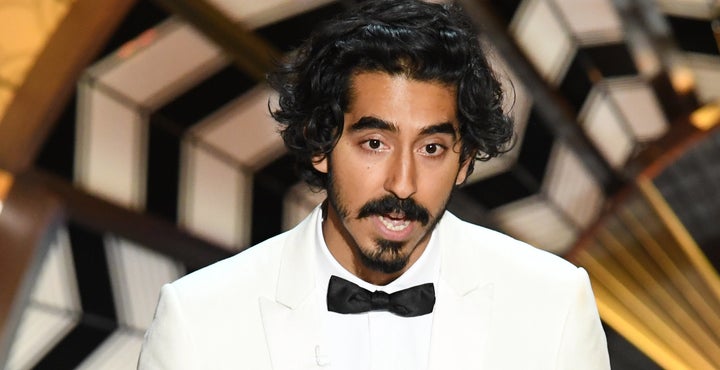 "I'm against any form of wall that wants to separate us," he said.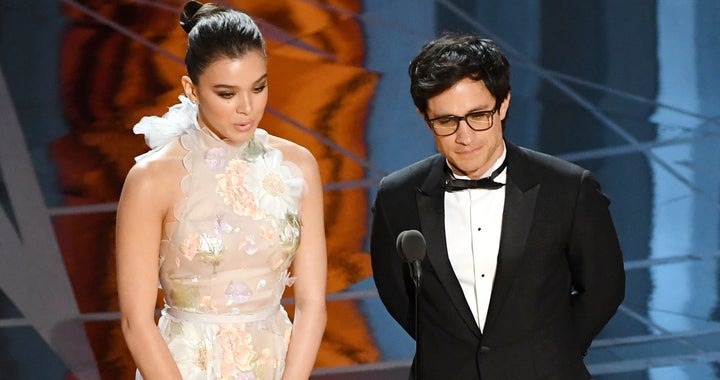 The Mexican actor spoke in length:
Flesh and blood actors are migrant workers; we travel all over the world, we build families, we construct stories, we build life that cannot be divided. As a Mexican, as a Latin American, as a migrant worker, as a human being, I'm against any form of wall that wants to separate us.
Kimmel memorably tweeted at Trump during the ceremony and told the audience, "I'm starting to get worried about him. He hasn't tweeted at us once."
He also tried to make #merylsayshi become a thing.
John Cho and Leslie Mann spoke about the Academy Sci-Tech Awards. Cho joked about barring the press from attending.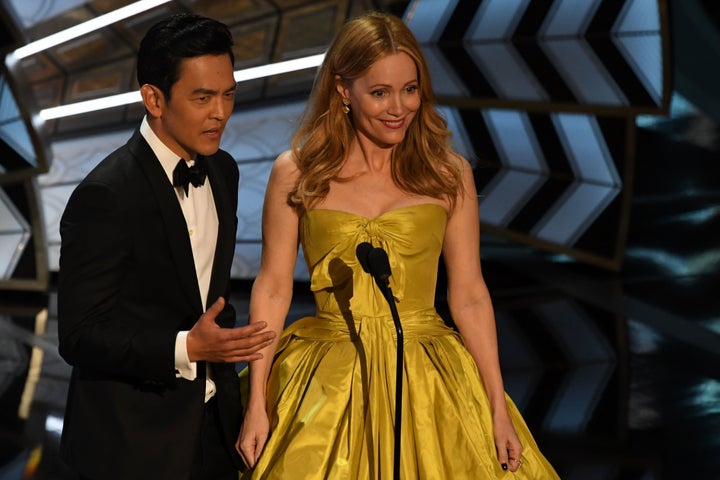 And although it was small, Streep appeared to make a very short, but important follow-up comment to her Golden Globes speech.
Speaking about the greatness of movies, Streep said that one of their greatest qualities that they can affect "audiences no matter where they're from."