President Donald Trump passed on the Peas on Tuesday afternoon, continuing a presidential tradition that President George H.W. Bush started in 1989.
Peas is the 39-pound turkey to which Trump granted a presidential pardon; 41-pound sibling Carrots also received clemency but didn't take part in the ceremony in the Rose Garden.
Trump joked that neither bird should get too comfortable.
"It won't be entirely a rest," he cautioned. "Even though Peas and Carrots have received a presidential pardon, I've warned them that House Democrats are likely to issue them both subpoenas."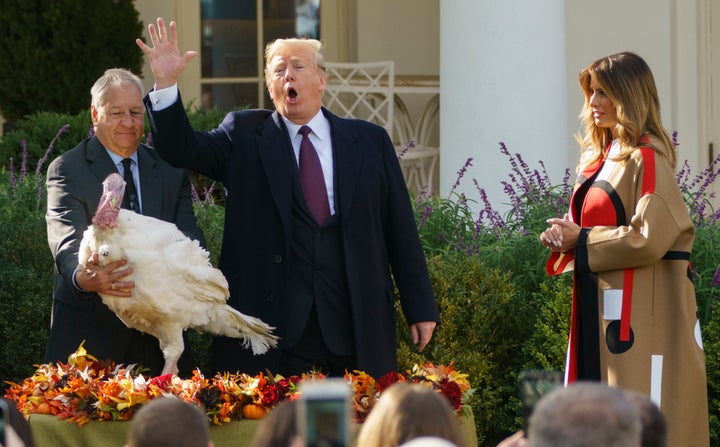 Turkey farmer Ruben Waldner raised the birds ― who were known as Jeff and Ruben before the White House renamed them ― near Huron, South Dakota. They grew up drinking bottled water purified via reverse osmosis, and ate corn, soybean meal and vitamins, Waldner told the Sioux Falls Argus Leader.
They were granted pardons over the other 48 birds in the presidential flock thanks to their superior good looks, charm and general demeanor.
Pardoned birds typically hail from the home state of the chairman of the National Turkey Federation, according to the Leader, and Peas and Carrots are the first birds from South Dakota to receive the honor. This year's chairman, Jeff Sveen, is also from the state.
The birds rode from South Dakota to Washington, D.C., in the back of a well-appointed (for turkeys, at least) SUV:
The two birds lived it up in the days before the ceremony, staying in a modified suite at the Willard Intercontinental Hotel near the White House.
"They'll probably get some feather fluffing – like a haircut. Maybe a massage," the hotel's marketing director Janet Scanlon told People. "They will be able to order room service and our chef is planning to cook up some special dishes for them as well."
Popular in the Community