WASHINGTON ― President Donald Trump had barely wrapped up his White House Rose Garden speech about pulling out of the Paris Agreement on climate change when Rachel Schragis showed up outside the gates and plopped down a massive red alarm clock.
Schragis, a 31-year-old artist, joined forces with another artist named Cesar Maxit to make the 3-foot-tall clock out of cardboard boxes and masking tape. Hundreds of people would soon join her in flooding Lafayette Park, right next to the White House, to protest Trump's Thursday announcement. But for the moment, it was just Schragis and her clock. She propped it up so it was facing the park, its screaming message easy for passersby to read: "WAKE UP to the climate crisis."
"We made this clock … so it's clear, wherever we go when we're protesting, what we're asking Trump to do and what we think is necessary," said Schragis, who is also an organizer with the People's Climate Movement, a coalition of groups focused on the climate crisis. "This is a movement of mass agreement. A majority of this country is with us, is standing with the world. But Trump listens to a very small number of people with big checkbooks."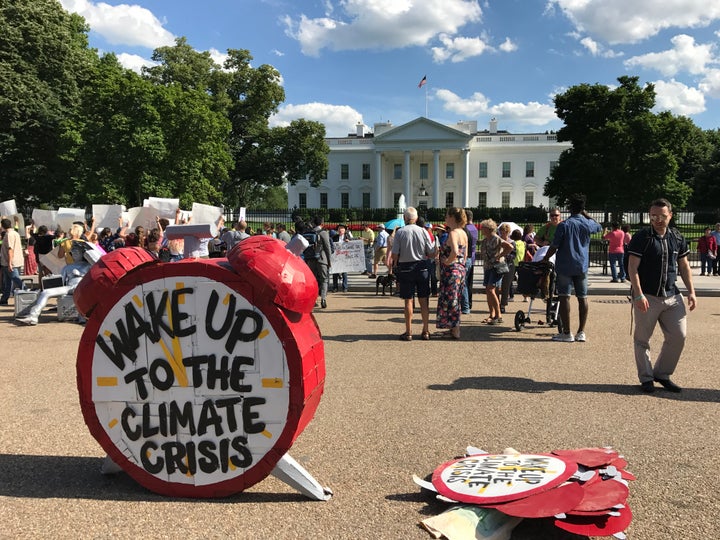 Chalk it up to gorgeous weather, or Trump hitting an unexpectedly raw nerve by backing out of a global climate pact, but even for a D.C. protest this group was on fire. They set up a makeshift stage in the park and cheered on speeches by activists, politicians and Bill Nye "The Science Guy," who warned that Trump is "jeopardizing the whole planet." They chanted "shame" at the White House, with Democratic National Committee chairman Tom Perez chiming in with them from the stage.
Everyone seemed to have a sign, too, with messages like "I'm With (Mot)Her Earth" and "Trump's Dad Should Have Pulled Out."
"Mr. President, are you serious?" Rep. Jamie Raskin (D-Md.) said to the crowd. "We're moving forward without Donald Trump!"
Schragis said many of the people there had taken part in the Women's March in January and subsequent D.C. marches in support of science and combatting climate change. At this point, she said, people horrified by Trump on one front are uniting with each other on other fronts.
"I think we're all in a moment of despair. On anything," she shouted, trying to talk over a nearby man painted head-to-toe in silver and blasting a Neil Young song from a boombox. "A lot of these movements are coming together."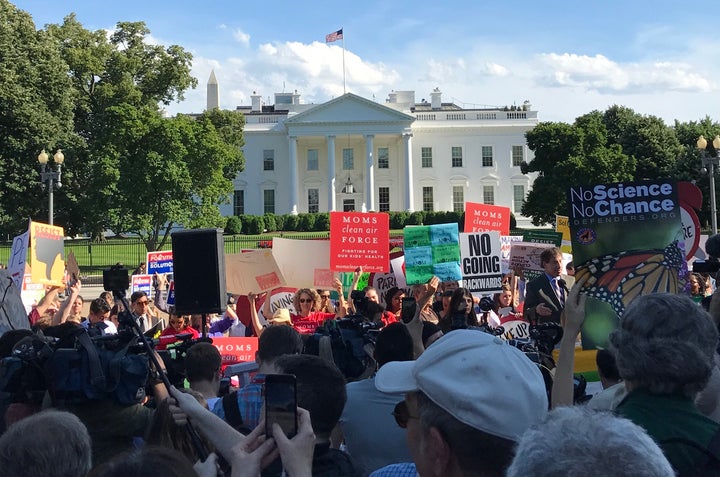 As luck would have it, an eighth-grade class on a field trip from Chicago showed up to see the White House just as the climate rally began. It's an annual trip for the students at Francis Parker School, a private school with progressive leanings. Kam Woodard, an eighth-grade math teacher there, said teachers told the kids this time that, if they wanted to make signs to voice their feeling on an issue, they could do so. So many of the roughly 75 students made signs about women's rights, environmental rights and human rights in general.
"Everybody just made a sign, about what they felt," said Woodard, who said it was "miraculous" that they happened to roll up in the midst of a protest.
The students fit right in. They arguably had the best chants of anyone there, which they made up on the spot.
"Show me what our generation looks like! This is what our generation looks like!" they shouted for several seconds, until they got quiet and huddled about what to say next.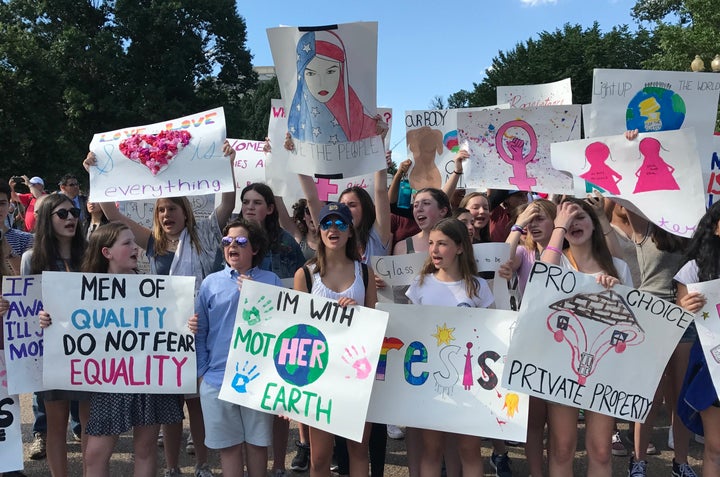 "Science saves! Science saves!" one student began, spurring others to repeat after her. Another girl started up a call-and-response chant.
"Climate change is real!"
"Climate change is real!'
Reyna Smith, a middle school counselor at the school, stood to the side with pride as her students spoke out on whatever was on their minds.
"In our school, we have a mission to raise global citizens," she said. "I don't know a better way to exercise our mission than allowing them to use their voice."
CLARIFICATION: This story has been amended to clarify that the clock prop was made by both Rachel Schragis and Cesar Maxit.
Before You Go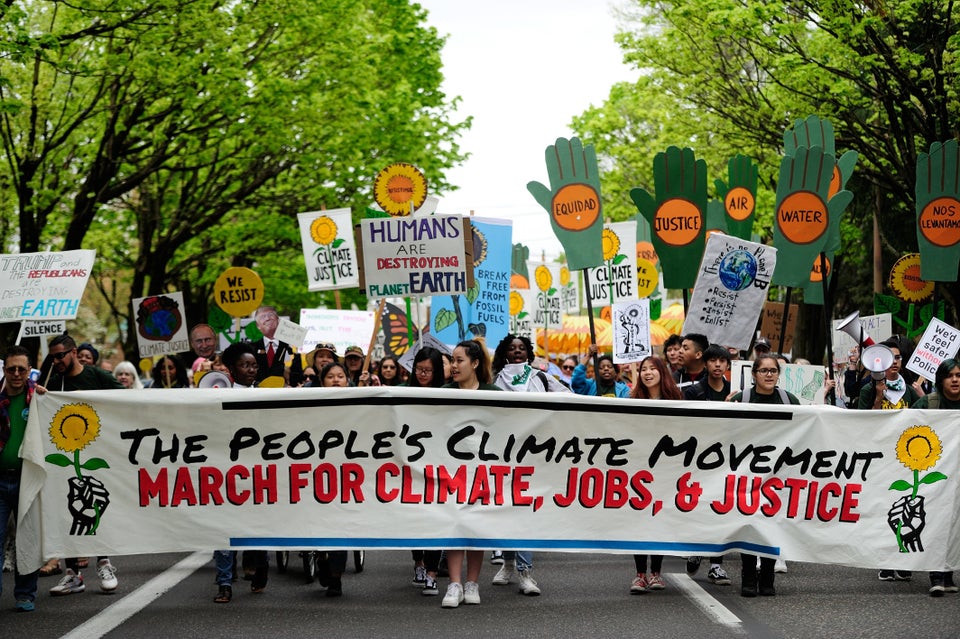 Climate Marches Across The U.S.
Popular in the Community