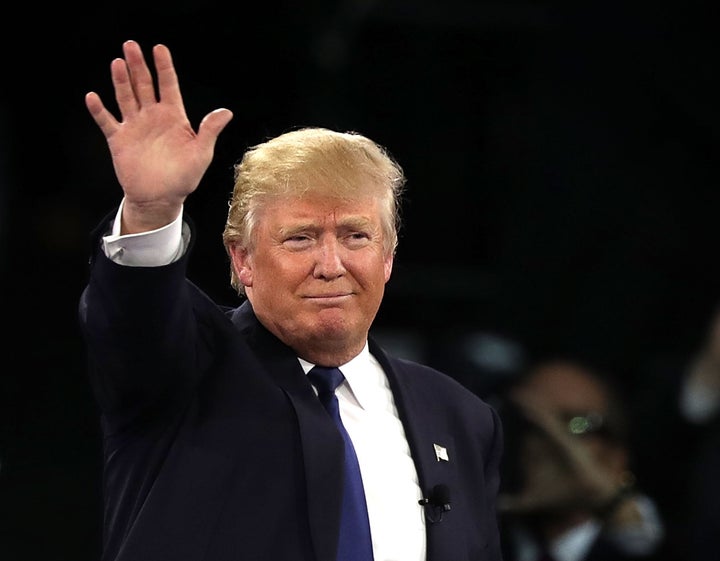 WASHINGTON -- Paul Manafort Jr. is almost eerily perfect for the role of Donald Trump's Republican convention master.
Manafort's last major political consulting job was handling the 2010 campaign of Victor Yanukovych for president of Ukraine. Yanukovych won, but was ousted in a coup four years later after he had expanded his $75 million mansion, suppressed rival political parties and freedom of the press, and undermined Ukrainian independence by cozying up to Russia's Vladimir Putin on trade, energy and security.
Now Manafort's job is to make sure that Trump -- who lives in a $300 million mansion, disdains the press and admires Putin -- can translate his primary and caucus victories into the Republican nomination in Cleveland in July.
Trump realized that he needed a seasoned pro to identify, woo and keep track of trustworthy convention delegates. If he falls short of the majority needed to win in the primaries and caucuses, his foes will try to fill those delegate slots with disloyal "Trojan horses" or use rules and floor tactics to deny him in the nomination.
That's where Manafort comes in.
"He'll do more than just count delegates -- he will get the data, get to know everyone, and run much of the operation from here on," predicted Roger Stone, a longtime Trump associate and a former business partner of Manafort.
Starting with the College Republicans and Young Republicans in the 1970s, moving through many GOP conventions, the 66-year-old Manafort has amassed deep experience in the care, feeding and disciplining of delegates.
His main work over the years has been to run consulting firms that advised controversial clients ranging from the late Ferdinand Marcos in the Philippines to leaders in Russia, Nigeria, Burma, Kenya, Angola and the Bahamas.
(Manafort could not be reached for comment; the Trump campaign did not answer a request for comment on their adviser's foreign work.) 
Insiders of other campaigns agree that Manafort is a formidable addition. "He doesn't know all the players but he knows the game," said Charlie Black, an adviser to Ohio Gov. John Kasich, and another former Manafort business partner.
Manafort's return is part of a remarkable re-emergence -- and probably the last hurrah -- of a group of GOP operatives who started as teenage devotees of Barry Goldwater in the 1960s. Besides Black, Manafort and Stone (the original name of their first consulting firm in the 1980s), the list includes Karl Rove, George W. Bush's campaign manager and now an undeclared leader of the movement by party insiders to stop Trump in his tracks.
In an ever-shifting series of alliances, these four (plus the late Lee Atwater, who ran George H.W. Bush's campaign in 1988) rose to power, prominence and wealth in Washington in the name of the anti-Washington Ronald Reagan.
Black, who began as a volunteer for right-wing TV essayist Jesse Helms in North Carolina in 1972, is now a key figure at Burson-Marsteller, the global public relations firm.
Stone, who as a Goldwater fan volunteered for Nixon in 1972 while a student at George Washington University, has handled casino lobbying for Trump, among other lucrative gigs.
Rove, who also worked for Nixon in 1972 and became an earlier pioneer in GOP "direct mail" consulting, has become a cottage industry of column and book-writing in D.C.
Then in their early 20s, the four men first joined in politics together in 1973, as Rove was running for the job of president of the College Republicans. His key aide was Atwater; Black, Stone and Manafort all backed another candidate, Terry Dolan.
Rove won, but Dolan, Stone and Black went on in 1975 to form the first independent Reaganite "attack" PAC, called the National Conservative Political Action Committee.
NCPAC was part of a rising Baby Boomer tide on the right, as a new generation inspired by Goldwater, Reagan and William F. Buckley challenged the more moderate Republicanism of Eisenhower and the Eastern Establishment.
Having grown comfortable, and rich, in the corridors of power, they are not as doctrinaire as their once were, and now find themselves working either for Kasich, who himself began as a Reagan acolyte in 1976 (working for Black, in fact, in that campaign), or Trump, who arguably is as much of a Democrat by background as he is a Republican.
Although the Trump and Kasich factions have no great love for each other, they both have an enemy they truly loathe: Sen. Ted Cruz of Texas.
The 45-year-old Cruz would say that is because he represents a new generation that is a true revival of Reagan and Reaganism. Cruz wears the denim cowboy shirts to try to prove it.
But the older "boys on the right" perhaps see a measure of their own naked ambition in Cruz. "He's a product of Princeton and Harvard and his wife works for Goldman Sachs," said Stone. "He's would be TOTALLY Establishment if he could be. It's just that nobody can stand him as a person."
That never stopped Stone, Black, Atwater, Rove or Manafort.
Calling all HuffPost superfans!
Sign up for membership to become a founding member and help shape HuffPost's next chapter