WILKES-BARRE, Pa. -- It was dollar burger night at Bar Louie in this blue-collar city set in the heart of Pennsylvania's Coal Region, and as usual, Tony Passetti and Jim Cruthers were sitting at the bar, talking over a couple of cheeseburgers and a bowl of tater tots.
"At least Paul Ryan said he'd step down if Trump wanted him to," Passetti said, referring to the House speaker's offer not to chair the Republican National Convention in July. "The party has to understand they're stepping in the way of what people want."
Currently unemployed, Passetti used to work at the local record store that Cruthers still manages. These days, however, no up-and-coming band or celebrated vinyl release can command either music lover's attention the way Donald Trump does.
"This is what we do," Passetti said. "The campaign is all we talk about."
Both men are hardcore Trump supporters, who profess to being fed up with "corrupt politicians." They are enamored of the presumptive GOP presidential nominee's full-throated attacks on what they see as political correctness gone amuck.
And they're not the only ones in traditionally Democratic-leaning northeastern Pennsylvania who feel that way.
In last month's Pennsylvania primary, nine of the 17 counties where Trump's share of the vote topped 65 percent were located in this slice of the state. His best result of all came here in Luzerne County, where Trump won 77 percent of the vote — one of his best showings in any region of the country.
He might have done even better if members of the opposing party had been allowed to participate in the closed GOP primary. This is a county where registered Democrats still outnumber registered Republicans 105,487 to 68,603. While that margin has been narrowing steadily, Lucerne was one of 12 Pennsylvania counties where President Barack Obama edged out Mitt Romney in 2012.
If Trump has any chance of redrawing the country's electoral map, as his campaign vows he will, it is places like Luzerne County -- where antipathy toward undocumented immigration and trade deals runs particularly deep -- that will lead the charge.
"I've never been so anxious to have a general election since Trump came along."
As a Reagan Democrat turned solid Republican, Jim Cruthers embodies just the kind of voter Trump hopes will propel him into the White House. Skeptical of party politics in general, Cruthers couldn't care less whether the GOP establishment comes around to the party's new standard-bearer, whom he trusts implicitly to do the right thing.
"I've never been so anxious to have a general election since Trump came along," Cruthers said, anticipating a fall matchup against presumptive Democratic nominee Hillary Clinton. "Once they debate, he's going to destroy her because he's so unorthodox. And that's the problem with the Republican Party. They can't figure out that the status quo doesn't work with Trump."
Cruthers' optimism about Trump's chances in the general election is common among the candidate's supporters here. The fact remains, however, that Pennsylvania hasn't voted for a Republican on the presidential level since 1988.
Time and again, GOP presidential nominees have tried and failed to flip the state. National Democrats are far from panicking about the prospects of a Trump victory here, although they have plenty of reason not to be complacent. According to the HuffPost Pollster average, Clinton currently leads Trump in Pennsylvania by the relatively close margin of 45.0 percent to 39.6 percent.
While the prospect of a Trump presidency might well drive strong turnout in the Democratic strongholds of Philadelphia and Pittsburgh, the previously latent support for Trump in Luzerne County is now well out in the open.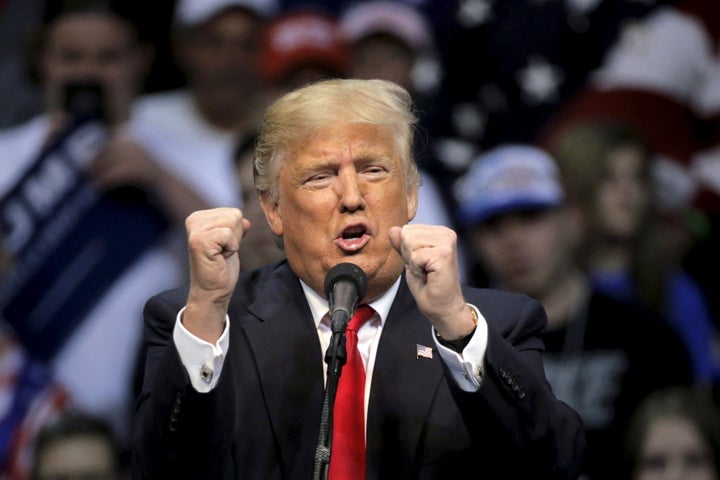 Atop one of the many hills overlooking Wilkes-Barre sits Breaker Brewing Company, where patrons can admire old photos of the region's heyday while taking "the coal mine tour," which offers a sampler of three 5-oz. pours for $5 or eight for $12.
At the end of the bar, a woman with white curls, who declined to provide her name, sipped a Lunch Pail Ale and chatted with a friend.
"I don't normally talk about politics, but I don't think Trump is wrong," she said. "I wish we would start taking care of our own people and shut down the border."
A couple of seats over were siblings Amy and Brad Bachle, both in their early 30s and employed as a nurse and an engineer, respectively.
Amy backed Texas Sen. Ted Cruz in the GOP primary, while Brad didn't participate, since he is registered as an independent. Both think that Trump is a flip-flopper on issues like abortion, that his rhetoric has been "ridiculous" at times, and that his anti-immigrant rhetoric will pose a significant liability in the general election.
But both also strongly oppose Clinton's candidacy and believe that Trump can win in November by racking up big margins in heavily white, blue-collar Democratic-leaning communities like this one where manufacturing jobs have continued to vanish and people are looking to point fingers.
"It comes down to immigration because in all these little coal patch towns, everyone left," Brad Bachle said. "Now there's all these houses that nobody wants to live in, and we get a lot of immigrants coming in because it's really cheap. Now, they're not all bad. There's some really great Hispanics that moved into this area, and some are the best, hardest-working people compared to some of the other scum that lives around here. But there's also a bad side."
On the night before the Pennsylvania primary, Trump drew over 10,000 people to a rally in Wilkes-Barre — an event that his campaign put together on the fly in a matter of days. During his remarks that night, the candidate played to his crowd by vowing to bring back mining jobs and build his border wall, noting ominously that immigration from Mexico could be "the great Trojan horse."
And then the primary results came in, suggesting that in this part of the country, Trump will be a force to be reckoned with come November.
"In the beginning, it was funny. People would timidly come up to me and say they were so happy to find someone supporting him."
Lynette Villano served as chairman of the Luzerne County Republican Party for a decade before she purchased a "Trump for President" pin last fall and began wearing it wherever she went.
"In the beginning, it was funny," Villano recalled. "People would timidly come up to me and say they were so happy to find someone supporting him. Then, as time went by, I was flabbergasted. So many of my Democrat friends came up to me and said they were behind him."
On primary day, Villano was elected as a delegate to the Republican convention, pledged to support Trump. She said she was entirely unbothered by the presumptive nominee's recent modulation on key issues.
When it comes to his selection of a running mate, Villano likes former House Speaker Newt Gingrich. Cruthers would prefer former Secretary of State Condoleezza Rice, and Passetti's top three picks are ex-Minnesota Gov. Jesse Ventura, former Secretary of State Colin Powell and political commentator Pat Buchanan. All three, however, are confident that Trump won't suffer any political blowback among his strong supporters, no matter whom he chooses.
They're all committed to the man and unconcerned with what GOP leaders think about the decisions he makes.
"Obviously, nothing he's said so far has hurt him," Villano said. "I don't see that that's going to be any problem at all."
Popular in the Community