Donald Trump will headline a fundraiser for the Republican Party of Pennsylvania Friday, just days after he called for the United States to ban all Muslims from entering the country.
Pennsylvania GOP spokeswoman Megan Sweeney confirmed to The Huffington Post Tuesday that Trump will still be speaking.
Party chairman Rob Gleason called Trump "a successful and dynamic businessman" when he announced the news in November and said that they were "excited to hear about his vision for the future of the country."
"Until we are able to determine and understand this problem and the dangerous threat it poses, our country cannot be the victims of horrendous attacks by people that believe only in Jihad, and have no sense of reason or respect for human life," he said.
Trump's appearance at the Pennsylvania GOP fundraiser was controversial even before those comments.
Last month, the PennLive Editorial Board wrote that by choosing Trump, "Republican leaders have simply decided to embarrass themselves. They should rescind Trump's invitation and make clear there is no room in the party for his brand of rhetoric."
And several Republican politicians in the swing state questioned whether Trump was the best choice of speaker in light of his long list of offensive comments. Several have decided to skip the event, although they said it was due to scheduling conflicts.
Trump will no longer attend a fundraiser Wednesday night for the Republican National Committee either. An RNC spokesperson said that no GOP presidential candidates will attend now. It's not clear whether the change was a result of Trump's comments about Muslims.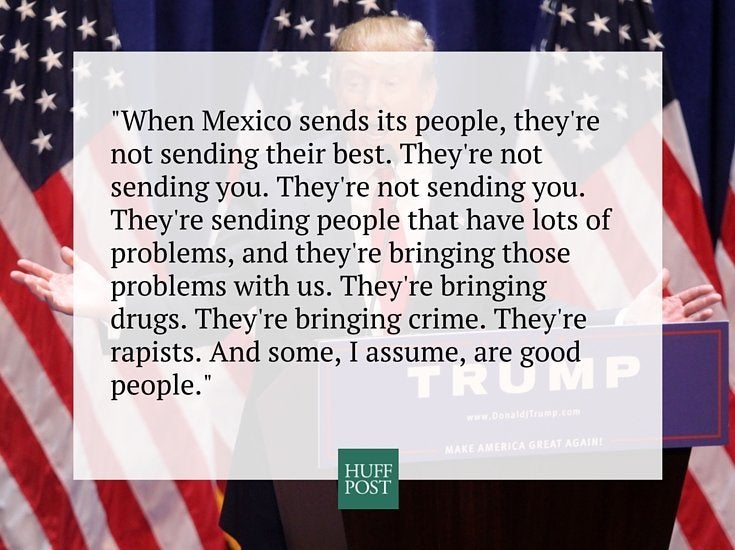 9 Outrageous Things Donald Trump Has Said About Latinos
Popular in the Community