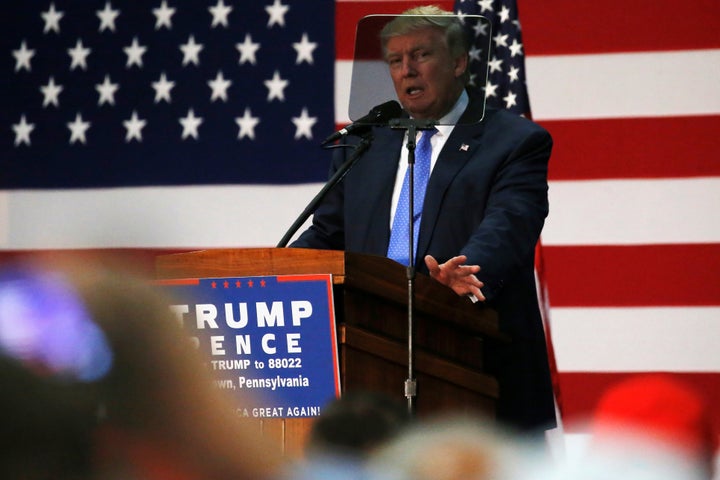 MORRISVILLE, Pa. ― The road to the White House this Election Day runs through a handful of states, and Pennsylvania is near the top of the list. The Philadelphia suburbs, in particular, could go a long way to determining who takes the Keystone State haul of Electoral College votes.
Voters supporting Republican presidential nominee Donald Trump at polling places up and down Bucks County, north of Philadelphia, seemed resigned to their candidate losing on the final day of the 2016 presidential campaign.
Clarke and Cyndy Remmey cast their votes for Trump at a municipal building in their hometown of Doylestown, the county seat, Tuesday morning, taking turns as one went inside and the other stayed outside with their puppy. Both think Democratic nominee HIllary Clinton will be the next president.
"I voted for Trump, but I don't vote for him enthusiastically," Clarke Remmey said. "The person I voted for, I don't want them to be president." But he considers both candidates unsuited for the highest office and believes Clinton to be dishonest.
Clarke Remmey is still expecting a Clinton win, however. He voted for Republican Sen. Pat Toomey and Brian Fitzpatrick, a Republican vying to replace his older brother, retiring Rep. Michael Fitzpatrick (R). He said he hopes that divided government will force Clinton and the GOP Congress to compromise on a "pro-growth" agenda that combines corporate tax cuts and higher infrastructure spending.
Cyndy Remmey also voted for the Republican candidates, and is just glad this negative election soon will be over. We need the conversation to change in our house," she said. "There's not much else talked about," between the couple and their children, ages 14 and 20.
At the same polling location, Dawn Keeley of Doylestown also felt relieved to have voted. "I'll be glad that it's over. I think everybody's anxious," Keeley said.
Keeley voted for Trump, mainly citing her desire for lower taxes, but didn't have much good to say about him or Clinton. "I didn't like either option. It felt like the lesser of two evils," she said. Clinton, she said, is likely to defeat Trump.
Some voters chose Trump mainly because they dislike Clinton, including Pat Anderson of Morrisville, whose first choice would have been Vice President Joe Biden. "I'd love to have seen a woman president, but can my children and grandchildren look up to her? No," she said. "I don't want to put a crook in the White House." Nevertheless, she predicted Trump would lose.
At a voting location in Quakertown, Trump supporter Mark Altorgge seemed resigned to a Clinton victory. "Either way, the country will go on," he said.
We are not ready for him as a country.

Donald Trump supporter Alena Dlin, of Morrisville Pa.
Whatever level of enthusiasm or optimism Trump and Clinton voters in Bucks County may have felt on Tuesday, their ballots could prove highly consequential. According to the HuffPost Pollster average of opinion surveys, Clinton was had 45.5 percent to Trump's 41.4 percent ahead of voting Tuesday.
The tally in suburban counties like Bucks could give either candidate an edge statewide, and offset the overwhelmingly Democratic support expected in Philadelphia and Pittsburgh.
With most states clearly leaning toward one candidate or the other, Pennsylvania is a major target for both campaigns, as evidenced by Clinton and Trump each staging events in the state Monday.
Democrats have won Pennsylvania in every presidential election since Bill Clinton captured the state in 1992, in large measure on the strength of the vote in Philadelphia and its surrounding counties. Bucks County itself has gone to the Democratic presidential candidate in each of same contests.
But the presidential results in Bucks County don't mean it's a Democratic stronghold. The 8th Congressional District, which includes all of Bucks County and a sliver of neighboring Montgomery County, has only been represented by a Democrat in the House for 18 years of the last 101 years.
In the end, supporting the GOP was more important to Donna Harvey of Quakertown than the candidate himself, who's made her uncomfortable at times. That's despite her anger at establishment Republicans, who she feels didn't show Trump enough support. "The Republicans who didn't stand behind him have a lot to answer for," she said.
"I believe in most of what he says. I just don't like the way he says it," Harvey said. "He has said things at times that were too impulsive." Still, his stance on issues like abortion, gun rights and the Supreme Court guided her vote. Harvey wasn't sure who would win.
In Morrisville, Alena Dlin, an immigrant from Belarus, cast her first-ever vote as an American citizen for Trump. "It felt great. I felt like I fulfilled my civic duty," she said.
Still, Dlin acknowledged being torn. "It was a long and painful battle with myself," she said.
"I actually think that we as a country should have found better candidates on both sides. But I had to make peace with the choice there is."
Dlin was turned off by Trump's interruptions of Clinton during the debates, dislikes how he insults entire classes of people, and said she believes most of the accusations women have made about the GOP nominee.
But she decided to set aside the negative attributes of each candidates' personality and chose between them based on what issues were most important to her.
Dlin doesn't want Clinton to continue President Barack Obama's economic policies and thinks a new approach to health care reform is needed because the Affordable Care Act didn't do enough to make care more affordable, she said.
And Dlin looks to Europe's struggles with refugees from the Syrian civil war and favors Trump's plan to bar Muslim immigrants from entering the United States.
Even so, Dlin had little confidence Trump could win over enough Americans to take the White House: "We are not ready for him as a country."
CORRECTION: An earlier version incorrectly described the geographic makeup of Pennsylvania's 8th Congressional District.
REAL LIFE. REAL NEWS. REAL VOICES.
Help us tell more of the stories that matter from voices that too often remain unheard.
BEFORE YOU GO