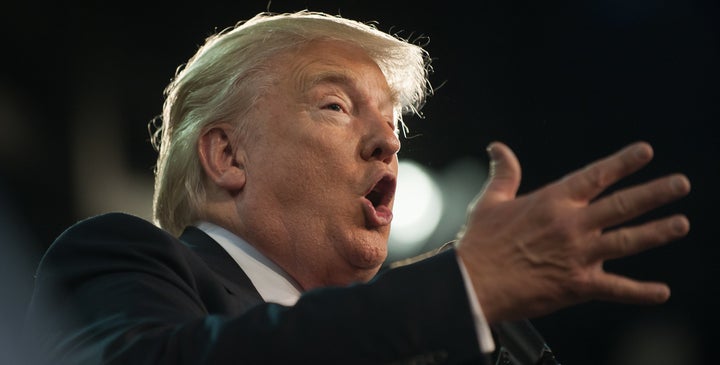 This past Monday was supposed to be a turning point for Donald Trump. That was the day many Republicans hoped their presidential nominee, who was giving a speech at the Detroit Economic Club, would make his long-awaited pivot to the general election. More teleprompter, less Trump. 
Those hopes were shattered a day later when he floated the idea of assassinating Hillary Clinton. 
"If she gets to pick her judges ― nothing you can do, folks," Trump said at a rally in North Carolina. "Although, the Second Amendment people. Maybe there is. I don't know."
Trump has uttered many, many controversial comments. But the suggestion that gun owners should shoot the Democratic presidential nominee was perhaps the furthest that he ― or any other modern candidate ― has gone yet. Trump had made clear that he wasn't going to pivot in any serious way anytime soon. 
Trump and his campaign insisted that he wasn't actually talking about assassination but rather wanted to see gun rights voters heavily involved in the 2016 campaign.
But the next day, he was at it again. He told supporters at a Florida campaign rally on Wednesday that President Barack Obama had founded the Islamic State terrorist group. 
"And I would say the co-founder would be crooked Hillary Clinton," he added. "Co-founder. Crooked Hillary Clinton." 
The following day, he doubled down, even as conservative radio host Hugh Hewitt was giving him a chance to walk back his comments.
"I know what you meant. You meant that he created the vacuum, he lost the peace," Hewitt said.
"No, I meant he's the founder of ISIS. I do," Trump insisted. "He was the most valuable player. I give him the most valuable player award. I give her, too, by the way, Hillary Clinton."
Only on Friday did Trump try to downplay his remarks by saying he was just being sarcastic all along. But the damage was already done, since many Republicans had tried to defend those same comments to the media.
Also on Thursday, Trump said he could support the idea of trying American citizens accused of terrorism in military tribunals at Guantanamo Bay. 
This latest round of chaos came a week after the GOP nominee had dived into attacking two Gold Star parents. Trump took personal offense at the criticisms leveled by Khizr Khan, whose son, an Army captain, had given his life trying to save fellow soldiers in Iraq in 2004. 
In a powerful speech at the Democratic National Convention, Khan criticized Trump for his attacks on Muslims and immigrants: "Have you ever been to Arlington Cemetery? Go look at the graves of brave patriots who died defending the United States of America. You will see all faiths, genders and ethnicities. You have sacrificed nothing and no one."
Trump responded by insulting the Khans, while his supporters suggested they might be terrorists. That response was the final straw for Sen. Susan Collins (R-Maine), who then announced that she would not be backing her party's presidential nominee.  
Clinton, meanwhile, has been taking advantage of the roiling GOP dissatisfaction. This week, she formally launched a group to recruit Republicans and independents who don't like Trump. 
Even as the week drew to a close, the Trump campaign was still attacking Khan. Carl Paladino, the co-chair of Trump's campaign in New York, said Friday that Khan doesn't deserve the title of "Gold Star parent" despite the fact that his son died in the Iraq War.
"I don't care if he's a Gold Star parent," Paladino said. "He certainly doesn't deserve that title, OK, if he's as anti-American as he's illustrated in his speeches and in his discussion. I mean, if he's a member of the Muslim Brotherhood or supporting, you know, the ISIS-type of attitude against America, there's no reason for Donald Trump to have to honor this man." (There is no actual reason to think Khan is anything less than a patriotic American.)
Trump has dropped in the polls over these rough few weeks, and within the Republican Party, officials are panicking at how to get their candidate under control.
Calling all HuffPost superfans!
Sign up for membership to become a founding member and help shape HuffPost's next chapter
BEFORE YOU GO
PHOTO GALLERY
Republicans Who Have Refused To Back Donald Trump