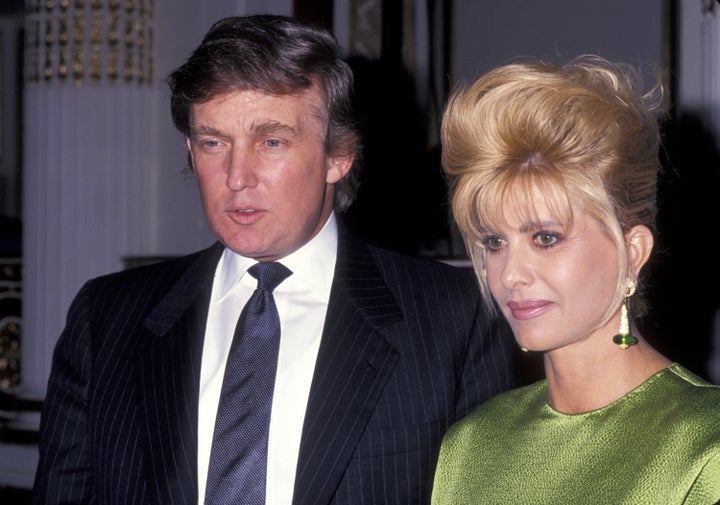 In the summer of 1990, at the height of his bitter divorce from his first wife, Donald Trump was carrying on a very public extramarital affair with a former beauty queen, Marla Maples.
As part of the couple's divorce proceedings, Ivana Trump's lawyers asked him under oath about his dealings with other women and whether he had been faithful to his wife.
Instead of answering, Donald Trump invoked his Fifth Amendment rights against self-incrimination. Over the course of five depositions that summer, he was asked approximately 100 questions related to marital infidelity. He pleaded the Fifth on 97 of them.
"Donald preaches about his devotion to the Second Amendment, but it was the Fifth Amendment that was his favorite when he was deposed in the divorce with Ivana," wrote biographer Wayne Barrett in his 1992 book, Trump: The Greatest Show on Earth. A New Jersey Division of Gaming Enforcement report later verified Barrett's reporting on those depositions, which are still sealed.
For Trump, taking the Fifth seemed to work out well. He later bragged that he managed to settle the divorce without giving his first wife a penny more than required by the prenuptial agreement.
Now, with less than six weeks to go until Election Day, Trump is again focused on questions of marital infidelity and invoking Fifth Amendment rights. Only this time, the GOP presidential nominee has cast himself as the judge.
And everything looks different. Inside the moral and ethical bubble that Trump has created for himself, taking the Fifth 97 times is a savvy move, and powerful men aren't constrained by marital vows. Outside that bubble, the Fifth Amendment is apparently used only by criminals, and adultery is a sin to be blamed on both spouses.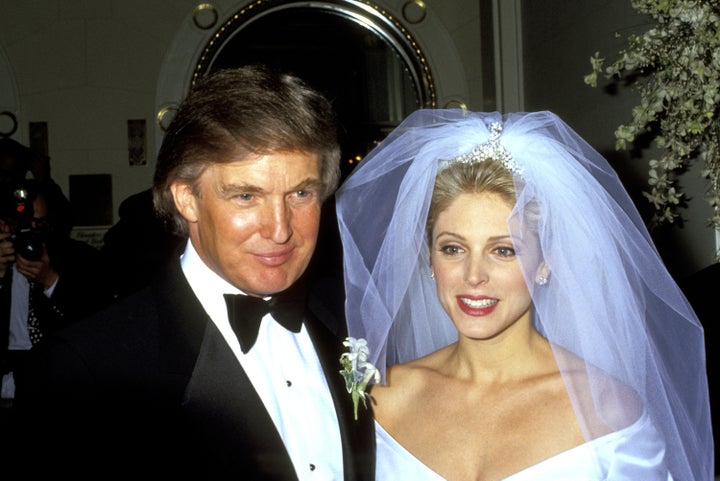 Following Trump's disappointing debate performance Monday night, he said he deserved credit for not attacking his Democratic rival, Hillary Clinton, over her husband's infidelity. His advisers and campaign surrogates fanned out across the airwaves to make the same case.
Campaign manager Kellyanne Conway said Trump was "polite and a gentleman" because he did not follow through on his threat to seat Gennifer Flowers, a former girlfriend of Bill Clinton, in the front row at the debate.
Rudy Giuliani, one of Trump's closest advisers, said Hillary Clinton was "too stupid to be president" if she hadn't realized all along that Monica Lewinsky, a White House intern, was telling the truth. As mayor of New York, Giuliani carried on his own very public extramarital affair, which cast a shadow over his administration.
Trump even holds Hillary Clinton, who has maintained her marriage for 41 years, partly to blame for her husband's misdeeds. "She was an unbelievably nasty, mean enabler, and what she did to a lot of those women is disgraceful," he said in May.
As for the Bill of Rights, Trump has focused in recent weeks on the fact that one of Clinton's former staffers and two outside computer experts pleaded the Fifth during the investigation of her use of a private email server as secretary of state.
"Now the people who destroyed the emails are all pleading the Fifth Amendment in front of Congress today," Trump said earlier this month at a rally. "Have you seen that is going on before Congress? Fifth Amendment, Fifth Amendment, Fifth Amendment — horrible, horrible."
A spokeswoman for Trump did not respond to a request for comment.
On Wednesday, Trump likened anyone who takes the Fifth to a criminal. "So there are five of them taking the Fifth Amendment, like you see on the mob, right?" he said at another rally in Iowa, inflating the number by two. "The mob takes the Fifth Amendment. If you're innocent, why are you taking the Fifth Amendment?"
This was precisely the question that Ivana Trump's lawyer posed to her husband during those depositions 26 years ago, according to Barrett the biographer. The lawyer, Michael Kennedy, also warned Donald Trump that by taking the Fifth so many times, he was giving the court grounds to draw a reasonable "inference" that he had committed adultery.
The irony was that everyone in the divorce action was represented by skillful criminal attorneys, and the one chosen by Donald had substantial mob clienteles, including Marla's lawyer, Jerry Shargel, who was one of John Gotti's attorneys ... It was a measure of the mud war both parties expected, and predictably, waged.
Read the entire New Jersey Division of Gaming Enforcement report below. It's a very good read.
Popular in the Community