Businessman Donald Trump's support among Republican voters has hit a new national high of 49 percent, according to a CNN/ORC poll. By contrast, the party's nominee in 2012, Mitt Romney, didn't reach 49 percent in a poll until mid-April of that year.
As YouGov's William Jordan noted, Romney's highest polling number prior to that was 40 percent, which he achieved once in mid-January 2012 and once at the end of February. Support for Trump has been over 40 percent in the last four national polls, and flirted with the 40 percent mark in some polls in early December.
Single polls can vary considerably, though, so a better metric is how Trump is performing relative to Romney in the polling averages. Here, too, Trump has the advantage.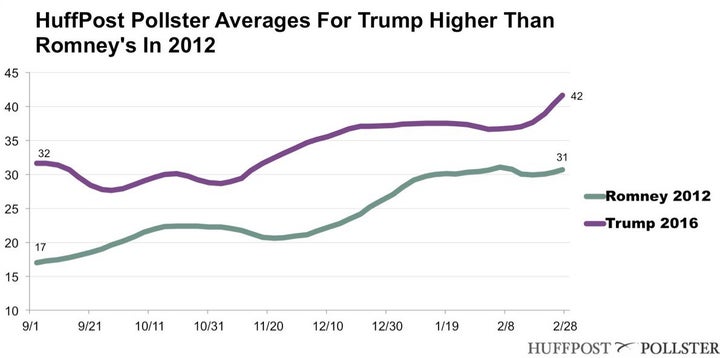 Trump is averaging over 10 percent more support than Romney was at this point in the 2012 cycle, and has consistently outperformed Romney's polling averages since September. The gap was narrower at the beginning of this month -- Trump was averaging 36 percent support compared to Romney's 30 percent in 2012. But Trump's numbers have risen quickly in recent weeks.
National primary polls should be viewed with caution. The numbers aren't indicative of who will win any particular primary contest since there isn't a national primary. But the polls are a good indication of sentiment nationwide, and Republicans are clearly warming to Trump as he wins in the early states.
This comparison doesn't necessarily mean Trump will win the nomination; just because he's out-performing Romney's 2012 numbers doesn't preclude a big shakeup. Only four states have voted so far, meaning the vast majority of the delegates needed to win the nomination are still available. However, it is interesting to note that Trump has held a relatively consistent lead over other candidates in national polls, whereas Romney faced four strong challengers in a tighter race for the nomination.
But a Gallup poll found that Romney's favorable ratings within his party were considerably higher that month. Sixty-five percent of Republicans viewed him favorably, compared to only 28 percent who said the opposite. In January, Gallup found Trump's net favorable rating among GOP voters at +27 points, a full 10 points less than Romney's four years ago.
Popular in the Community