In 1990, Donald J. Trump, then 44 years old, filmed a hair metal remake of the Motown classic "Mr. Big Stuff" with an all-girl rock band called Precious Metal.
Trump's one-day shoot turned into a months-long debacle. He behaved inappropriately on set and afterwards demanded exorbitant new financial terms, refusing to let the video be aired. Janet Robin, the band's lead guitarist, shared her recollection of the experience with The Huffington Post for the first time.
This reporter knew nothing of Trump's foray into glam rock before happening upon a black-and-white photo taken at the video shoot that's currently being auctioned on eBay.
The story behind the photo features some of the same quintessentially Trumpian motifs as this election season, including his personal boorishness, questionable appeals to charity and his notoriously vindictive behavior toward rivals.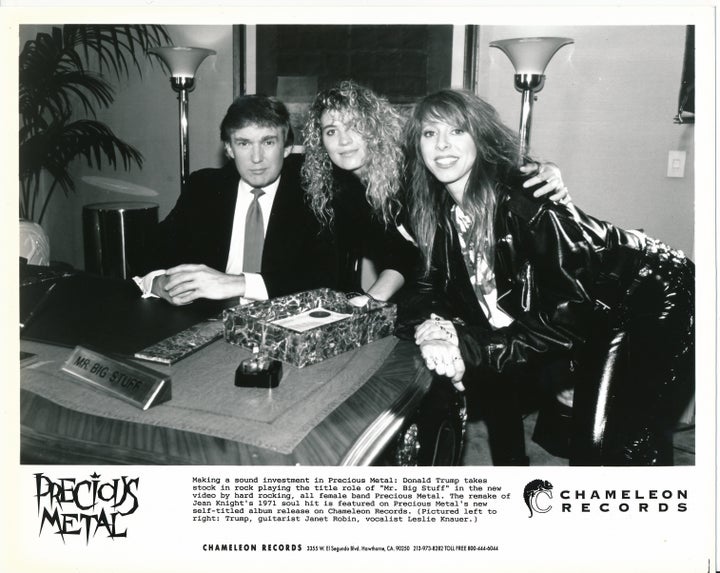 Precious Metal is long gone, but Janet Robin is still a full-time musician. She just returned from a 34-date European tour to release her latest solo record produced by John Carter Cash, the only child of Johnny and June Carter Cash.
By age 9, Robin, a precocious guitarist, was studying under the classically-trained shredder Randy Rhoads, a heavy metal legend. She helped form Precious Metal, one of the early all-female hard rock bands, before graduating high school.
Robin remembered Trump as friendly and jovial, verging on piggish. "I was very young, I was 23 years old or something like that. I had a moment with him where he put his hands around me, his arms around me ― not around my shoulder but around, you know, my stomach area or whatever you want to call it. I thought that was a little strange."
With his arm around her, Trump said, "Oh my god, Janet, you have a tight body," she recalled. (The band's lead singer, Leslie Knauer, has the same recollection. Donald Trump's spokesperson did not respond to a request for comment.)
"He didn't molest me or try to make out or anything," Robin told HuffPost. "You know, I'm not a trash-talker. That's why I'm not trash-talking him. But he did say that and I thought it was inappropriate. It was while he had his arm around me."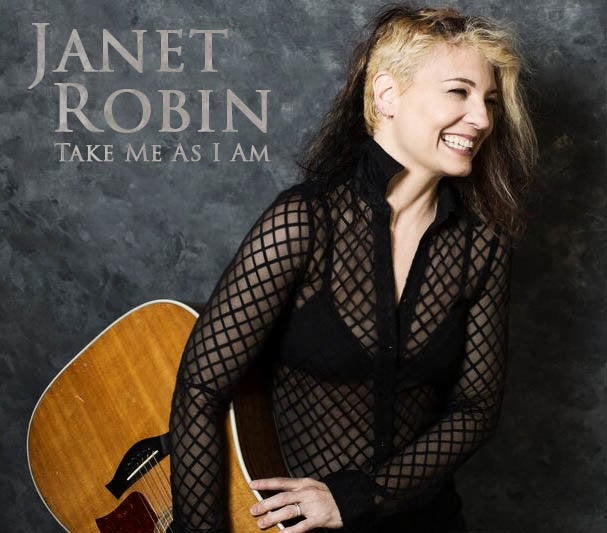 Trump's participation in the video stemmed from his connection to Jay Pritzker, the Hyatt Hotels' founder with whom Trump had purchased his first Manhattan property, the famed Grand Hyatt. Pritzker's son co-owned the record label that signed Precious Metal.
But Trump's relationship with the Pritzkers was rapidly souring, and after the video was shot, Trump refused to let it air on MTV. He had originally agreed to appear if the band gave $10,000 to charity. Now he wanted $250,000, and he would decide who received the money.
"You know, $10,000 really isn't a Trump kind of donation," he told the band, according to Knauer.
Trump's demands made headlines at the time, and he blamed the band. "He thought it was only fair that the charities receive more," a Trump spokesperson told the New York Post. "Now it seems this group is just grabbing for publicity and using Mr. Trump's name to do it."

Trump's practice of appealing to charity to justify reneging on an agreement was put to use again this year when he skipped a key presidential debate to host a fundraiser for veterans' causes. He claimed that he'd given $1 million of his own money to the cause, but he had not. Only after media scrutiny did Trump provide a donation, four months later.
Another investigation found that Trump has for 15 years "promised to donate earnings from a wide variety of his moneymaking enterprises," including TV's "The Apprentice," Trump Vodka and Trump University. Public records show he donated less than one-third of the pledged amount.
Precious Metal's label couldn't afford to pay Trump, so they had to scrap his footage and reshoot the video using a Trump-ish looking body-double.
"We were just a struggling band, wondering why he would do that to us," Knauer later told Billboard Magazine. "He full-on just lied. I hate to think the guy had any power over me at all, but he hurt our career at that moment."
Precious Metal didn't make another album. "It was really a shame, a disappointment that he pulled out," Robin said. "There certainly weren't many hard-rock all-girl bands in that time, and we were just trying to make more of a name for ourselves and promote our new record."
A trailblazer in her own right, Robin acknowledged that she's excited at the prospect of seeing a woman in the Oval Office.
"Now that's politics, and that's not rock and roll. Rock's still male-dominated." On the other hand, she said, 70 percent of her guitar students these days are young girls, and the boys she teaches are increasingly gender-blind when it comes to music.
"I have a boy who started with me at 8 or 9 and he's a shredder now; he doesn't give a shit that I'm a girl, he could care less," she said. "I'm very happy teaching younger boys. They'll grow up to have women in their bands and to respect women, look at women musicians in a different way."
Popular in the Community