WASHINGTON ― A defiant Donald Trump on Wednesday made clear he will continue benefiting financially from his businesses, denied reports that Russians had acquired compromising information about him, and said that Russian help for his candidacy was not a bad thing.
"If Putin likes Donald Trump, I consider that an asset, not a liability," the next president of the United States said at his first news conference since winning the Nov. 8 election.
The nearly hourlong event in the atrium of Trump's midtown Manhattan high-rise came the morning after the publication of material purportedly detailing specifics of how Russian leader Vladimir Putin directed his spy agencies and foreign service to help Trump and hurt Democratic nominee Hillary Clinton, as well as claims that Russia has collected salacious material about Trump personally during his visits to the country.
Trump lashed out at the media for mentioning any of those reports, as well as at U.S. intelligence agencies for their presumed role in leaking them to the public. In a morning tweet, Trump wrote: "Intelligence agencies should never have allowed this fake news to 'leak' into the public. One last shot at me. Are we living in Nazi Germany?"
Asked about the Nazi analogy, Trump continued his recent attacks on the intelligence community, which will report to him in a matter of days. "I think it was disgraceful ― disgraceful that the intelligence agencies allowed any information that turned out to be so false and fake out," Trump said. "I think it's a disgrace, and I say that ― and I say that, and that's something that Nazi Germany would have done and did do. I think it's a disgrace that information that was false and fake and never happened got released to the public."
Trump also said Russian agents could not possibly have gathered embarrassing information about him during his trips because he was always fully cognizant of that danger.
"Cameras that are so small with modern technology, you can't see them and you won't know. You better be careful, or you'll be watching yourself on nightly television. I tell this to people all the time," Trump said, and then added: "I'm also very much of a germaphobe, by the way, believe me."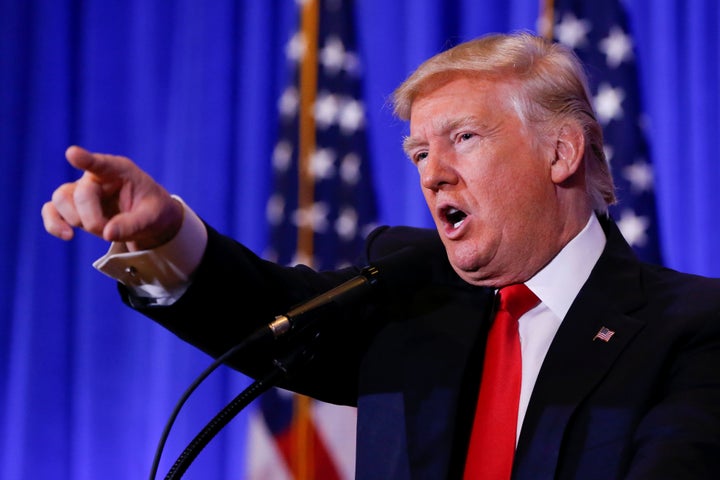 Trump has for months disputed the notion that Putin had anything to do with theft of emails from the Democratic Party and Clinton's campaign chairman, John Podesta, which were then released near daily by the Russia-aligned group WikiLeaks. Wednesday was the first time Trump publicly acknowledged: "I think it was Russia," although he later said it could have been other countries as well.
What's more, Trump again blamed the Democratic Party itself for not having installed better defenses against the hacking, and then described the release of the stolen material as a public service.
"But remember this: We talk about the hacking and hacking's bad and it shouldn't be done. But look at the things that were hacked, look at what was learned from that hacking: That Hillary Clinton got the questions to the debate and didn't report it? That's a horrible thing. That's a horrible thing," he said.
Trump was asked to state whether he could definitively say that no one from his campaign worked with Russia in the runup to the election. Trump answered that Putin should not have meddled in the campaign and that he wouldn't do it in the future because he would now respect the United States, but failed to answer the question about coordination.
As he entered the Trump Tower elevators to return to his office, though, Trump told reporters following him that neither he nor his staff had been in contact with Russians regarding the campaign.
Tuesday's media reports about Trump's Russia ties as well as last week's report by U.S. intelligence agencies concluding that Russia had worked to help Trump win the November election overshadowed what was originally billed as the announcement of Trump's plan to deal with potential business conflicts of interest during his presidency.
But on Wednesday Trump stated flatly no such law applied to him. "I have a no-conflict situation because I'm president, which is ― I didn't know about that until about three months ago, but it's a nice thing to have," he said, adding that, nevertheless, he is taking steps to avoid the appearance of any conflict.
Those steps, however, do not actually separate Trump from his business. While his assets will be placed in a "trust," the trust will be actively controlled by his two adult sons, and Trump will continue to profit ― with the plan of retaking control after he leaves the presidency.
A "blind trust," recommended by ethics experts for high-ranking public officials, is one in which the owner neither controls nor even knows which investments are being held.
Trump's last news conference was just under six months ago, during which he famously invited Russia to hack Clinton's emails. Since that time, he has held brief "gaggles" with reporters on various occasions, including one at his Palm Beach resort's New Year's Eve party.
Trump's direct answers to reporters ― particularly in the adversarial setting of a news conference ― offers what's become a rare glimpse of Trump's temperament and actual thinking on issues. It is precisely this unvarnished view that top aides wanted to reduce or eliminate in the closing weeks of the campaign by forcing him to stick with scripted speeches and limiting his access to Twitter.
This post has been updated with more details from the news conference.
Calling all HuffPost superfans!
Sign up for membership to become a founding member and help shape HuffPost's next chapter
BEFORE YOU GO
PHOTO GALLERY
Donald Trump