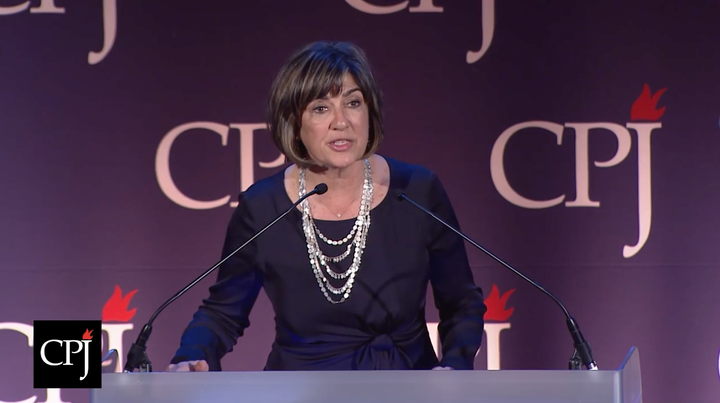 NEW YORK ― CNN's Christiane Amanpour has been to many fundraising dinners for the Committee to Protect Journalists, but none like Tuesday night's gala.
"I never thought in a million years that I would be standing up here, after all the times I've participated in this ceremony, appealing, really, for the freedom and the safety of American journalists at home," she said at the event.
Journalists in the U.S. don't face nearly the intimidation and repression of those working in countries where freedom of the press isn't enshrined in the Constitution. But President-elect Donald Trump's attacks and restrictions on the press during the 2016 campaign, and his refusal to provide traditional levels of access during his presidential transition, have alarmed journalists who have identified potential threats at home.
In October, CPJ's board issued and unprecedented statement labeling Trump "a threat to press freedom unknown in modern history." It's not only that Trump could damage the media at home, they argued, but that journalists abroad would become more vulnerable if the U.S. was no longer seen as a beacon for free speech and an independent press.
"The fight for press freedom is also quite close to home. It's right here," New Yorker editor David Remnick said. "The advocates for limiting that freedom have made their feelings very well known. And we have all heard the anti-media rhetoric, the attacks on journalists, the exclusion of reporters viewed as unfriendly during the presidential campaign."
Remnick, who replaced the late Gwen Ifill as the dinner's host, paid tribute to the PBS anchor during his speech. He described Ifill as one of the "finest, most honest, and most ferociously decent broadcast journalists at a time when we need her most." He urged journalists assembled in the Waldorf Astoria ballroom to follow her example and report "factually, fairly, with an open mind, but above all, fearlessly."
Remnick also said U.S. journalists "must defend our own First Amendment" in order to advocate for those imprisoned abroad. There are currently 240 journalists behind bars around the world, the highest tally in the 35 years that CPJ has existed.
"For us to go silent ensures that they will remain under the boot," he said.
"It is still too early to draw conclusions about how this administration will work with the media. But I think it is fair to say based on some of what we saw during the campaign, we have some reason for concern."
CNN chief Jeff Zucker, who was part of a group of top networks executives and anchors to meet with Trump on Monday, said the people at that private gathering had urged the president-elect to "preserve longstanding traditions that ensure coverage of his presidency."
The group of influential television figures have faced criticism in recent days for allowing Trump to hold the entire meeting off the record ― especially because The New York Times held a meeting with the president-elect the following day and insisted it be on the record. By agreeing to such conditions, the TV news stars couldn't report on a newsworthy event that was clearly in the public's interest. They also looked foolish as details leaked about how Trump ripped them ― and Zucker personally ― for their 2016 coverage.
"It is still too early to draw conclusions about how this administration will work with the media," Zucker said. "But I think it is fair to say based on some of what we saw during the campaign, we have some reason for concern."
Either way, he said, the media must "hold the new administration's feet to the fire."
Amanpour accepted the Burton Benjamin Memorial Award for her career reporting and advocating for press freedom, and gave a speech in which she likened Trump's recent tweet claiming protesters were being incited by the media as similar to the behavior of authoritarian leaders.
"As all the international journalists in this room who we honor tonight know only too well, and who we honor ever single year: First the media is accused of inciting, then sympathizing, then associating ― and then suddenly find themselves accused of being full-fledged terrorists and subversives," Amanpour said. "Then they end up in handcuffs, in cages, in kangaroo courts, in prisons ― and then who knows?"
Trump's attacks on the press have drawn comparisons to autocrats like Turkey's President Recep Tayyip Erdogan, who has dismantled the country's independent press by exercising sweeping executive powers gained after a failed coup attempt. Amanpour mentioned how Erdogan said recently that he can't understand why people would protest against the recent election and how America "needs a strongman to get things done."
Amanpour gave a rousing defense of the press' role in a democracy, but also voiced some criticism. While watching the race from abroad, she admitted she was "shocked by the exceptionally high bar put before one candidate and the exceptionally low bar put before another candidate."
"It also appeared that much of the press, much of the media, was tying itself in knots trying to differentiate between balance, between objectivity, neutrality and, crucially, truth," she said. The press, she added, should be "truthful, not neutral," and stop "banalizing the truth."
She urged reporters to "commit to real reporting across a real nation, a real world in which journalism and democracy are in mortal peril," investigate wrongdoing and corruption, and to not give into an elitist backlash against the press.
"As a profession, let's fight for what is right," she said. "Let's fight for our values. Bad things, as we all know, do happen when good people do nothing."
Popular in the Community