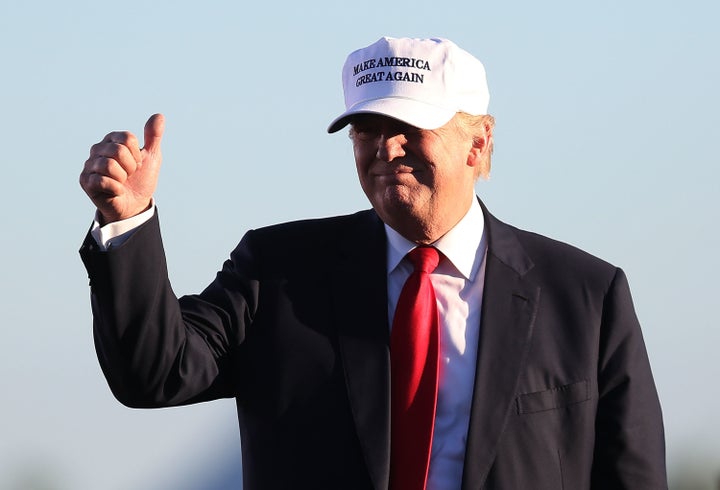 WASHINGTON ― The GEO Group, one of the two largest private prison companies in the country, emerged in 2016 as one of the very few publicly traded companies making significant contributions to super PACs.
Through contributions from its corporate entities and its political action committee, the Florida-based company contributed $673,200 through the end of September, putting its weight behind Republican presidential nominee Donald Trump, Sen. Marco Rubio (R-Fla.) and Republican control of the Senate. Its largest contributions have been $200,000 to Senate Majority Leader Mitch McConnell's Senate Leadership Fund and $150,000 to Rebuilding America Now, a pro-Trump super PAC run by consultant Alex Castellanos.
The contributions come as activist groups put pressure on federal and state governments to end funding for private prisons. Activists are also pushing a broader campaign of divestment that targets private prison companies.
In August, the Obama administration announced that the Department of Justice would phase out the use of private prisons for federal detention after the DOJ Office of the Inspector General issued a scathing report on private prison operations and oversight. The decision sent private prison stocks, including those of the GEO Group, tumbling. Those stocks took another dive after Democratic presidential candidate Hillary Clinton reiterated her opposition to private prisons during the first presidential debate.
"I'm glad that we're ending private prisons in the federal system," Clinton said. "I want to see them ended in the state system. You shouldn't have a profit motivation to fill prison cells with young Americans."
It is perhaps no surprise then that GEO Group would place its money behind Trump. In his first political campaign, the real estate mogul has both promoted private prisons and supported immigration policies that would require a massive increase in spending on detention facilities.
Statements like these make it unlikely that a Trump administration would look favorably on the Justice Department's move away from private prisons. An analyst for the financial research firm Compass Point told Bloomberg that if Trump were to win the White House, "our sense is that a reversal of this policy would be likely."
In an email, GEO Group spokesman Pablo Paez denied that the company's support for Trump is based on his favorable view of the private prison industry. Paez wrote that the company was only involved in the political process to promote "the use of public-private partnerships, including in the delivery of offender rehabilitation programs, both in-custody and post-release."
"As a matter of long-standing policy, our company does not take a position on or advocate for or against any specific criminal justice, sentencing, or immigration policy," Paez wrote. "We have always believed that we are most effective and at our best when those we care for re-enter society as productive and employable citizens."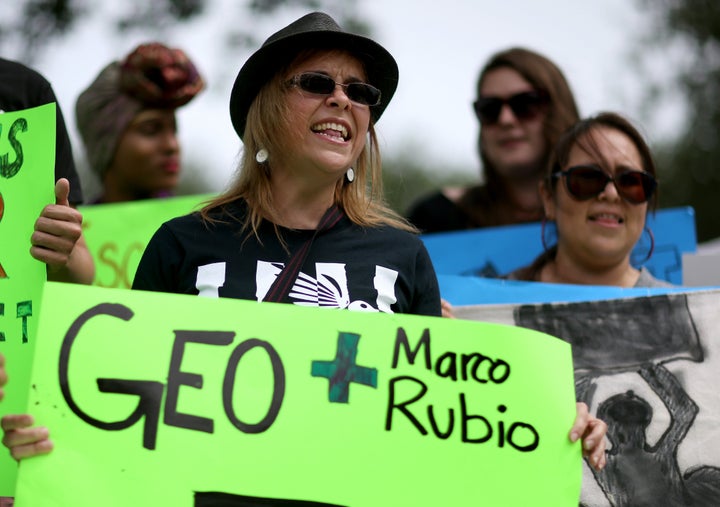 Contributing to candidates and supporting them through super PACs amounts to investing in their messages, countered Scott Roberts, senior campaign director for criminal justice at the progressive activist group Color Of Change.
"They're directly supporting the type of divisive law and order politics that Donald Trump is promoting," Roberts said. "It is key to cut off the revenue to these private prison companies, because they are using that to influence the political process in a way that is beneficial to their bottom line, but is detrimental to the country as whole."
GEO Group may deny that Trump's or any other candidate's position on private prisons influences the group's political involvement, but it is clear which candidate would negatively impact the company's bottom line and which candidate would expand funding.
This goes beyond the question of whether the federal government should contract to private prison companies. It extends to the candidate's immigration policies.
"It is perhaps no surprise then that GEO Group would place its money behind Trump. He has both promoted private prisons and supported immigration policies that would require a massive increase in spending on detention facilities."
While many of Trump's policies have shifted throughout the campaign, his position on immigration has remained relatively stable. He has promised to crack down on immigration by building a wall on the U.S.-Mexico border, as well as spend more for enforcement and border patrols and round up and deport anywhere between 2 million and 11 million undocumented immigrants.
These policies would require significant federal investments in companies like GEO Group, which operate federal immigration detention centers through Immigration and Customs Enforcement. GEO Group already receives large contracts from the federal government to operate multiple immigrant detention facilities.
A study by the liberal think tank Center for American Progress found that the cost of detaining 5 million immigrants prior to deporting them would cost $28.1 billion. That is up from the current $2.25 billion the government spent on immigrant detention in 2014. A similar study by the conservative American Action Forum found it would cost $35.7 billion to detain all 11 million undocumented immigrants living in the country. Such large-scale detention would likely be contracted out to private prison operators like GEO Group.
Trump was not the GEO Group's first choice in the Republican primaries. The company donated $100,000 to a super PAC supporting Rubio and gave another $88,290 to the super PAC backing Florida's former Republican governor, Jeb Bush.
GEO Group is also spending tens of millions to help maintain Republican control of the Senate. It has also donated $50,000 to a super PAC supporting Rubio's Senate campaign and $75,000 to a super PAC supporting the failed congressional campaign of Republican Rebecca Negron in Florida's 18th congressional district.
Progressive activist groups like Color Of Change have fought to make private prison operation a presidential campaign issue. In the Democratic primary, Sen. Bernie Sanders (I-Vt.) said he supported a policy to end private prisons and introduced a bill in Congress to do just that.
The Democratic presidential nominee eventually announced that her campaign would no longer raise money from federally registered lobbyists representing private prison companies or from the PACs connected to them. Clinton's campaign donated past contributions to a charity that helps female inmates reintegrate into society after their release. Soon after that, she announced that she supported ending federal and state funding for private prisons.
HUFFPOST READERS: What's happening in your state or district? The Huffington Post wants to know about all the campaign ads, mailers, robocalls, candidate appearances and other interesting campaign news happening by you. Email any tips, videos, audio files or photos to scoops@huffingtonpost.com.
Popular in the Community