A woman in a #MeToo hat wearing a T-shirt with a middle finger on it snuck into an empty pen near the stage and waved around a sign with a middle finger and the phrase "GRABBING POWER BACK."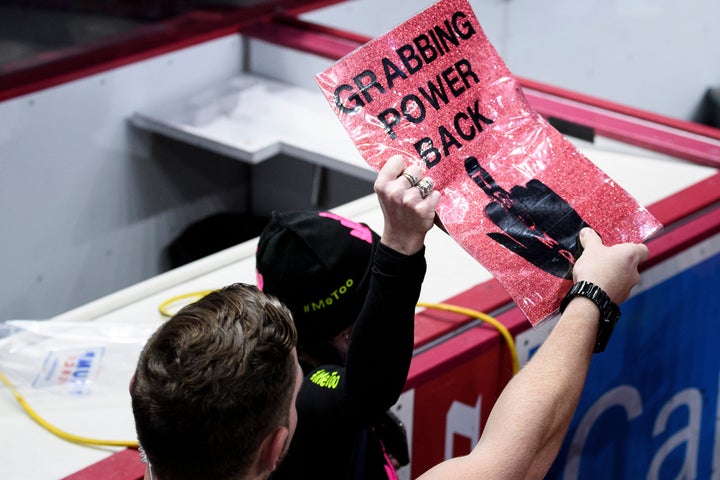 As the crowd jeered, Trump ordered security to eject the protester.
"Get her out," he demanded, gesturing the "out" signal with his thumb.
Footage showed a guard holding his arms above the woman and trying to guide her to the exit of the pen, but not touching her as she waved her sign and gave the finger to Trump:
Trump grew impatient waiting for them to leave.
"Get her out, get her out," he said. "See these guys want to be so politically correct. Get her out. You see that?"
Then, Trump taunted the security guard.
"I'll tell you, law enforcement's so great. That particular guy wanted to be so politically correct," he said, waving his arms and moaning while mocking the guard:
"We don't want to be politically correct," Trump said. "I don't know who he was. He didn't do the greatest job."
It's not clear if the guard was with law enforcement, arena security or some other organization or agency.
A Twitter user with the handle Bird claimed to be the protester.
Trump's call to not be "politically correct" harkens back to other incidents at his events.
During a rally in 2016, he promised to pay the legal fees of anyone who attacks a protester.
During another event, Trump complained that a protester was receiving high-fives as he left.
And during a winter event in 2016, Trump told security to take the protesters' coats.
Support HuffPost
The Stakes Have Never Been Higher
Popular in the Community