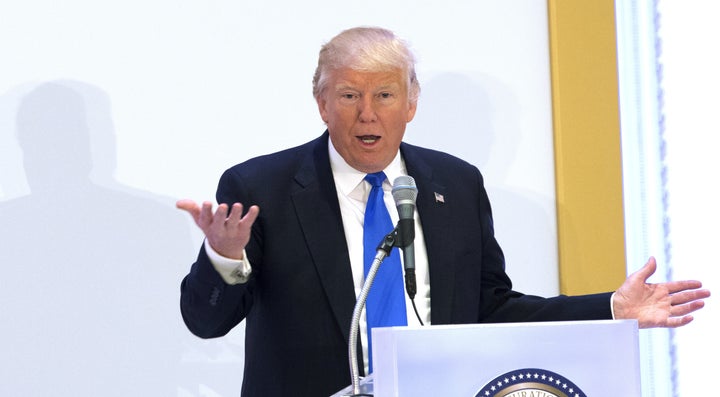 For decades, Republican lawmakers have mounted efforts to end funding for public broadcasting and leveled accusations of liberal bias. Though Congress has reduced funding at times, it's never completely turned off the spigot.
But the election of Donald Trump, backed by a Republican-controlled Congress, quickly sparked fears that public broadcasting could again be on the chopping block. These concerns were heightened Thursday after The Hill reported that the Trump team is planning "dramatic" budget cuts that would result in privatizing the Corporation for Public Broadcasting and eliminating the National Endowment for the Arts and National Endowment for the Humanities.
A Trump spokesperson did not respond for comment.
The CPB, created by Congress in 1967, says it currently provides financial support to more than 1,500 locally owned and operated public TV and radio stations, including PBS and NPR. The nonprofit organization received $445 million in federal funds last year, and in a statement Thursday, argued that cutting off this subsidy would be disproportionately "devastating" to stations in rural areas and serving underserved communities.
"The federal investment in public media is vital seed money — especially for stations located in rural America, and those serving underserved populations where the appropriation counts for 40-50% of their budget," the CPB statement read. "The loss of this seed money would have a devastating effect. These stations would have to raise approximately 200 percent more in private donations to replace the federal investment."
The CPB defended its mission Thursday as "a public-private partnership in the best tradition of America's free enterprise system."
"It is one of America's best investments," the CPB said. "It is not a large investment compared to most of what government does – just about $1.35 per citizen per year – but it pays huge dividends in education, public safety and civic leadership to millions of Americans and their families."
While Republicans may frame such cuts as necessary to reduce spending, the CPB, NEH and NEA account for just 0.02 percent of the federal budget. But the decadeslong opposition to federal funding of public broadcasting and arts programs has always been shaped by politics as much, if not more, than budgetary concerns.
Republican President Richard Nixon backed cutting CPB's funds in half soon after being elected president in 1968, a battle that drew Fred Rogers to Washington to defend public programming. Congress scaled back funds during the 1980s under Republican President Ronald Reagan.
Mitt Romney, the 2012 Republican nominee, said at a presidential debate that he loved Big Bird, from PBS's "Sesame Street," but would stop funding if elected because the United States shouldn't "keep on spending money on things to borrow money from China to pay for it."
Romney's running mate, House Speaker Paul Ryan (R-Wis.), has also been a longtime critic of funding public broadcasting and proposed a 2015 federal budget that would've ended subsidies to the CPB, NEA and NEH.
The CPB acknowledged Thursday's news report in its statement and noted similar calls "circulating around Washington for years." However, the CPB said those efforts "have been soundly rejected on a bipartisan basis."
The CPB said it looked "forward to working with the new Administration and the new Congress in the continued pursuit of our public service missions of education, public safety and civic leadership, which the American people overwhelmingly support."
Even before The Hill's report, public broadcasting executives have faced questions about the future of funding under Trump.
Paula Kerger, the president and chief executive of PBS, told reporters last week it was "too early to tell." Kerger said government funds make up 15 percent of PBS's total budget, though specified that the money can account for 50 percent of station budgets in rural areas like Alaska.
Indeed, New York Times television critic James Poniewozik pointed out Thursday on Twitter that "if you axe Corporation for Public Broadcasting, it's red states who'll lose the most service, not blue cities."
Popular in the Community