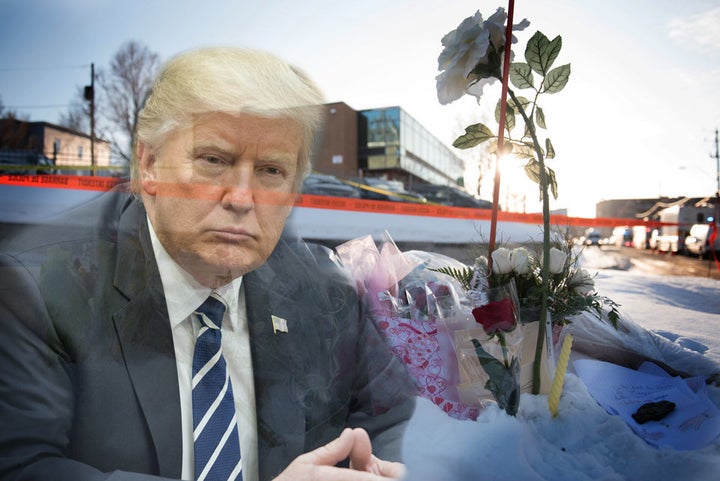 On Sunday night, Alexandre Bissonnette, a 27-year-old white man, opened fire inside a Quebec City mosque, killing six people and wounding eight others. Witnesses said the mosque gunman fired indiscriminately into the crowd of worshipers, which included men, women and children.
When news first broke of the shooting, right-wing outlets erroneously depicted the shooter as Muslim. Fox News wrote in a now-deleted tweet: "Suspect in Quebec mosque terror attack was of Moroccan origin, reports show." The tweet was one of many uncorrected media reports about the suspected shooter's ethnic origins. Many outlets simply did not cover the shooting at all.
A spokeswoman for Canadian Prime Minister Justin Trudeau immediately criticized Fox News and said the coverage was "perpetuating fear and division" and "dishonour(ed) the memory of the six victims and their families by spreading misinformation." Fox later said they corrected their tweet and story.
The only immediate reaction came from Press Secretary Sean Spicer's troubling comments calling the Quebec City mosque attack "a terrible reminder of why we must remain vigilant and why the president is taking steps to be proactive instead of reactive when it comes to our nation's safety and security."
But it's deeply unusual for a world leader to not offer public condolences. President Barack Obama rejected the discrimination against Muslims in his farewell speech. And after Sept. 11, President George W. Bush gave one of his most famous speeches of his presidency: "Islam Is Peace." In his speech, he acknowledged that the attacks "against innocents violate the fundamental tenets of the Islamic faith. And it's important for my fellow Americans to understand that."
Trump, by contrast, only privately called Trudeau and did not reach out to Muslims in his own country. His continued silence on the targeted killing in Canada reinforces a fear many Muslims have: Things can get worse.
Tarek Ismail, a senior staff attorney with the Creating Law Enforcement Accountability & Responsibility project at CUNY Law School, also known as CLEAR, has similar concerns. "The disregard for Muslims is so evident," Ismail said to The Huffington Post in a phone call. "Without a strong effort to organize and mobilize, to expect anything else other than complete dismissal of our community, is wishful thinking."

Ismail said he worries in particular about Trump's future policies and emphasized how the current language of the immigration ban leaves room to add more countries and have it extended beyond the current 90-day plan.
Sam, a 23-year-old Muslim student at McGill University in Montreal, said she follows American news closely and is particularly worried for her country. The Huffington Post is withholding her last name for safety purposes as her father is an Iranian Canadian currently working in the U.S.
"People here are trying to pretend that American politics and Canadian politics are not connected," Sam told HuffPost. "At the same time there are a lot of xenophobic policies and Islamophobia that influences Canadian politics."
She said she's worried her father won't be able to come back to Canada for fear of deportation. But the news of the Quebec mosque shooting nearly broke her, she said.
"I was just feeling so burned out from the whole weekend. Then the anger dissipated to heartbreak."
Related