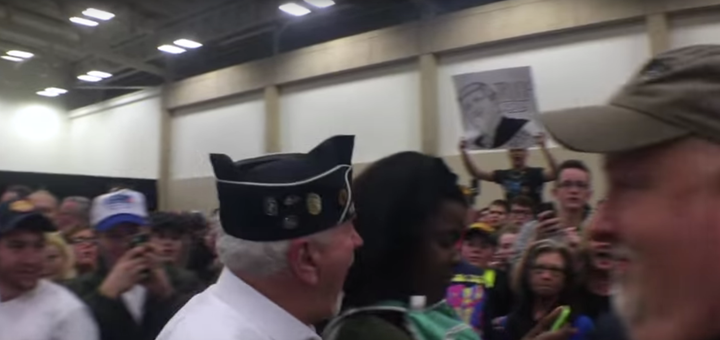 A 75-year-old veteran has apologized after he was videotaped aggressively pushing and yelling at a black student during a rally for GOP presidential candidate Donald Trump.
The man, identified as Al Bamberger, sent a letter to the Korean War Veterans Association, of which he is a member, this week, saying his "emotions got the best of" him and he was "caught up in the frenzy" after being pushed to the ground during the commotion. Bamberger was involved in the intense confrontation, which also included notable white supremacists, earlier this month when a student named Shiya Nwanguma attempted to protest at the rally.
"I need everyone to know that I am not a racist as implied by many internet postings," the letter reads. "I am not associated with any type of racist organizations and did not push the young lady because she was black."
A video filmed at the event shows Bamberger pushing Nwanguma in front of him across a crowded hall as she yells for him to "get off" her. Trump himself screamed for supporters to "get them out of here" when Black Lives Matter protesters began demonstrating.
"They were pushing and shoving at me, cursing at me, yelling at me, called me every name in the book," Nwanguma said in a video posted to Facebook after the incident. "They were disgusting and dangerous."
While Bamberger notes that he's not associated with any of the white supremacists who were in attendance -- which included Matthew Heimbach, leader of the Traditionalist Worker Party -- hate groups have become mainstays of the Trump political junket.
As HuffPost's Ryan Grim and Julia Craven wrote: "White supremacists feel comfortable at, and are allowed to attend, Trump's rallies."
"It may not be fair, but it has fallen to you to disavow these people. Your silence is condoning a violent environment. You're serving as a welcoming committee of sorts to new racists hoping to enter the party."
Bamberger admits his reaction and the association with those groups embarrassed him. But the dangerous mob mentality is not a one-off thing, and some have said "it's only a matter of time" before someone gets seriously injured or killed at future events.
CORRECTION: This article has been updated to reflect that Bamberger identifies himself only as a veteran and as a member of the KWVA. A spokesman for the KWVA said he served after the cessation of hostilities.
REAL LIFE. REAL NEWS. REAL VOICES.
Help us tell more of the stories that matter from voices that too often remain unheard.
BEFORE YOU GO
PHOTO GALLERY
Celebrities Who Have Endorsed Trump