NEW YORK: Goodyear Satire Company-
Republican presidential hopeful Donald Trump today reflected on his storied military career while laying a wreath at the Tomb of the Unknown Shareholder.
Trump's military career began at the age of 18, when, the Vietnam War raging, he courageously battled the United States Selective Service for four consecutive years, earning not only four student deferments but a Bonze Medal from the campus Chuck E. Cheese.
Even after the early Vietnam years, Trump's fire to fight and possibly die for his country burned within his soul. He wanted to serve in the worst way, like his father didn't, and his father's father didn't, either.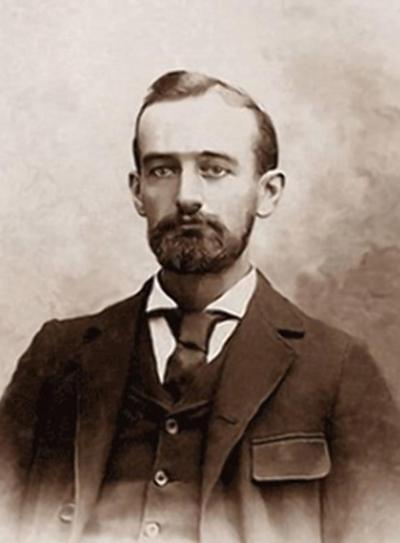 Donald Trump's Paternal Grandfather, Frederick Drumpf
Not content with sitting on the sidelines when so many of his brothers-in-arms were dying for their country, Trump was undeterred. He rejoined his battle with Selective Service after his student de, and bravely fought for and received the classification he was unfit for military service on medical grounds. Trump was devastated at the turn of events.
Trump had been pronounced fit for service at 18, but the stress of Trump's battles with the government caused him a service-related disability. For his injuries, he was awarded a 4-F which he took as a sign, as it paralleled the 4-F's he had received in college.
Trump was well trained for his military service, having previously enlisted in the New York Military Academy at the age of 13. He battled foes many months his senior to prevail and achieve the rank of Cadet Captailn, roughly equivalent to four-star general. Based on his military academy experience alone Trump "always felt that I was in the military."
Trump is proud to be a veteran. And with his vast military experience, Trump is critical of those who had fewer heroic military exploits than he, saying of John McCain, a Vietnam-era POW, that he "likes people who were not captured."
Trump is well known as a military hawk.
Trump has said America should torture family members of ISIS combatants. "We have to beat the savages." This principled stand is a reminder of the esteem America's troops hold for Trump.
Memorial Day: a day made for the War Hero Donald Trump!
Frederick Trump.jpg https://commons.wikimedia.org/wiki/File%3AFrederick_Trump.jpg See page for author [Public domain], via Wikimedia Commons
REAL LIFE. REAL NEWS. REAL VOICES.
Help us tell more of the stories that matter from voices that too often remain unheard.