That's the reading refugee resettlement organization officials have taken from the ruling, which came down late Wednesday night ― hours before the executive order was supposed to go into effect. They argue that the decision by U.S. District Judge Derrick Watson in Hawaii should lead to the government reinstating its initial cap of admitting 110,000 refugees this fiscal year, set by President Barack Obama. In his executive order, Trump had cut that cap to 50,000 refugees ― a decision that could lead to tens of thousands of people remaining in refugee camps, often separated from family in the U.S.
Watson's ruling doesn't address the refugee numbers specifically, but it blocks implementation of two full sections of the executive order, including the one that includes the new admissions cap. The ruling is based on a finding that the president's statements on Muslims likely amounted to unconstitutional animus toward a religious group.
If the correct reading of the ruling is that the refugee numbers must go back to pre-executive order levels, and if Trump's administration continues to process refugees at a glacial pace, the government would be in violation of a court order. And if Trump tries to cut the admissions cap again, he could run into the same problem he did with the executive order ― namely, that his past statements on Muslims could demonstrate that admitting fewer refugees is based on religious animus.
Jen Smyers, director of policy and advocacy at the refugee resettlement organization Church World Service, compared it to laws that dictate that an employer can fire employees but not based on their religion.
"Sure, usually the administration sets the numbers, but if they're setting the numbers as a means to discriminate against people based on their nationality or religion ― which is what they've forecast in numerous public statements, then that's not OK," she said. "That's against the law."
Officials at the State Department, which handles much of refugee resettlement, have not said specifically what refugee cap they are operating under. But they said they will comply with the ruling. Mark Toner, acting spokesman for the department, said in a statement that the Department of Justice "advised that all enforcement of [the two sections of the order] must cease immediately."
"As a result, refugees will continue to arrive in the United States under the U.S. Refugee Admissions Program," Toner said. "We are working closely with our legal teams as well as our interagency and overseas partners to comply with the order."
We're cautiously optimistic but with emphasis on the caution.

Kay Bellor, Lutheran Immigration and Refugee Service
It could be difficult to set an exact definition for what non-compliance would look like, but refugee resettlement organizations said they'll be watching closely to see whether the government starts ramping up admissions efforts. That might not mean an instant increase in the number of refugees admitted to the country, but they do expect to see more processing efforts overseas, aligned with reverting the cap to 110,000.
"We're cautiously optimistic but with emphasis on the caution," said Kay Bellor, vice president of programs at the Lutheran Immigration and Refugee Service. "A lot has to happen before we see something that really tells us 50,000 is no longer the operating number."
Since Trump's first immigration executive order, the government has admitted only up to 400 refugees per week. Should they continue at that rate, it would be impossible to get to 110,000 this year. There are about 26 weeks remaining in the fiscal year, meaning that, if the current rate holds, only about 10,400 refugees could be resettled between now and when the 110,000 quota expires. Meanwhile, more than 37,000 refugees have already been resettled, according to Refugee Processing Center statistics, leaving about 73,000 slots still available.
"There are literally thousands who have been totally cleared [for travel] and have followed all the rules," said Mark Hetfield, CEO of HIAS, one of the resettlement agencies. The 400 weekly figure is "a totally artificial number and that's what has to stop."
He and other leaders said they're urging the State Department to begin booking travel for refugees.
If these processing efforts don't resume, opponents of the order will bring it up in future court proceedings, said Melissa Keaney, a staff attorney at the National Immigration Law Center, which is working with the American Civil Liberties Union on a lawsuit against the ban in Maryland.
Their lawsuit asks that the entire order be blocked, and specifically argues that the administration cannot slash the refugee admission cap midway through the fiscal year because of immediate harm to their clients, including resettlement organizations. U.S. District Judge Theodore Chuang, who as part of their lawsuit issued an order early Wednesday blocking the 90-day travel ban in Trump's order, will hear arguments on the refugee admission cap element of their suit on March 28. They plan to ask for an injunction on the order.
"If the federal government is not abiding by the [Hawaii court ruling] ... then I think that's going to factor heavily into the judge's decision about the need for his court to act as well," Keaney said.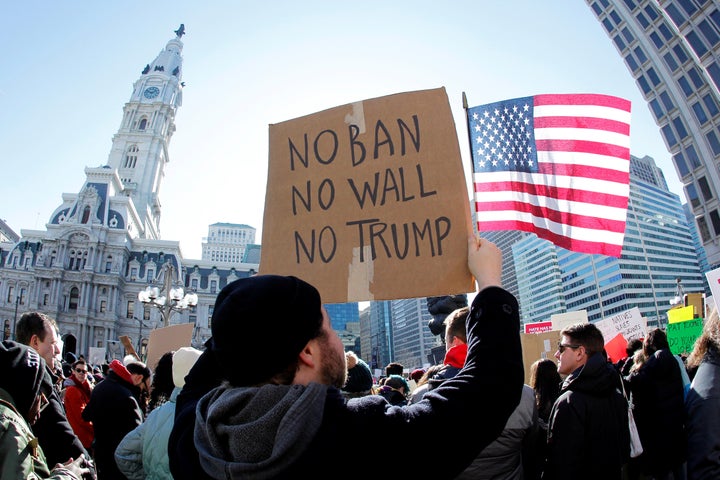 A primary concern for refugee advocates is what will happen for refugees whose security checks expire while they wait for their travel to be booked. Because refugees are screened in stages, approval at each step is valid for a limited period ― for example, their interview is valid for 15 months and their medical clearance is valid for 90 days. If those expire, they have to start the process over again, further delaying their final approval.
One thing is clear: The limbo that thousands of refugees have been thrown into as a result of Trump's executive orders and their temporary blocks isn't going away anytime soon. And the longer that people have to wait for resettlement, the more danger and insecurity they are subjected to.
Abdul Ghani Abdul Jawad, a Syrian refugee, is facing such a situation. He was cleared to fly to Buffalo, New York, with his family in December, with both of his sons suffering from a rare genetic disorder called Omenn syndrome and requiring bone marrow transplants to survive. The youngest was deemed too sick to fly, so their trip was postponed to Feb. 1 ― only a few days after Trump's first try at a travel ban, unveiled on Jan. 27. Their trip was canceled.
Their older son, Yahya, 6, died in a Turkish intensive care unit last month. On top of that, Abdul Jawad's family's clearances may have lapsed. Given the urgency of his son's medical situation, the United Nations Refugee Agency is now trying to move them to Germany.
"I've been struggling for the past two years to go to America," Abdul Jawad told Al-Jazeera in Wednesday's episode of "Fault Lines," the network's documentary series. "Every time I talk to the NGOs, they tell me your case is strong and it is urgent, urgent, urgent. I was devastated."
REAL LIFE. REAL NEWS. REAL VOICES.
Help us tell more of the stories that matter from voices that too often remain unheard.
BEFORE YOU GO
PHOTO GALLERY
Families Reunited After Travel Ban Lifted