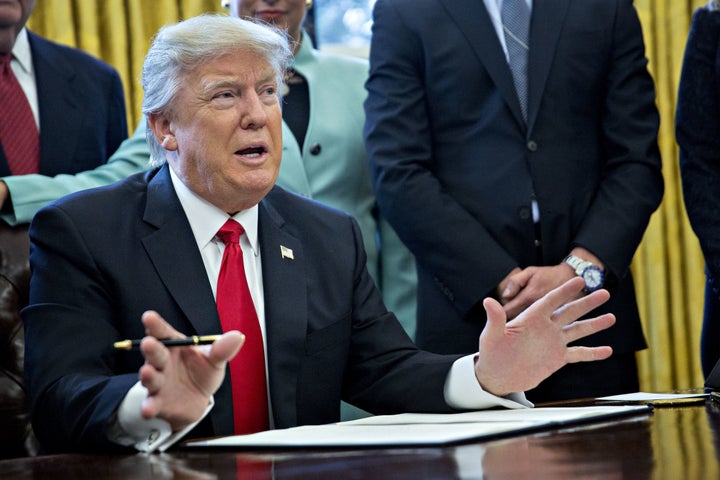 A coalition of environmental, labor and consumer advocates sued the White House on Wednesday to block an executive order President Donald Trump signed last month requiring federal agencies to repeal two existing regulations for every proposed new rule.
"President Trump's order would deny Americans the basic protections they rightly expect," Rhea Suh, president of the NRDC, said in a statement. "New efforts to stop pollution don't automatically make old ones unnecessary. When you make policy by tweet, it yields irrational rules. This order imposes a false choice between clean air, clean water, safe food and other environmental safeguards."
The White House did not respond to a request for comment.
When you make policy by tweet, it yields irrational rules.

Rhea Suh, Natural Resources Defense Council
It's yet another Trump executive order that critics have panned as dangerous and poorly thought-out. Federal judges in New York and Seattle blocked the implementation of his de facto travel ban on refugees and people from seven Muslim-majority countries, which seemed to lay the foundation for the Muslim ban Trump promised during his campaign. The ban immediately sparked demonstrations around the world and prompted protesters to storm U.S. airports, where people were being barred entry.
Trump called the judges' rulings "disgraceful" in a speech on Wednesday, saying the "courts seem to be so political."
The lawsuit filed on Wednesday appears to be the first major legal challenge to Trump's two-for-one executive order, which he signed on Jan. 30 to fulfill another of controversial campaign promise. 
By partnering on the suit, the NRDC and CWA are bridging a divide between environmental and labor advocates just as the White House appears to be pitting them against each other. While the newly emboldened Republican Congress attempts to shred collective bargaining rules, Trump has cozied up to the leaders of top construction unions to court their support for his planned wall along the U.S. border with Mexico.
The relationship between conservationists and labor unions has, of course, been fraught for decades as business leaders pitched environmentally destructive projects by presenting them as a source of jobs. Trump vowed to boost the U.S. economy by slashing regulations, essentially an attempt to create jobs at the expense of the environment. That pledge seemed to target down-and-out coal workers, whose job opportunities dried up as natural gas became electrical utilities' fossil fuel of choice. Republicans, including Trump, characterize former President Barack Obama's policies to curb greenhouse gas emissions as a "war on coal," and the new president has promised to revitalize the industry.
But things ended disastrously the last time a Republican president axed environmental and safety regulations accused of choking the coal industry. Under George W. Bush, the Department of Labor eased the enforcement of mine safety rules. The liberal Center for American Politics argued that this led to 2006 Sago mine catastrophe that left 12 miners in West Virginia dead.
A decade later, Trump has nominated the former owner of that mine ― billionaire private equity mogul Wilbur Ross ― as his commerce secretary.
How will Trump's first 100 days impact you? Sign up for our weekly newsletter and get breaking updates on Trump's presidency by messaging us here.
Calling all HuffPost superfans!
Sign up for membership to become a founding member and help shape HuffPost's next chapter
BEFORE YOU GO
PHOTO GALLERY
Climate Visuals For The Climate Change Denier In Your Life