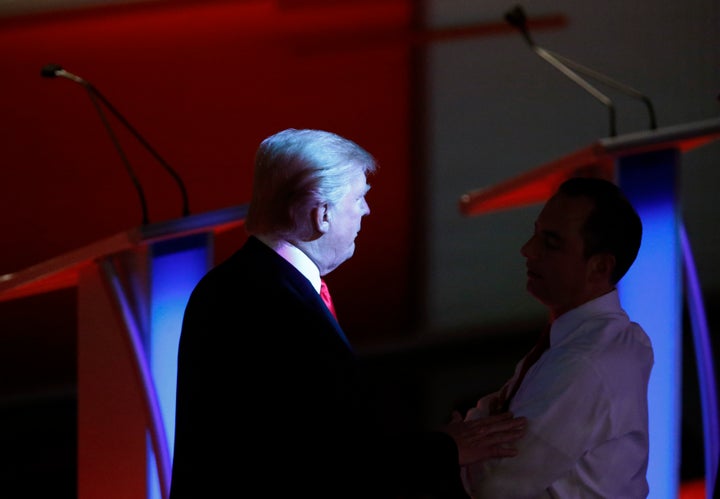 CLEVELAND – The Republican Party's top official said that since the traditional approach to winning the presidency hasn't succeeded of late, his party might as well embrace Donald Trump.
"The button-down, Boy Scout approach hasn't worked for our party the last several times," Republican National Committee chairman Reince Priebus told a group of Asian-American and Pacific Islander delegates on Wednesday morning. "So we've got somebody different. Somebody that I think is pretty darn exciting. Somebody that speaks from the heart. Somebody that I think is connecting with the American people."
Priebus also denigrated political strategists and consultants who've backed more traditional candidates or suggested that Trump could not win.
"And for all the experts that are out there, and there's a lot of them – not me, but people like me that get on TV, and they tell you who's going to be great, who's not going to work," Priebus said. "How have we been doing with these experts? Not good. Not good."
Trump was formally nominated as the Republicans' candidate for president Tuesday and is scheduled to deliver his acceptance speech Thursday. Yet even as his supporters celebrated his win on the floor, entire state delegations that backed different candidates largely remained seated – evidence that the celebrity businessman's bombastic style and relatively recent conversion to GOP politics have left a significant percentage of the party base uneasy with him.
Priebus tried to reassure the delegates on Wednesday that Trump's loud public persona is not who he really is.
"I talk to Donald Trump, as you may know, many times a day about every topic you can imagine. ... I have never once taken the phone and said, 'I can't believe this guy.' Not one time," Priebus said. "He is a gracious, personable guy who, I will tell you, in private listens [and is] fairly quiet. And I just want you to be assured that he loves this party, he can't wait to work with all of you, and I think that we're not just going to win in November, but I think that we're going to start a new direction for our party."
Calling all HuffPost superfans!
Sign up for membership to become a founding member and help shape HuffPost's next chapter