In fact, video appears to show Trump imitating New York Times investigative reporter Serge Kovaleski, who has arthrogryposis, a disease that limits the function of his joints. At a South Carolina rally in November 2015, Trump jerked his arms and said, "Now, the poor guy, you ought to see this guy, 'Ah, I don't know what I said, I don't remember, I don't remember, maybe that's what I said.'"
Trump went after the reporter ― whom he also called "nice" ― because Kovaleski denied that a story he co-wrote in 2001 substantiated Trump's claim that "thousands" of people in New Jersey cheered the fall of the World Trade Center. No evidence supports Trump's claim.
"The sad part about it is, it didn't in the slightest bit jar or surprise me that Donald Trump would do something this low-rent, given his track record," Kovaleski said after the incident. Kovaleski declined to comment Monday.
Since facing criticism over his behavior, Trump has repeatedly tried to backpedal. He claimed that he did not know what the reporter looked like ― Kovaleski has, in fact, closely covered Trump in the past ― and was merely "mocking the fact that the reporter was trying to pull away from a story."
Last year, Trump said that he would never mock a person with a disability because he spends "millions a year, or millions of dollars on ramps, and get rid of the stairs and different kinds of elevators all over." Federal law actually requires Trump to make his buildings accessible to Americans with disabilities.
Streep said on Sunday, "it kind of broke my heart when I saw it, and I still can't get it out of my head, because it wasn't in a movie. It was real life." She later added, "When the powerful use their position to bully others, we all lose."
Before You Go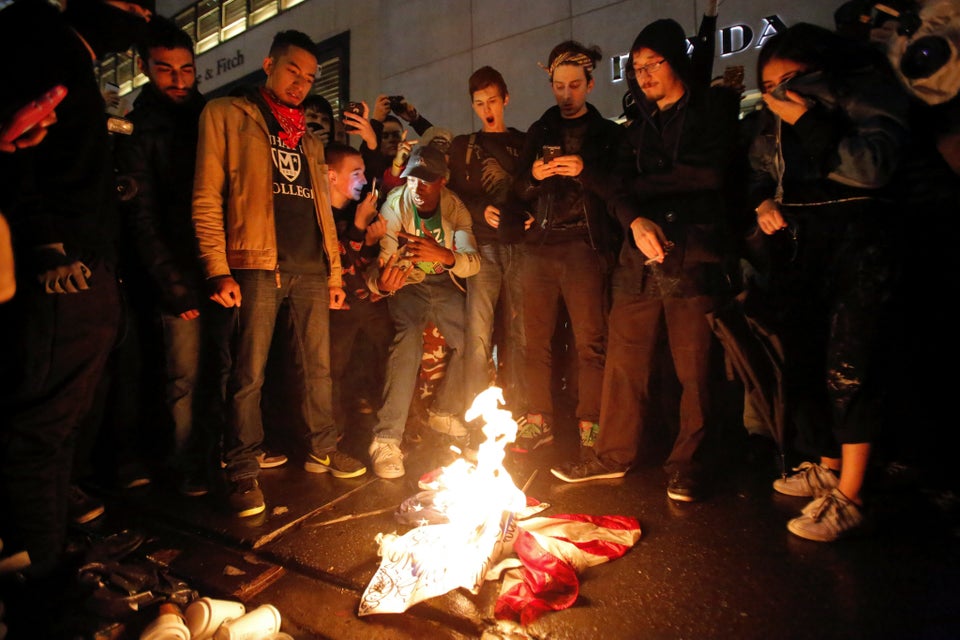 Donald Trump Win Sparks Protests Nationwide
Popular in the Community