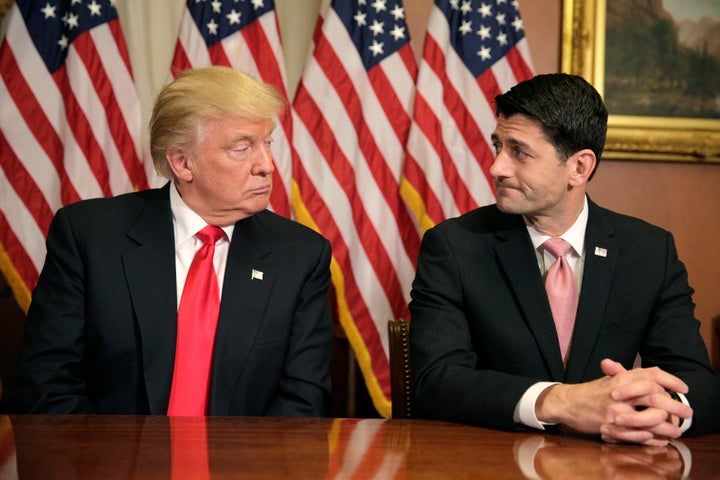 Voters who elected Trump largely are inclined to take his side in such disputes against congressional Republicans and traditionally conservative pressure groups, according to a new poll.
The survey, conducted by HuffPost and YouGov, asked people who they'd be more likely to support in a series of hypothetical political disagreements. Respondents were given the option to pick neither side, or to say that they weren't sure.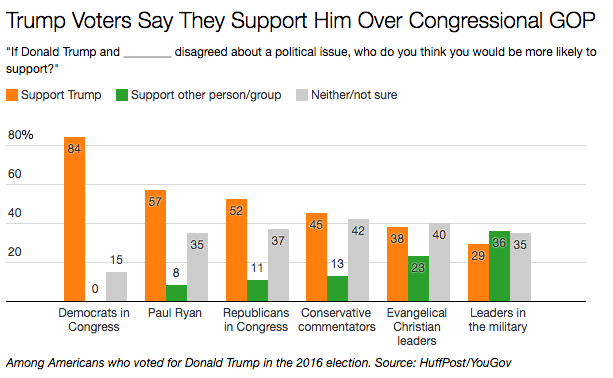 Unsurprisingly, Trump voters overwhelmingly say they'd back him in a dispute against Democrats in Congress. Eighty-four percent say they'd be more likely to agree with the president-elect, with fewer than 1 percent saying they'd be inclined to side with Democrats.
But a majority also say they'd be likely to support Trump over both congressional Republicans generally and Speaker Paul Ryan (R-Wis.) in particular.
That's despite the fact that Ryan is well liked among those who voted for Trump. In another recent survey, 60 percent of Trump voters said they approved of Ryan's handling of his job as speaker, with just 24 percent disapproving.
Other traditionally powerful voices on the right also fared badly in a hypothetical argument against Trump. Just 13 percent of Trump supporters say they'd be likely to side with conservative commentators, like Bill O'Reilly and Laura Ingraham, over the president-elect, and just 23 percent that they'd be inclined to support evangelical Christian leaders. (Self-described born-again Christians who voted for Trump, however, say by a 19-point margin, 41 percent to 22 percent, that they'd follow their religious leaders.)
The one voice that Trump voters prioritized over the president-elect was that of the military. By a 7-point margin, 39 percent to 26 percent, a plurality say they'd be more inclined to agree with military leaders than with Trump in a political disagreement.
The survey's wording, of course, is extremely broad. Political disputes may arise where public opinion on an issue is strong enough to outweigh any general inclination to sympathize with Trump. But the results suggest that the loyalties of Trump's voters lie more with him than with the party at large ― and that he may be able to coax some followers into positions they wouldn't otherwise support. A 2015 poll, for instance, found that Republicans were significantly more likely to embrace universal health care and affirmative action when the ideas were attributed to Trump rather than President Barack Obama.
Use the widget below to further explore the results of HuffPost/YouGov's survey, using the menu at the top to select survey questions and the buttons at the bottom to filter the data by subgroups:
The HuffPost/YouGov poll consisted of 1,000 completed interviews conducted Jan. 5 to Jan. 9 among U.S. adults, using a sample selected from YouGov's opt-in online panel to match the demographics and other characteristics of the adult U.S. population.
The Huffington Post has teamed up with YouGov to conduct daily opinion polls.You can learn more about this project and take part in YouGov's nationally representative opinion polling. Data from all HuffPost/YouGov polls can be found here. More details on the polls' methodology are available here.
Most surveys report a margin of error that represents some, but not all, potential survey errors. YouGov's reports include a model-based margin of error, which rests on a specific set of statistical assumptions about the selected sample, rather than the standard methodology for random probability sampling. If these assumptions are wrong, the model-based margin of error may also be inaccurate. Click here for a more detailed explanation of the model-based margin of error.
Popular in the Community