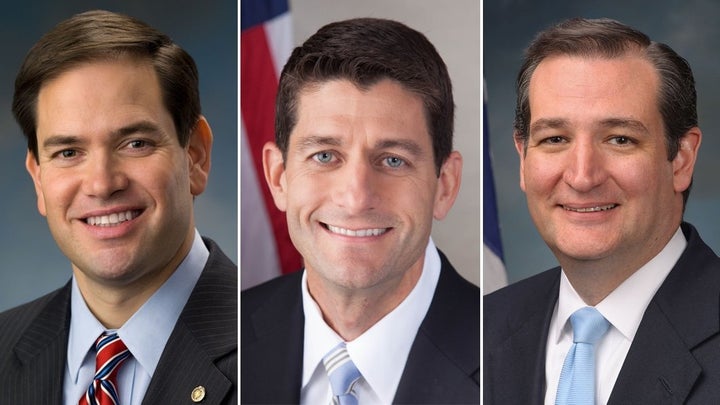 Prominent Republicans are once again finding themselves criticizing their party's presidential nominee ― but not actually withdrawing their support for him.
"I am automatically attracted to beautiful women. I just start kissing them. It's like a magnet. Just kiss, I don't even wait," Trump said in a 2005 conversation with "Access Hollywood" host Billy Bush. "Grab them by the pussy. You can do anything."
Republican leaders rushed to condemn his remarks ― as they have time and time again. 
Trump's running mate, Indiana Gov. Mike Pence, said he does not condone the candidate's comments but is "grateful that he has expressed remorse."
"Women are to be championed and revered, not objectified," Ryan said, while continuing to support the GOP nominee. "I hope Mr. Trump treats this situation with the seriousness it deserves and works to demonstrate to the country that he has greater respect for women than this clip suggests."
Senate Majority Leader Mitch McConnell called on Trump to "apologize directly to women and girls everywhere, and take full responsibility." But he also stopped short of telling Trump to drop out of the race.
Republican National Committee Chair Reince Priebus said, "No woman should ever be described in these terms or talked about in this manner. Ever."
Two former Trump rivals-turned-Trump backers, Sens. Marco Rubio (R-Fla.) and Ted Cruz (R-Texas), also weighed in. Although Rubio said it was "impossible to justify" Trump's offensive comments, he did not withdraw his endorsement.
Sen. Joni Ernst (R-Iowa), who has also endorsed the GOP nominee, said the comments were "lewd & insulting."
Rep. Cathy McMorris Rodgers (R-Wash.), who chairs the House Republican Conference, said, "It is never appropriate to condone unwanted sexual advances or violence against women. Mr. Trump must realize that it has no place in public or private conversations today or in the past."
Liz Cheney, the daughter of former Vice President Dick Cheney who is running for Congress in Wyoming, also condemned Trump while declining to pull her endorsement.
"Disgusting, shameful, totally disrespectful 'locker room' garbage, privately shared between two Hollywood playboys over a decade ago, is now made to be 'the crudeness heard 'round the world.' The old Bush and Trump braggart comments were beyond abhorrent and offensive, though both boys apologized for them," she wrote in a Facebook post. She also wrote that she was sure Hillary Clinton had made comments that were more crude while in private. 
This article has been updated with a comment from Sarah Palin.
Calling all HuffPost superfans!
Sign up for membership to become a founding member and help shape HuffPost's next chapter