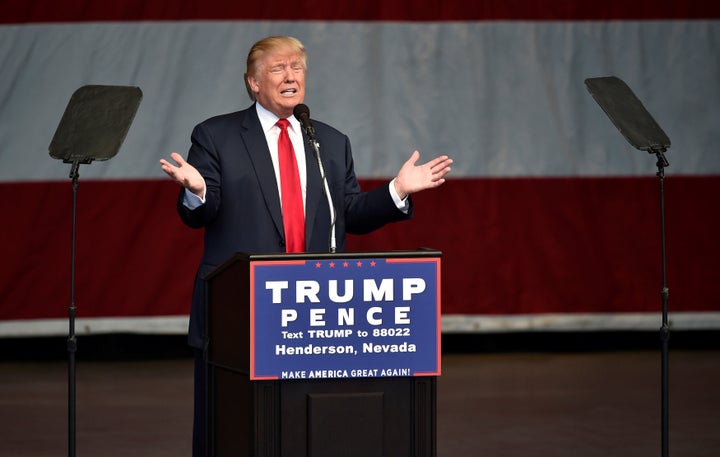 In a HuffPost/YouGov survey taken earlier this week, 54 percent of registered voters said Trump does not respect women, while just 32 percent said he does. Only 28 percent of female voters believe Trump respects women.
So, which voters changed their minds?
Not Democratic or Democratic-leaning ones: Just 6 percent believe Trump respects women, virtually the same as the 7 percent who said so in April. Voters who don't lean toward either party have grown slightly more likely than they were to say Trump respects women ― 38 percent now do so, up from 33 percent in April.
But the biggest shift by far was among Republican and Republican-leaning voters. In April, 48 percent said they thought Trump respected women. Now, 60 percent do.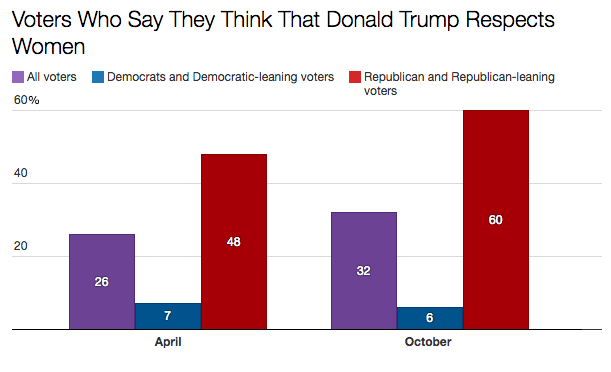 The change was especially noticeable among female Republican voters. Fifty-nine percent say in the poll that Trump respects women, up from just 43 percent in April.
"I think people make mountains out of molehills," Cindy Korol, a Michigan Trump supporter, told HuffPost's Jonathan Cohn at a rally earlier this month. "He may have said some things, but look at what [Clinton's] done. She's a liar. ... For him to call somebody 'fat,' big deal."
One explanation is that Trump has genuinely convinced a significant share of GOP voters that he values women. His general election campaign, however, has been regularly marred by controversies over his treatment of women.
A more cynical explanation is this: During the primary election, when Trump wasn't yet their party's nominee, Republicans were more comfortable expressing doubts about his behavior. Now, having rallied behind him, they're willing to ignore or downplay any attendant issues in the name of partisanship.
That raises the question of how much damage Trump will actually suffer on the basis of yet one more story ― albeit an unusually graphic one ― focused on his interactions with women.
Past polling, however, has suggested that his past disparaging remarks toward women, including Carly Fiorina and Megyn Kelly, have been genuinely off-putting to voters.
Even if Trump manages to suffer no further damage from the newest controversy, he already faces a notable deficit against Hillary Clinton on gender issues. The most recent Quinnipiac survey shows him lagging her by 20 points among female voters.
A 56 percent majority of voters in the HuffPost/YouGov poll say Clinton respects women. They say by a 14-point margin, 41 percent to 27 percent, that electing her as president would be generally good for women. By a 21-point margin, 42 percent to 21 percent, they say electing Trump would be generally bad.
The survey also reveals significant partisan disagreement on the obstacles women currently face. Eighty-two percent of Democratic and Democratic-leaning voters say women face some or a lot of discrimination in the U.S. Just 40 percent of Republican and Republican-leaning voters say the same.
There's an even wider divide along views of Trump's treatment of women. Voters who believe Trump doesn't respect women are more than three times as likely as those who do to say that women face at least some discrimination, at 83 percent and 25 percent, respectively.
Full results of the survey, among all Americans, here.
The HuffPost/YouGov poll consisted of 1,000 completed interviews conducted Oct. 5-Oct. 6 among U.S. adults, using a sample selected from YouGov's opt-in online panel to match the demographics and other characteristics of the adult U.S. population.
The Huffington Post has teamed up with YouGov to conduct daily opinion polls.You can learn more about this project and take part in YouGov's nationally representative opinion polling. Data from all HuffPost/YouGov polls can be foundhere. More details on the polls' methodology are available here.
Most surveys report a margin of error that represents some, but not all, potential survey errors. YouGov's reports include a model-based margin of error, which rests on a specific set of statistical assumptions about the selected sample, rather than the standard methodology for random probability sampling. If these assumptions are wrong, the model-based margin of error may also be inaccurate. Click here for a more detailed explanation of the model-based margin of error.
CORRECTION: An earlier version of this story compared current voter views to views from a poll conducted in March. The earlier poll was in fact conducted in April.