"This attack shocked the conscience of our nation and filled our hearts with grief," Trump said. "Journalists like all Americans should be free of the fear of being violently attacked while doing their jobs."
Trump has regularly criticized journalists, ramping up his anti-media rhetoric as president. At several rallies, he has referred to journalists as "the enemy of the people," urging his supporters not to believe the "fake news."
Almost exactly one year before the newsroom shooting, Trump tweeted a clip from 2007 of himself beating up WWE owner Vince McMahon, except McMahon's head had been covered with the CNN logo. The official White House account retweeted the post.
Trump first offered his "thoughts and prayers" to victims of the shooting on Thursday. A video shared by NBC News showed him silently walking past reporters as they shouted questions at him about the shooting.
One of the survivors of the shooting in Annapolis, Maryland, writer Selene San Felice, responded to Trump's tweet about prayers in an interview with CNN on Thursday.
"I've heard that President Trump sent his prayers. I'm not trying to make this political, right? But we need more than prayers. I appreciate the prayers. I was praying the entire time I was [hiding] under that desk. I want your prayers but I want something else," San Felice said.
"I'm going to need more than a couple days of news coverage and some thoughts and prayers because our whole lives have been shattered," she added. "Thanks for your prayers, but I couldn't give a fuck about them if there's nothing else."
Police identified the suspect as a 38-year-old man who had filed a defamation lawsuit against the paper and a columnist in 2012 over an article about a criminal harassment case against him.
Trump has cited mental illness in the past when responding to mass shootings. Following the massacre at Marjory Stoneman Douglas High School in Parkland, Florida, earlier this year, he repeatedly said that the shooter was "mentally disturbed" instead of commenting on the state's gun laws.
Marina Fang contributed reporting.
Before You Go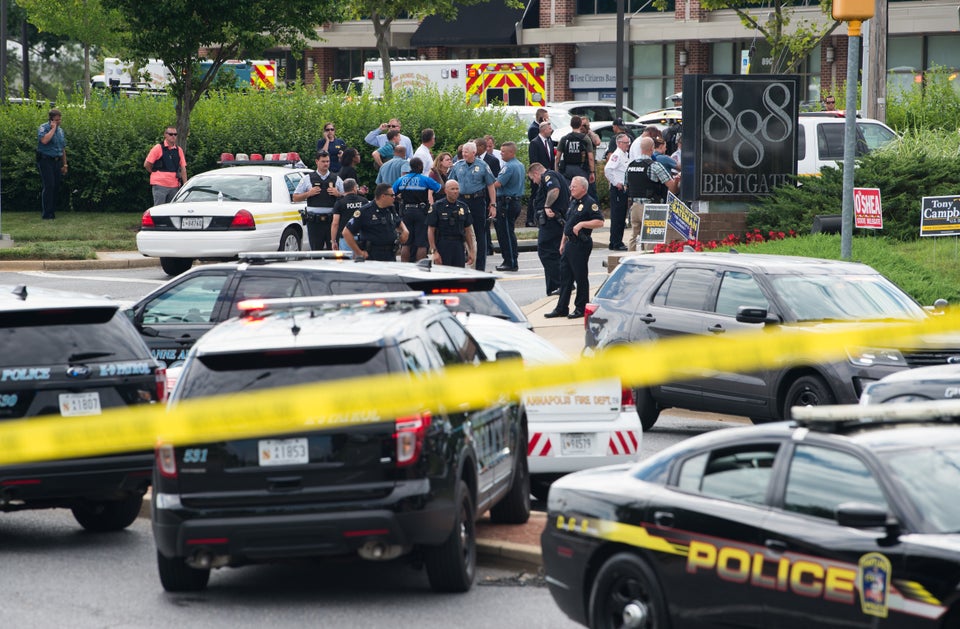 Shooting At Capital Gazette In Maryland
Popular in the Community