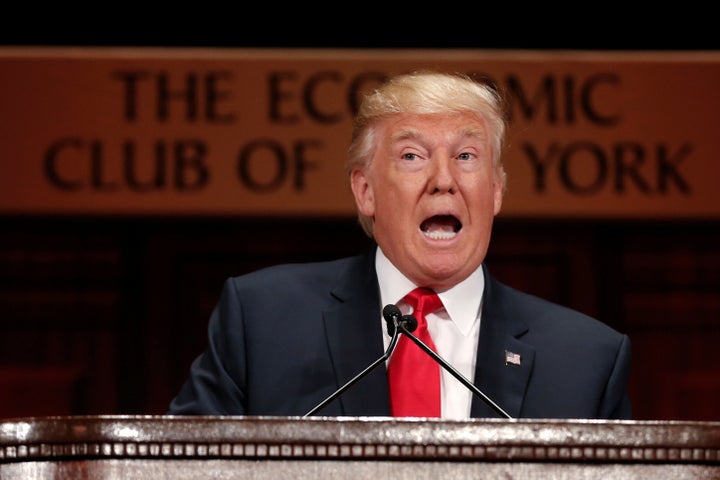 Facing seismic shifts in the way Americans shop, Macy's recently announced it was closing 68 stores around the country, laying off thousands of workers ― many of them low-paid sales associates, plenty of women and people of color, many working at failing malls where jobs are getting harder to come by. In total, after Macy's is done cutting back, more than 10,000 people will lose their jobs.
President-elect Donald Trump doesn't appear to care about those workers. Trump, who ran on a platform of bringing back and creating jobs, responded to Macy's layoff news with glee ― as a personal victory for himself.
"@Macys was one of the worst performing stocks on the S&P last year, plunging 46%," Trump tweeted. "Very disloyal company. Another win for Trump! Boycott."
At first glance, the tweet is easy to understand: In the summer of 2015, Macy's cut ties with Trump in response to the offensive remarks the then-GOP presidential candidate had made about Mexicans. Trump and his followers launched a boycott. So, of course, the president-elect sees the company's news in personal terms.
But there's something else going on. And it has everything to do with the kinds of jobs Trump feels are worthy of attention. So far, he has been almost totally concerned with old-school factory and manufacturing jobs, on the whole a declining part of the job market.
Meanwhile, he's ignored retail jobs, which employ a huge segment of working-class Americans. About 15 million Americans work in the retail industry, a number projected by the Labor Department to grow to 16 million by 2024. Manufacturing jobs are projected to decline by 2 million over that time period.
The problem is: retail jobs aren't great jobs. The median hourly wage for a retail salesperson is $10.47 an hour, according to the Labor Department. The benefits are poor. Women make up the majority of low-paid retail workers, according to a 2015 report from progressive think tank Demos.
A common misconception about who works in retail is that they are teenagers and students putting themselves through school, but the Demos report paints a different picture. Among low-wage earning retail workers who are women, 36 percent have children at home.
"Donald Trump isn't worried about losing these jobs or aiming to raise standards for people working in these jobs," Amy Traub, associate director of policy and research at Demos told The Huffington Post.
But retail jobs aren't going away and as increasing numbers of working families depend on the wages from these jobs, it's imperative to find a way to improve them. Americans depend on their wages from retail jobs to raise families. They need to be able to get time off to deal with sick kids or a pregnancy, they need to put food on the table, to see the doctor.
Traub notes that the way you make these jobs better is hardly a secret. First, you raise the minimum wage. Second, you enact paid sick leave and paid parental leave. You put in place better regulations around scheduling ― as some states have done ― so that working parents aren't at the mercy of daily changing schedules.
It's worth noting that the factory jobs Trump is so keen on saving didn't used to be great jobs. Unions fought for better working conditions and pay and the federal government put in place laws to protect these unions.
"Making it easier for workers to organize may be the key to turning service jobs into good jobs, as well," Traub said.
Don't hold your breath for a Trump administration that supports unions. Trump's pick to head up the Department of Labor, fast-food CEO Andy Puzder, vehemently opposes the Fight for $15 movement, which seeks to raise the federal minimum wage to $15 from its current $7.25. Union officials see him as an opponent of working people.
"More than 10,000 layoffs at Macy's and we hear nothing from the president-elect."
And yet Trump models himself as the champion of the working man.
"Too many of our leaders have forgotten that it's their duty to protect the jobs, wages and well-being of American workers before any other consideration," Trump said in a speech on jobs in September in New York.
He proposed turning this situation around by lowering taxes, reducing regulations and offering working families a child care tax credit. (None of those moves would've saved the jobs of those Macy's workers, by the way.)
Macy's is facing immense competition from the web and from speciality and discount stores that are steadily stealing away its clientele. These days, women buy their makeup at stores like Sephora, and their clothes at discount retailers like TJ Maxx. And of course, everyone shops online where Amazon is seeing tremendous growth.
All of this has spelled doom for the nation's malls, where Macy's once dominated as the anchor store that brought in the business. Other middle-of-the-road department stores are struggling too, including Kohl's, JC Penney and Sears.
Even if Macy's hadn't insulted Trump, there's little reason to believe he would've intervened to save the jobs of its workers. Their struggles simply don't fit Trump's view of the American job market or who gets to be a real American worker.
"More than 10,000 layoffs at Macy's and we hear nothing from the president-elect compared to 700 jobs in Indiana," Traub said, referring to a tax deal Trump put together to save 800 jobs at Carrier Corporation's gas furnace factory. "By ignoring this, Trump is telling his base these aren't real jobs and the people working at them aren't real Americans."
CORRECTION: A previous version of this article misstated the year that Macy's cut its business ties with Donald Trump as 2016; it was 2015.
Popular in the Community