The current front-runner for the Republican presidential nomination is known for speaking in a simplistic style that even fourth graders can understand, often going on bizarre, grammar-defying, stream-of-consciousness tirades that would make any English teacher cringe.
But buried beneath Trump's bombast, silliness, and schoolyard taunts like "sad!" or "loser" is his clever use of a rhetorical device that dates back to ancient Rome.
Apophasis, similar to paralipsis, is a figure of speech typically used to bring up a taboo subject by either denying it or pretending to pass over it. The philosopher Cicero frequently used the device, which means "to say no." For example, one could claim to have "no interest in talking about allegations of sexual misconduct against my opponent" while broaching the salacious topic simply by mentioning it.
It's most often used to deride one's opponents -- as Trump constantly does on the campaign trail or on Twitter, his favorite social medium -- while attempting to appear magnanimous.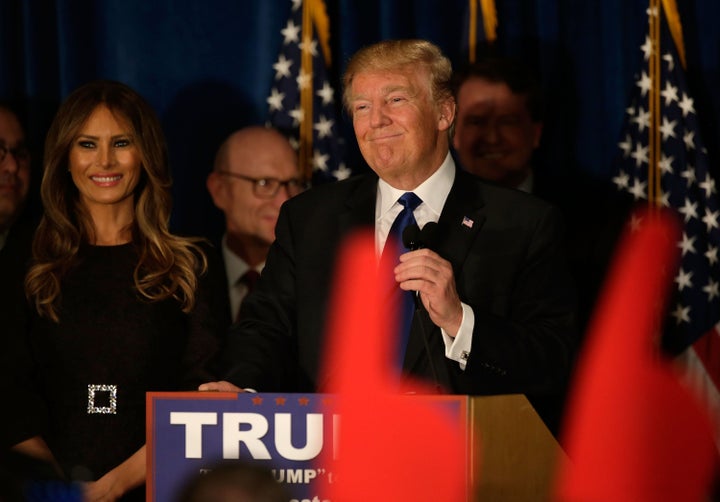 Most recently, the businessman used apophasis when he indirectly called Sen. Ted Cruz (R-Texas) a "pussy" at a rally in New Hampshire. Trump didn't say the word first, nor was he planning on using it, but rather allowed a supporter in the crowd to essentially do the dirty deed for him.
"You said a terrible thing. You know what she said? Shout it out, because I don't want to say," Trump told a supporter earlier this month, before she happily obliged. "Okay, you're not allowed to say, and I never expect to hear that from you again. She said he's a pussy."
Feigning shock, he then took a step back from the podium and reprimanded the woman for saying what he in fact invited her to do.
"That's terrible! Terrible," he said disapprovingly, clearly relishing that the word had now been associated with the Texas senator, and further demonstrating his simplistic view of leadership as being simply weak or strong.
Trump has also employed the device against GOP rival and former Florida Gov. Jeb Bush -- his favorite punching bag. While criticizing Bush at another rally in New Hampshire last month, the real estate mogul deployed some particularly egregious doublespeak.
"I was going to say 'dummy' Bush; I won't say it. I won't say it," Trump said in January.
Trump referenced then-GOP hopeful Carly Fiorina's rocky tenure as CEO of Hewlett-Packard in a similar way.
"I promised I would not say that she ran Hewlett-Packard into the ground, that she laid off tens of thousands of people and she got viciously fired," he said. "I said I will not say it, so I will not say it."
Media personalities have gotten the treatment as well. Continuing his long-standing feud with Fox News host Megyn Kelly last month, Trump attempted to pull his punches shortly after he'd already taken a swing.
"I refuse to call Megyn Kelly a bimbo, because that would not be politically correct," he wrote on Twitter. "Instead, I will only call her a lightweight reporter!"
And of the former host of Comedy Central's "The Daily Show," Trump stated that, "unlike others, I never attacked dopey Jon Stewart for his phony last name. Would never do that!"
The real estate mogul's rhetorical jabs at his opponents are somewhat reminiscent of those of President Ronald Reagan, whose deftness at public speaking earned him the name the "the Great Communicator." In 1988, Reagan slyly referenced a rumor that Democratic presidential nominee Michael Dukakis, who had refused to release his medical records, was struggling with depression.
"Look, I'm not going to pick on an invalid," Reagan said, later claiming he was only joking.
But Jon Favreau -- a former chief speechwriter for President Barack Obama who recently penned a mock version of the speech Trump might deliver if he wins the GOP nomination -- wasn't convinced of Trump's abilities as a rhetorical magician.
"I assume this is less of a clever ploy than another version of when my little brother used to hold his finger within an inch of my face and say, "Not touching you!" he told The Huffington Post in an email. "Feels like that's more on Trump's level of rhetorical strategy."
"But he always seems to need at least the thinnest of excuses to prove to people that he's not a complete monster," Favreau added. "This checks that box."

If Donald Trump Tweeted Throughout History
Popular in the Community