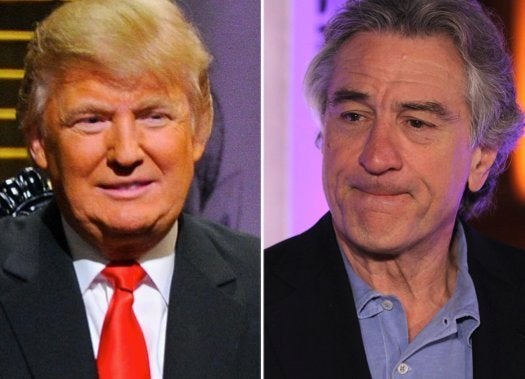 Potential presidential contender Donald Trump hit back at Robert De Niro on Monday on the heels of the Hollywood A-lister making critical remarks about his presidential ambitions for the next election cycle.
"Well he's not the brightest bulb on the planet," said Trump of De Niro during a phone interview on "Fox & Friends." "I've been watching him over the years and I like his acting, but you know in terms of when I watch him doing interviews and various other things, we're not dealing with Albert Einstein."
Over the weekend at the Tribeca Film Festival, De Niro weighed in on the prospect of a Trump 2012 campaign in a live interview with NBC News anchor Brian Williams.
"I won't mention names, but there are certain people on the news in the last couple of weeks -- what they're doing is crazy," he said of the potential presidential candidate, according to the Daily Beast. "They're making statements about people that they don't even back up. Go get the facts before you start saying things about people."
Williams sought clarification from De Niro that his remarks were applicable to Trump. Presumably referring to the billionaire's "Celebrity Apprentice " reality show he asked the Oscar-winning actor, "Any of those people have shows on my network on Sunday night?"
De Niro's response: "Yes." He then explained, "It's like a big hustle. It's like being a car salesman. Don't go out there and say things unless you can back them up. How dare you? That's awful to do. To just go out and speak and say these terrible things? Unless you just wanna get over and get the job. It's crazy."
Trump, who has captured headlines and sparked controversy with his persistence in raising doubt over President Barack Obama's birthplace, said on Monday morning in response to De Niro's remarks, "He can say what he wants, but the fact is that this guy has not revealed his birth certificate and a lot of people agree with me."
Trump also sought to defend himself against scrutiny of his voting record on "Fox & Friends." It was revealed over the weekend that the potential candidate hasn't voted in a primary election since 1989.
"In terms of the general election, my record is very good," he said. "Generally-speaking, I like to vote. I'm a believer in voting, I will tell you."