WASHINGTON ― President Donald Trump's trade agenda continues to scramble American party politics.
The U.S. Senate on Thursday confirmed Robert Lighthizer, Trump's nominee for U.S. trade representative, in an 82-14 vote. The vote did not break down along neat partisan lines: Three Republicans voted against him and 36 members of the Senate Democratic caucus joined other Republicans in voting for him.
The unusual final tally reflects the way in which Trump's trade skepticism has the power to win him unlikely allies and enemies.
A leading trade policy hawk, Lighthizer was one of the last Cabinet-level officials awaiting confirmation. His selection in January elicited praise from many liberal economists, and the Senate Finance Committee unanimously voted to send his nomination to the Senate floor in late April. 
The last-minute spending bill Congress passed last week included a provision that paved the way for Lighthizer's confirmation by giving him an exemption from restrictions on nominees who have lobbied for foreign governments in the past.
But in the run-up to the final vote, Lighthizer's confirmation encountered opposition from members of Trump's own party. 
Two Republican senators, John McCain (Ariz.) and Ben Sasse (Neb.), came out against Lighthizer's nomination on Wednesday because of his views against the North American Free Trade Agreement. A third, Sen. Cory Gardner (Colo.), also ultimately voted nay. Without Democratic support, those three defections would have been enough to sink Lighthizer's confirmation.
"A constant theme throughout your confirmation process has been your failure to grasp the importance of protecting agriculture in trade negotiations," Sasse and McCain wrote in a letter to Lighthizer, noting that the nominee had failed to put Sasse at ease on the agriculture question in a private meeting.
"America needs a USTR who will effectively defend agriculture during trade negotiations and fight to expand agricultural export markets, not let America's farmers and ranchers become collateral damage in a trade war," Sasse and McCain wrote.
The agriculture sector is particularly worried about upending the trade status quo because American farmers sell a ton of crops for export. While the U.S. as a whole has been running half-trillion-dollar trade deficits with other countries, agriculture has actually boasted a surplus since the 1960s. At the same time, low prices for commodities like corn and wheat have sharply reduced farm incomes in recent years, causing some farmers to worry they're on the brink of a farm depression like one that happened in the early 1980s in large part because farmers lost access to a foreign commodity market.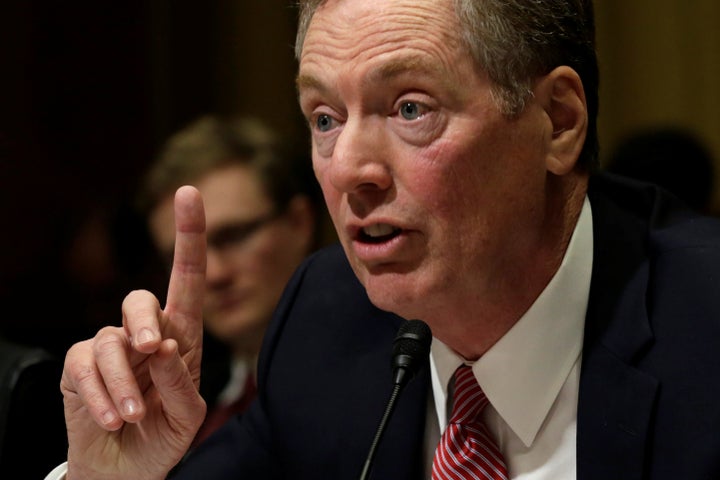 Eleven members of the Senate Democratic caucus joined McCain, Sasse and Gardner in voting against Lighthizer. The Democrats were Sens. Richard Blumenthal (Conn.), Kirsten Gillibrand (N.Y.), Kamala Harris (Calif.), Ed Markey (Mass.), Jeff Merkley (Ore.), Jack Reed (R.I.), Brian Schatz (Hawaii), Chuck Schumer (N.Y.), Elizabeth Warren (Mass.) and Sheldon Whitehouse (R.I.).
Vermont independent Bernie Sanders, an ardent foe of recent international trade agreements who caucuses with Democrats, also opposed Lighthizer's confirmation on the grounds that he was insufficiently committed to overhauling the nation's trade policies.
"He refused to include more people who represent unions, environmentalists, and human rights advocates on trade advisory panels," Sanders spokesman Josh Miller-Lewis said in a statement that cited a litany of other disappointments. "Right now, corporate interests represent 85% of the administration's trade advisory system."
What was perhaps more notable was how many Democrats vocally backed Lighthizer hours before the vote took place. Spokespeople for Sens. Debbie Stabenow (Mich.) and Sherrod Brown (Ohio) both confirmed to HuffPost earlier in the day that the senators planned to approve Lighthizer. Brown, a trade critic from manufacturing-heavy Ohio, had long signaled his support for the nominee, going so far as to introduce him at his Senate Finance Committee hearing.
On Thursday morning, Wisconsin Democratic Sen. Tammy Baldwin also announced her support for the confirmation. Baldwin has been outspoken in her opposition to a Canadian restriction on imports of ultrafiltered milk, a U.S.-produced dairy product used to make cheese that U.S. dairy farmers had been exporting to Canada. 
Baldwin cited her concerns about the trade dispute in her statement in support of Lighthizer's confirmation.
"In Wisconsin, there is an immediate need for the Trump Administration to follow through on the promises that have been made to our workers and dairy farmers," Baldwin said in a statement. "Our agriculture economy has been hurt by Canada's restrictive trade barriers and we need action to ensure our dairy farmers are not put out of business by trade politics and dairy policies set in Canada."
She added that "unfair trade deals, like NAFTA, have cost our Wisconsin economy manufacturing jobs. I have long opposed this flawed trade deal and support renegotiating it."
Baldwin and Senate Minority Leader Schumer (D-N.Y.), who nonetheless voted against Lighthizer, had already voiced support for Trump's stance against the Canadian dairy rule. New York is also a major exporter of ultrafiltered milk to Canada.
"There are plenty of things we can do that will put a lot of pressure on Canada," Schumer told USA Today on April 19. "Some are administrative, some are legislative, and I'll work with the Trump administration on both."
This article has been updated with details from the full Senate vote on Lighthizer's confirmation.
Calling all HuffPost superfans!
Sign up for membership to become a founding member and help shape HuffPost's next chapter
BEFORE YOU GO
PHOTO GALLERY
Best Photos From Trump's First 100 Days