Donald Trump fired off a slew of new insults at Florida Gov. Ron DeSantis (R), a rival for the 2024 Republican presidential nomination, on Wednesday.
The former president uploaded a video montage of DeSantis praising him, posted a series of mocking memes, taunted him as a "knockoff," attacked his response to the COVID-19 pandemic, and shared a poll of him leading DeSantis.
But the center of it all was a jab at DeSantis' name.
"He is demanding that people call him DeeeSantis, rather than DaSantis," he posted on his Truth Social platform. "Actually, I like 'Da' better, a nicer flow, so I am happy he is changing it. He gets very upset when people, including reporters, don't pronounce it correctly."
Naturally, the post included Trump's own take on DeSantis' name: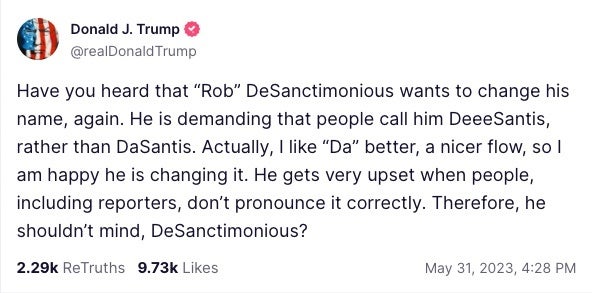 Trump often pokes at the names of his rivals and bestows insulting nicknames. For DeSantis, he's gone with "Rob," "DeSanctimonious" and "DeSanctus," and has reportedly toyed with calling him "Meatball Ron."
DeSantis fired back during a news conference on Wednesday, in particular taking aim at Trump's criticism of his coronavirus response.
Popular in the Community