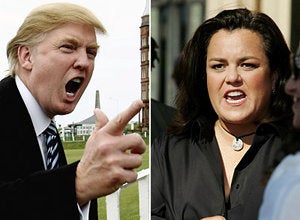 Donald Trump and Rosie O'Donnell, two media personalities who have never kept their mutual loathing for one another a secret, are in the midst of an explosive Twitter feud.
Trump took to YouTube on Wednesday to criticize O'Donnell's new show on the Oprah Winfrey Network (OWN). Trump called O'Donnell's show a "complete and total disaster." He also attacked MSNBC's Lawrence O'Donnell and said that his show was "failing." Trump then tweeted the video, with the message "#trumpvlog Same last name, same bad ratings- @lawrence and @rosie....."
O'Donnell tweeted back and attacked Trump's self-proclaimed wealth. "How many billionaires sell ties and have crappy non reality shows - none - go back to selling snake oil - #bankruptmuch?" O'Donnell tweeted.
Trump and O'Donnell went back-and-forth in a heated Twitter clash throughout Wednesday morning. Trump tweeted that he felt bad for O'Donnell's fiancé Michelle Rounds, and called O'Donnell a "true loser." O'Donnell responded by calling Trump "an ass."
View Trump's video and a slideshow of the Twitter feud below.
WATCH:
Related
Popular in the Community