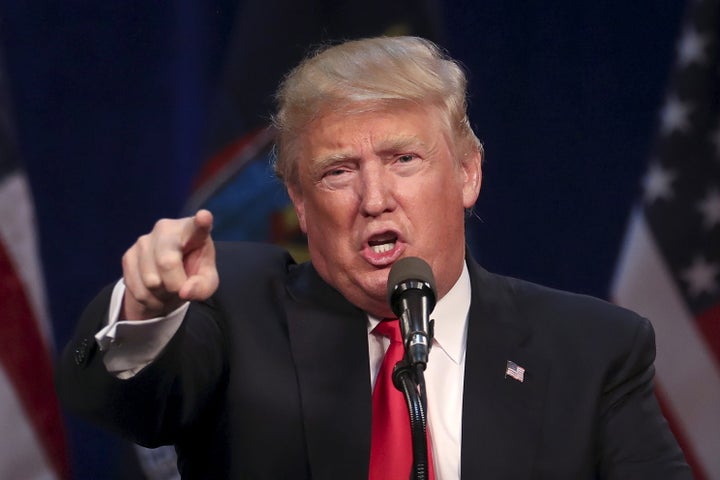 Republican presidential hopeful Donald Trump again warned the GOP that if it doesn't treat him fairly, it would face consequences at the nominating convention later this summer.
On Saturday, the real estate mogul called on party leaders to reform the way convention delegates are selected or face a "rough July" in Cleveland.
"The Republican National Committee, they'd better get going, because I'll tell you what: You're going to have a rough July at that convention," Trump said during a campaign event in Syracuse, New York. "You'd better get going, and you'd better straighten out the system, because the people want their vote. The people want their vote, and they want to be represented properly."
Trump has accused the RNC of setting up a "rigged" process after his rival Sen. Ted Cruz (R-Texas) swept delegates in Louisiana, Colorado and most recently Wyoming this weekend. In many cases, however, Trump's campaign was simply out-organized by Cruz's superior grassroots team, which has made the effort to show up to local and state party meetings where activists pick the actual delegates.
RNC Chairman Reince Priebus dismissed Trump's comments as "hyperbole" in an interview on CNN's "State of the Union," further stating he should take his complaints to the state parties.
"Each individual state determines how they're going to allocate their delegates. So, it's up to the campaigns to know the rules and compete in each of those states within the rules," he said Sunday.
Trump has previously suggested trouble at the convention as a way to make the RNC bow to his bidding. Last month, he warned of "riots" in Cleveland if the party blocks him from collecting the necessary 1,237 delegates needed to secure the GOP nomination. Roger Stone, one of the candidate's informal advisers, also suggested leaking the hotel room numbers of delegates who do not maintain their loyalty to Trump.
Calling all HuffPost superfans!
Sign up for membership to become a founding member and help shape HuffPost's next chapter
BEFORE YOU GO
PHOTO GALLERY
Donald Trump Rally Shut Down In Chicago