Trump's initial response to the sanctions was that "it's time for our country to move onto bigger and better things." He later said he would receive an intelligence briefing on the topic this week.
In an interview with Jonathan Karl on ABC's "This Week," Sean Spicer said multiple times that Trump intends to meet with intelligence officials to "get a full briefing on what they knew, why they knew it, whether or not the Obama administration's response was in proportion to the actions taken."
"Maybe it was; maybe it wasn't," he said. "We need to have that briefing first."
But Spicer would not answer repeated, direct questions about whether Trump acknowledges the intelligence community's conclusion that Russia was behind the hack, even suggesting that the report the Department of Homeland Security and the FBI released last week didn't say Russia was behind the hack.
The title of that report is "Russian Malicious Cyber Activity."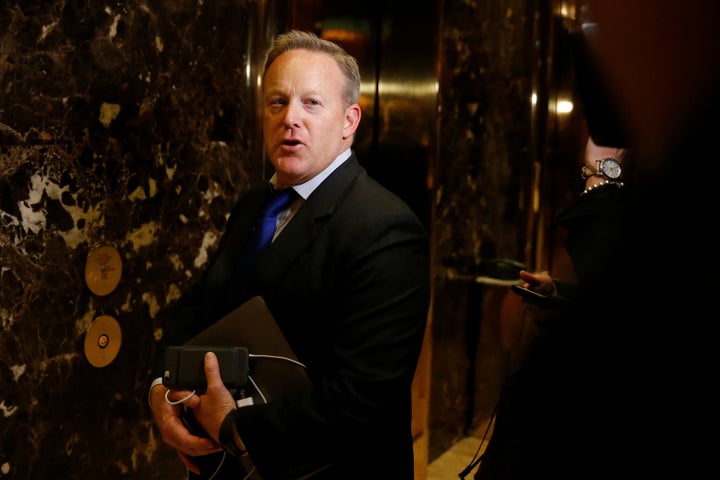 "While the media played it up as this report about the hacking, what it actually is, if you look through it, and its available online, is a series of recommendations that should be taken, like changing passwords, changing administrative rights. What it shows is that by all measures the Democratic National Committee had a very lax IT support," Spicer said. "Now hacking is wrong by any standards. No one supports anyone hacking into any other entity, legal, domestically, or foreign, or anyone interfering with anything, but the fact of the matter is, what this report really does show is that there's a need for them to go back in and look at their, what they're doing IT wise to protect their system."
Karl pressed him further: "Does he accept that Russia was behind this?"
"Well I think, like I said, he has to have the briefing first from the intelligence community next week," Spicer said.
Trump has previously dismissed reports that Russia was behind the hack, stating that it could have been a 400-pound man or maybe "some guy in his home in New Jersey." He also said it's very difficult to determine who is behind cyberattacks "unless you catch 'hackers' in the act." Security analysts say that's not true. Trump again disputed the intelligence analysis on the hack on Saturday, saying, "It could be somebody else." He added: "And I also know things that other people don't know, and so they cannot be sure of the situation."