Sakeena Ahmed is a fourth grader who has plenty of wisdom to share.
Ahmed hoped that by reading her letter and hearing her story, Trump's heart would change. 
"My only wish for you [is to be] good," Ahmed wrote. "And I hope this letter does make you good."
Read Sakeena Ahmed's letter below.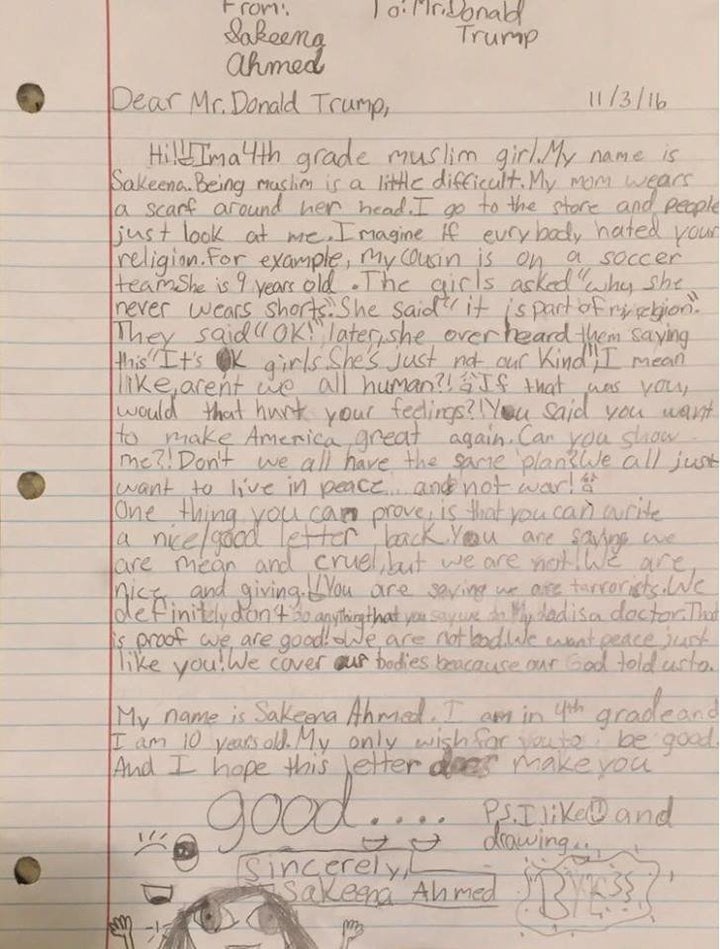 In the note, the little girl asks Trump to imagine what it would feel like to be in her shoes.
"Being Muslim is a little difficult," she wrote. "Imagine if everybody hated your religion."
Ahmed then went on to share the story of her 9-year-old cousin, whose teammates on a soccer team questioned why she never wore shorts. The cousin later overheard the girls saying "she's just not our kind."
"I mean, like, aren't we all human?" Ahmed asked in the letter. "If that was you, would that hurt your feelings?"
It's clear from the letter that Ahmed is feeling the sting of that.
"You are saying we are terrorists. We definitely don't do anything that you say we do. My dad is a doctor. This is proof we are good! We are not bad. We want peace just like you!" Ahmed wrote in the letter.
Aamina Ahmed, Sakeena's mother, told HuffPost that since the start of the campaign, Trump's many negative comments about Muslims, Mexicans, and immigrants have been a topic of discussion in her home and at Sakeena's school. The fourth grader and her younger brother have asked her mom if their dad, who was born in India, will be sent back to that country if Trump wins.
Aamina said that this letter came about after her daughter asked her why there were people in America who hated Muslims. 
"In order to ease their concerns, we discussed our rights as American citizens and that they cannot be taken away from us," Aamina told HuffPost in an email. "Additionally, that there are so many American citizens who believe in those rights and will fight to protect them and the greatness of this country. Although I personally have my own issues and fears about this, it was the only way I was able to make them feel better and not fear the outcomes of this election."
Aamina shared the letter with a few friends and also posted it on her personal Facebook and Twitter. She said that her child really hopes that Trump will read her letter and, in her words, "become good."
"I thought the letter would be a good reflection of what goes on in the innocent minds of our American-Muslim youth growing up today," Aamina wrote. "It is important for America to see what this kind of speech does to all of our children."
Calling all HuffPost superfans!
Sign up for membership to become a founding member and help shape HuffPost's next chapter
BEFORE YOU GO
PHOTO GALLERY
This Is What The World Finds Scariest About Trump