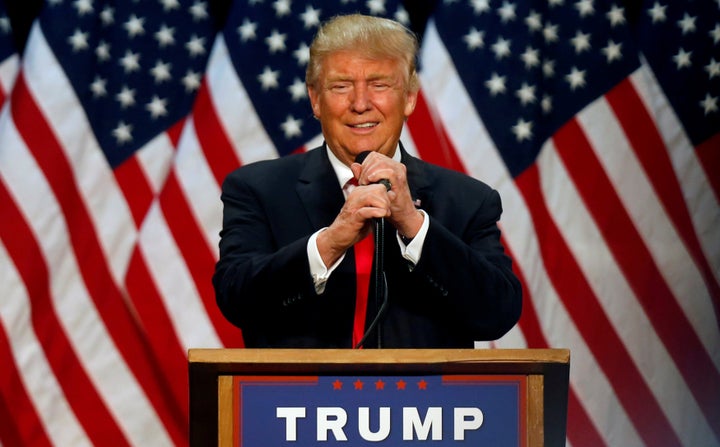 The lawyer who vetted 2008 vice presidential nominee Sarah Palin will be tasked with doing the same for presumptive GOP nominee Donald Trump's short list of potential running mates.
Bloomberg reported on Wednesday that A.B. Culvahouse Jr., a Washington-based attorney, met with the businessman's campaign aides at Trump Tower in New York, and has been tapped to lead the effort. His office declined to comment and referred requests for more information to the Trump campaign.
Culvahouse previously served as White House counsel to President Ronald Reagan. During that time he handled the failed Supreme Court nomination of Robert Bork. 
In 2012, Culvahouse defended his vetting of Palin for Sen. John McCain's presidential ticket, writing in The Wall Street Journal that he "believed she had the presence and wherewithal to grow into the position. I summed up her selection as 'high risk, high reward.'" McCain's decision to go with Palin ended up being the former, not the latter. The Arizona senator and his staff have been criticized ever since for embracing and legitimizing Palin and her brand of anti-Obama and anti-immigrant politics, ultimately paving the way for a candidate like Trump. 
The Manhattan real estate mogul is currently weighing several potential running mates, including Scott Walker, John Kasich, Marco Rubio and Newt Gingrich. He has said he wants someone with government experience, an insider who can ably navigate the corridors of power in Washington. The announcement is expected in July at the GOP convention, where Trump will enjoy a bigger spotlight to present himself and his running mate to the nation in hopes of unifying the party and turning around his poll numbers.
In the same Journal article, Culvahouse elaborated on how strictly he scrutinizes potential running mates. As part of the process, he examines "tax returns, medical histories, financial statements, court records," and poses questions about "infidelity, sexual harassment, discrimination, plagiarism, alcohol or drug addiction, delinquent taxes, credit history, and use of government positions or resources for personal benefit."
Trump's campaign told MSNBC that potential running mates would need to submit their tax returns during the vetting process. Yet Trump is refusing to release his own tax returns on the grounds that he's currently under audit by the IRS, even though there is nothing barring him legally from doing so. Moreover, there is precedent for releasing tax returns under audit. President Richard Nixon did so, for example.
And the Trump campaign's response to the clear hypocrisy?
Thank you, Captain Obvious.
Calling all HuffPost superfans!
Sign up for membership to become a founding member and help shape HuffPost's next chapter
BEFORE YOU GO
PHOTO GALLERY
Donald Trump's Potential Supreme Court Justices