President Donald Trump sarcastically tweeted his sorrow Tuesday night over the poor ratings of Sunday's Emmy Awards, which, from the moment host Stephen Colbert took the stage, zinged him.
"I was saddened to see how bad the ratings were on the Emmys last night – the worst ever," the president wrote. "Smartest people of them all are the 'DEPLORABLES.'"
For the record, this year's Emmys drew an average of 11.4 million viewers, slightly more than the lowest-ever 11.3 million in 2016, Variety pointed out. But the show averaged a worse rating in the prized 18-49 age demographic. 
Earlier in the day, the president threatened to destroy North Korea in a speech at the U.N., but clearly couldn't ignore his roasting at the Emmys.
Trump's tweet may be in direct response to Colbert's monologue expressing hope for the show to earn high ratings, because that's what matters to the president. The remark set up a gag bit in which Sean Spicer emerged to estimate the audience size. Colbert also bashed Trump's previous Emmy defeats as host of "Celebrity Apprentice."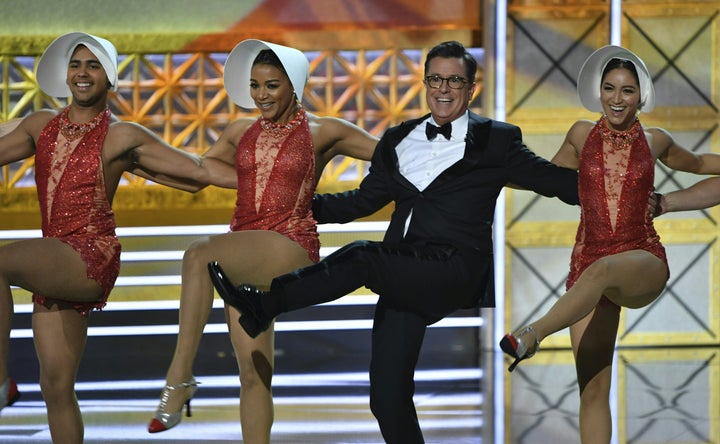 "And we all know the Emmys mean a lot to Donald Trump," Colbert said. "Because he was nominated multiple times for 'Celebrity Apprentice,' but he never won. Why didn't you give him an Emmy? I tell you this. If he had won an Emmy, I bet he wouldn't have run for president. So in a way this is all your fault."
He later added: "What really matters to Donald Trump is ratings. You've got to have the big numbers. And I certainly hope we achieved that tonight."
REAL LIFE. REAL NEWS. REAL VOICES.
Help us tell more of the stories that matter from voices that too often remain unheard.
BEFORE YOU GO
PHOTO GALLERY
Trump's U.N. Speech Photos Are Like A Bottomless Pot Of Gold