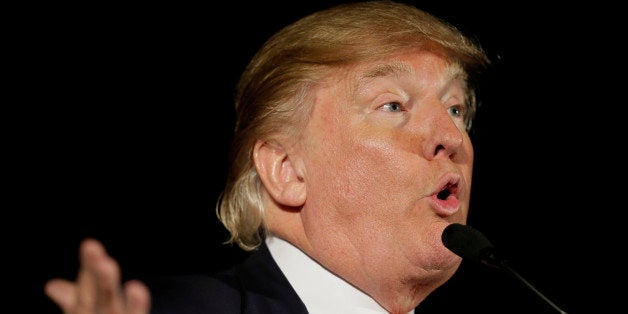 At an emergency meeting in Borough Park, Brooklyn, the prestigious Yiddish Academy, a body of distinguished scholars in Yiddish language and literature, issued a formal reprimand to Donald J. Trump for gross abuse of the Yiddish language.
During a recent rally in Grand Rapids, Michigan, Mr. Trump said that Hillary Clinton "got schlonged" by Barack Obama in the 2008 Democratic presidential primary.
But the Academy noted that "schlong" (a vulgar term for a penis of unusual size; literal origin, a snake or serpent), is a noun, and may never properly be used as a verb.
Noting that this was not Mr. Trump's first offense against the Yiddish language and that Mr. Trump has repeatedly shown flagrant disrespect for the other religious and linguistic groups that make up America's cultural mosaic, the Academy issued a rare second formal reprimand.
According to Academy Chair Reb Yankel Rabinowitz, the Academy concluded, after a spirited debate lasting seven hours, 37 minutes, that Mr. Trump is best described not as a "putz" (a fool or idiot; literally a penis), but rather as a "schmuck" (an odious or contemptible person, a prick; literally a penis).
After much shouting and gesticulation, the meeting was adjourned at 4:37 p.m., with a recommendation that its conclusions be communicated to the public as expeditiously as possible.
ADDENDUM: Sometimes satire and real life meet in strange ways. My piece on Trump and his misuse of Yiddish was drafted on December 23; the next day, I later learned from a friend, an event called Yiddish New York took place in Lower Manhattan. Trump's recent remarks were much discussed and those in attendance did not shy away from voicing their disapproval. Expressing the views of many at the gathering, Aaron Blacksberg, a Klezmer musician, responded to Trump's comments with a classic Yiddish expression: "Gai kakhen afen yam" (go defecate in the ocean).
REAL LIFE. REAL NEWS. REAL VOICES.
Help us tell more of the stories that matter from voices that too often remain unheard.