As Donald Trump visits Scotland on his fuel-guzzling jet for a ribbon-cutting at his golf resort Friday, there may well be thousands of unwitting patrons footing much of the bill: Republican donors to his campaign.
While the purpose of Trump's visit is to gin up publicity for Trump Turnberry's reopening, it was his presidential campaign that sent out news releases about the trip. It also arranged travel for the press corps -- ensuring that he receives far more attention for his private business than he would have had he not been running for president -- and scheduled specific media events for them to cover.
If Trump is, in fact, treating the trip and its six-figure cost as a campaign event, it would mean his newly recruited donors – both those cutting big checks at his fundraisers and those giving small amounts online – will be subsidizing the expense.
"It's the campaign paying for things that have nothing to do with the campaign," said Texas-based Republican consultant Matt Mackowiak. "Do donors want to see their money spent for this?"
One longtime Republican National Committee member joked that only people who have actually given Trump money would be unhappy, and there aren't all that many of those.
"The only people who are going to be upset are [RNC Chairman] Reince Priebus and the donors who've given to him," the RNC member said privately. "You won't be able to blame me, because I haven't given him a penny. So I won't feel bad about it."
The RNC referred questions about the trip to the Trump campaign, and the Trump campaign did not respond to The Huffington Post's query.
Whether Trump chooses to pay for the air travel on his aging Boeing 757 -- at least $100,000 in jet fuel alone for the transatlantic round trip -- and other expenses through his campaign may not be known until July 20, when an accounting of his June contributions and expenditures is due to the Federal Election Commission. Trump, though, has already used campaign staff and equipment to publicize the trip in the past days.
FEC rules prohibit converting campaign money for personal use, but there is no specific guidance that covers Trump's exact situation, said Paul S. Ryan of the Campaign Legal Center watchdog group.
"He seems to be using his campaign to promote his personal business. Is it illegal? I can't say it is. We seem to be in some murky water here," Ryan said. "This type of activity is somewhat unprecedented."
According to a June 19 press release sent out by his campaign, Trump is to hold a news conference Friday morning at his Turnberry resort, followed by a ceremonial ribbon-cutting and a photo opportunity at a lighthouse. The campaign schedule showed a "possible press activity" on Saturday in Aberdeen, where Trump has another golf resort.
Trump's most recent FEC filing sparked a fresh round of criticism from Republican strategists, delegates and donors with its details of more than $1 million in spending on Trump's own companies -- including a whopping $423,372 to Mar-a-Lago, Trump's private club in Palm Beach, Florida, where he had staged some news conferences.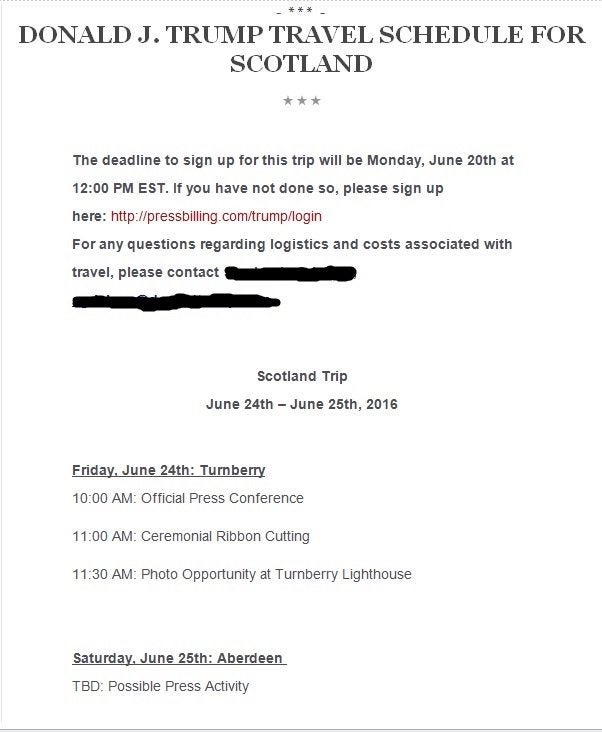 Popular in the Community