In a series of tweets over two days, he signaled strong support for Pruitt, whom he said was "under siege." On Friday, the president blamed the reporters who this week broke a series of stories detailing Pruitt's living arrangements, spending and management of the agency, intensifying accusations of corruption and government waste.
On Saturday, the president defended Pruitt's seven-figure spending on security, insisting ― as Fox News reported ― that the administrator faced death threats, and saying, incorrectly, that Pruitt's $50-a-night room in a luxury Capitol Hill condo was "about market rate."
The second tweet came a day after The Wall Street Journal and The New York Times published reports detailing White House Chief of Staff John Kelly's efforts over the past two weeks to convince Trump to fire Pruitt over the ongoing scandals. But, at a White House briefing that afternoon, press secretary Sarah Huckabee Sanders noted that "no one other than the president has the authority to hire and fire members of his Cabinet."
"Right now I don't have any personnel announcement," she added.
At least three Republican House members joined Democrats and environmental groups this week to demand Pruitt's ouster amid a firestorm over his sweetheart deal to rent a room in a luxury townhouse linked to a lobbyist whose clients had business before the EPA. The EPA ethics office retroactively approved the arrangement, but struggled to defend the administrator as new details rapidly emerged.
Criticism of Pruitt intensified after reports published Thursday accused the administrator of trying to abuse his vehicle's emergency sirens to cut through traffic and of reassigning, demoting or forcing out EPA officials who challenged his "unusually large spending." Other reports this week accused Pruitt of using a loophole in the Safe Drinking Water Act to give two political appointees raises after the White House rejected his original request. Pruitt denied the reports in a blistering Fox News interview.
The latest scandals follow months of scrutiny into the cost of Pruitt's first-class travel. He routinely spent more than $2,000 on flights to his home state of Oklahoma, and to interviews and events in New York City.
But Pruitt's conservative allies mounted a vigorous defense. On Wednesday, Mollie Hemingway, a senior editor at the right-wing Federalist, called Pruitt "Trump's biggest asset" in a column, and warned the president that "ousting him would be a huge victory" for his opponents. On Thursday, FreedomWorks, the libertarian campaign group founded by fossil fuel billionaires Charles and David Koch, launched a dial-in effort, urging supporters to call the White House and champion Pruitt against a "smear campaign" by "the radical left." On Friday, The Wall Street Journal's editorial board advised the president to "show some loyalty to his leading reformer," calling his decision on the administrator's future "Trump's Pruitt Test."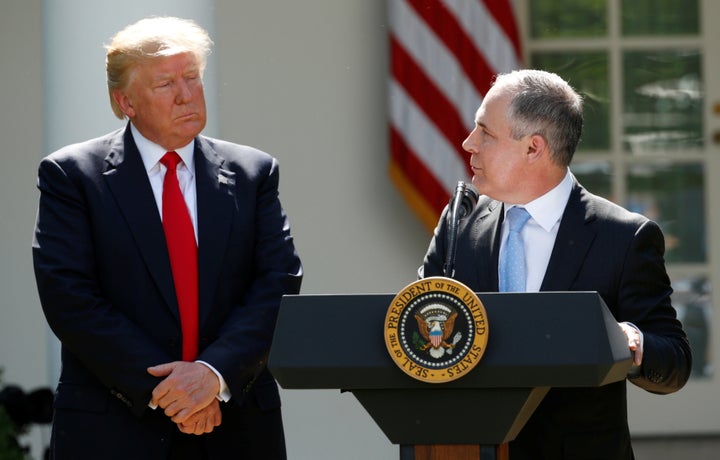 It helps that, on Monday, Pruitt outlined plans to rollback a landmark Obama-era regulation to limit carbon dioxide emission from vehicle tailpipes. The announcement burnished Pruitt's reputation as the speartip of Trump's deregulatory agenda. But, as The New Republic's Emily Atkin laid out, Pruitt's effectiveness is overstated. At least 10 of the roughly 30 regulatory rollbacks Pruitt has proposed are on hold due to lawsuits, and several have been overturned in federal court.
Still, his efforts to scale back the United States' climate change efforts ― he helped convince Trump to withdraw from the Paris climate accord ― and disqualify huge bodies of research to favor industry-backed studies in crafting regulations have bolstered his favor with Trump. That may be why the president is averse to forcing Pruitt out.
Health and Human Services Secretary Tom Price resigned last September just one week into a scandal over his costly use of chartered flights. But Price lost Trump's favor months earlier, with the failure of his campaign to repeal the Affordable Care Act.
Pruitt also benefits from Republican control of both houses of Congress. Anne Gorsuch Burford, the last EPA administrator to resign in disgrace, faced fierce criticism during her time as President Ronald Reagan's first head of the agency. Like Pruitt, she contracted the agency's budget to historic lows and drastically eliminated environmental regulations with an ideological fervor. But she only stepped down in 1983 because the Democratically controlled House cited her for contempt of Congress for refusing to turn Superfund records over to a subcommittee.
To Liz Purchia, who served as the EPA's communications director under President Barack Obama, the White House's doubling down of support for Pruitt echoes Trump's repeated endorsement of former Alabama Senate candidate Roy Moore. The president continued to back the former judge's campaign last year for the Heart of Dixie's open Senate seat amid a deluge of reports detailing Moore's history of sexual predation of teenage girls. Trump's support for Moore divided Republicans, though the president quickly distanced himself after Democrat Doug Jones eked out a victory in the special election.
"Like with Roy Moore, despite the overwhelming calls for Trump to disown and condemn Pruitt's actions, he's doubling down," Purchia told HuffPost. "Ethics or moral scandals aren't an issue for Trump. He'll only act if the constant drip of negative headlines continue for Pruitt like we saw with Roy Moore."
This story was updated to include Trump's second tweet.
Before You Go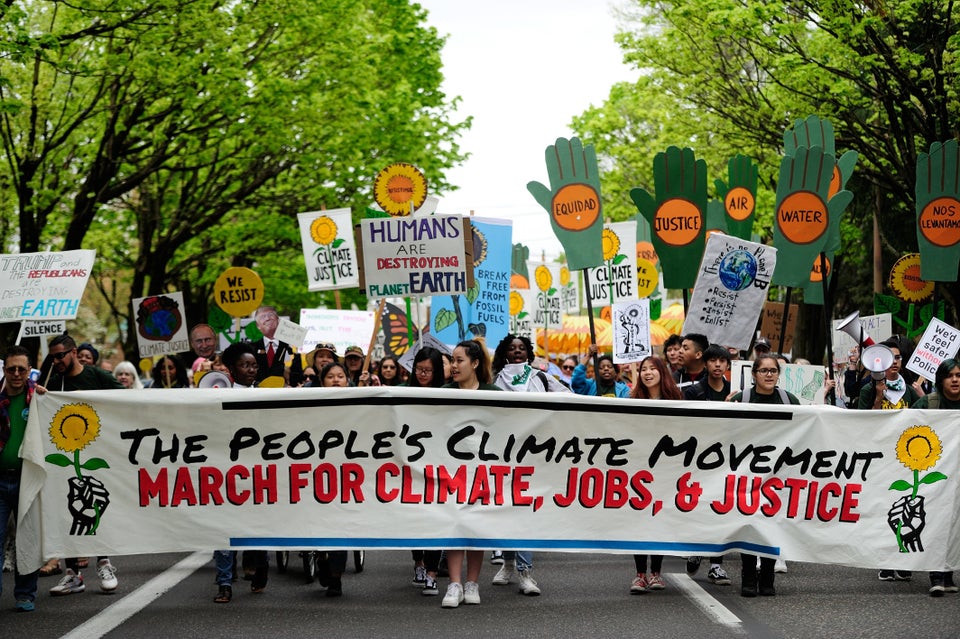 Climate Marches Across The U.S.
Popular in the Community