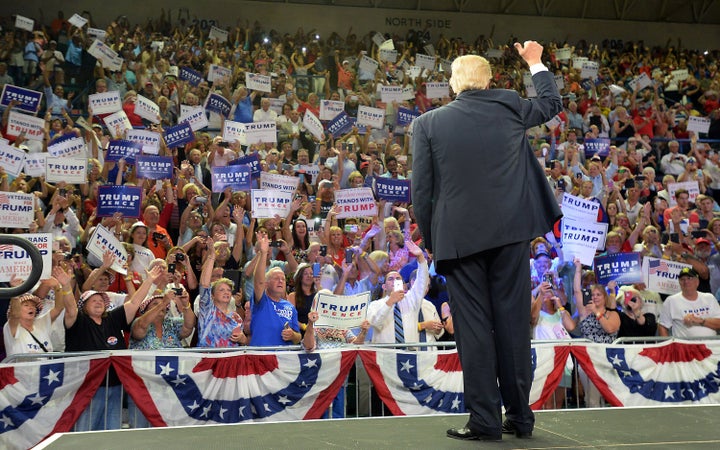 Trump surrogates and campaign staffers have offered a barrage of half-hearted excuses, ranging from the generic "he was just saying go vote!" to blaming the media for making assumptions, since Trump's appearance earlier in the day in North Carolina. "If she gets to pick her judges ― nothing you can do, folks," Trump told supporters with a shrug. "Although, the Second Amendment people. Maybe there is. I don't know."
Here are some of the excuses:
He didn't mean that. Former New York Mayor Rudy Giuliani said Trump meant voters "have the power to campaign against her." According to CNN's Jeremy Diamond, Giuliani continued to say the media spun out a nonexistent thread toward shooting Clinton.
"I saw it, I heard it, I know what it meant," Giuliani said. "I know how the crowd reacted to it."
"He was talking about Hillary Clinton and gun control ... Hillary Clinton is a gun grabber," Pierson told CNN's Jake Tapper. "Mr Trump was clearly pointing that out as he does every day on the campaign trail."
Tapper noted that Trump appeared to be talking about voters' responses after Clinton were elected. But Pierson said her boss was talking about what "could happen" and how voters should get out and vote to protect their right to bear arms.
He was just saying go vote. Trump communications adviser Jason Miller said his boss' comments were meant to spur "American voters who are passionate about their Second Amendment rights ... to use that power at the ballot box." Any suggestion otherwise, Miller told CBS News' Major Garrett, was "desperate," "outrageous" and "ridiculous."
He uses metaphors all the time. Rep. Duncan Hunter (R-Calif.) said Trump's comments were simply a play on words. "What he meant was we can stop Hillary Clinton from being elected," he told CNN's Wolf Blitzer. Blitzer noted that Trump was talking about a future when Clinton was already in office, but Hunter responded that Trump sometimes "says things that the way they come out are not the way he means."
Clinton lies more than Trump is outspoken. Former GOP presidential candidate Newt Gingrich simply pointed a finger at Clinton in an email response to Trump's comments. "Trump goes off script less often than Hillary lies," he wrote.
On Tuesday evening, the U.S. Secret Service, tasked with protecting the president and leading presidential candidates, tweeted that the agency was aware of Trump's comments.
Popular in the Community