Tillerson has no government experience, but Trump said in a statement that the oil titan's "tenacity, broad experience and deep understanding of geopolitics make him an excellent choice for Secretary of State."
PREVIOUSLY: WASHINGTON ― President-elect Donald Trump is expected to pick Exxon Mobil CEO Rex Tillerson, who has ties to Russia, to be his secretary of state, several media outlets reported Saturday.
Trump met with Tillerson in New York City Saturday. He's faced competition for the top foreign policy position from former New York City Mayor Rudy Giuliani and 2012 Republican presidential candidate Mitt Romney.
Yet Tillerson, who has served as Exxon's CEO since 2006, has no government experience. His consideration for the surprised even senior Exxon officials, according to The Wall Street Journal.
Exxon has operations in more than 50 countries, including Russia, which the CIA has concluded interfered in the U.S. elections to boost Trump.
Despite U.S. and European Union sanctions against Russia, Exxon increased its drilling rights in the country in 2014, raising its stake from 11.4 million acres at the end of 2013 to 63.7 million, according to Bloomberg. Exxon signed a deal in 2011 with Russia's largest state-owned oil company.
The reported pick comes amid growing concerns over a CIA report that Russia actively tried to boost Trump's chances in the U.S. presidential election.
Tillerson's selection also comes as attorneys generals in New York and Massachusetts are investigating whether the company covered up what it knew about climate change dating back decades.
Michael McFaul, a former U.S. ambassador to Russia, said that Tillerson's selection made it unequivocally clear there needed to be an investigation into Russian interference in the U.S. elections. (The Washington Post had reported on Friday that the CIA had concluded that Russia had worked to help Trump elected president.)
Mark Salter, a former top aide to Sen. John McCain (R-Ariz.) said that Tillerson's Russia ties should disqualify him from being confirmed.
Greenpeace USA spokesperson Cassady Craighill issued a scathing statement in reaction to the secretary of state nomination, saying "just when we thought Trump's cabinet could not get farther away from the needs of the American people, he sneaks in a Saturday appointment" of Tillerson.
"In this position, Tillerson will try his hardest to silence global initiatives and the right of state attorney generals to hold fossil fuel companies legally accountable for climate change," she said. "We will not silenced, and we will not allow this cabinet of billionaires to steamroll the people."
Erich Pica, president of Friends of the Earth, said in a statement that Tillerson should be blocked from serving as secretary of state. "Rex Tillerson should be prosecuted for the climate fraud and lying that Exxon Mobil has commenced over the years, not nominated as Secretary of State. The Senate must fight Tillerson's appointment for the sake of our climate and country," he said.
But some foreign policy watchers welcomed the choice. An energy executive has to understand fact-based analysis and foreign contexts, noted Suzanne Maloney, a top Brookings Institution expert on Iran, in a Twitter post. In an administration in which the president frequently denies basic realities, Tillerson might be an essential voice. "State [could] do a lot worse," Maloney wrote.
This story has been updated to include new details, including reactions to the reports that Trump was expected to pick Tillerson.
Before You Go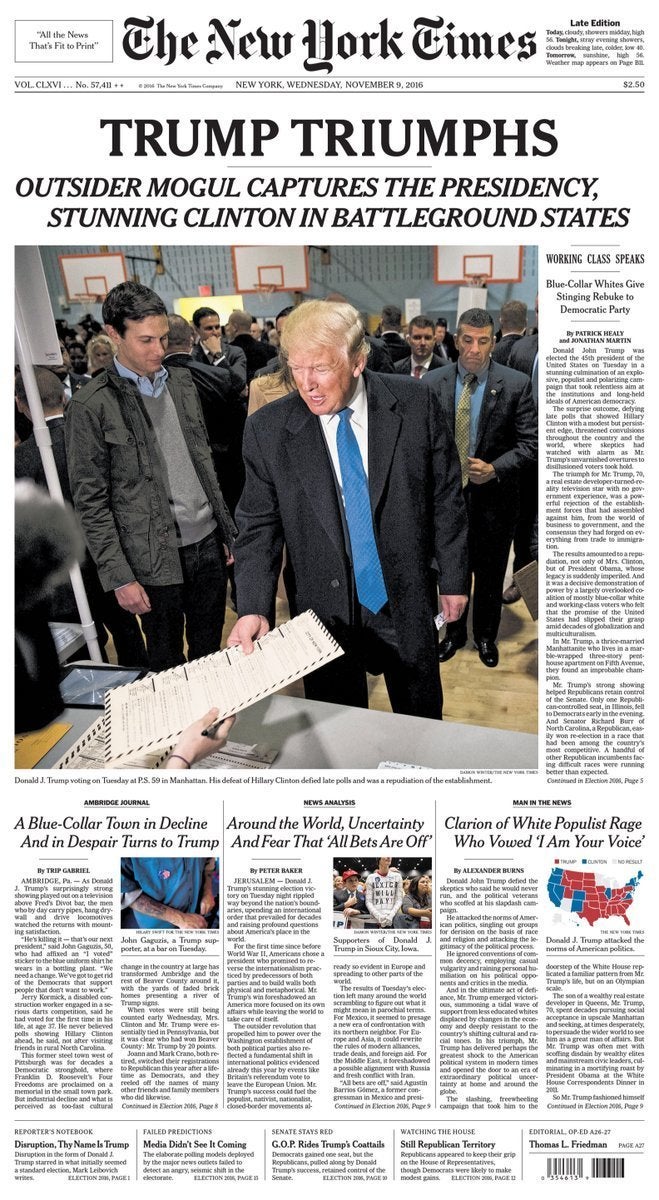 Newspapers React To President Trump
Popular in the Community