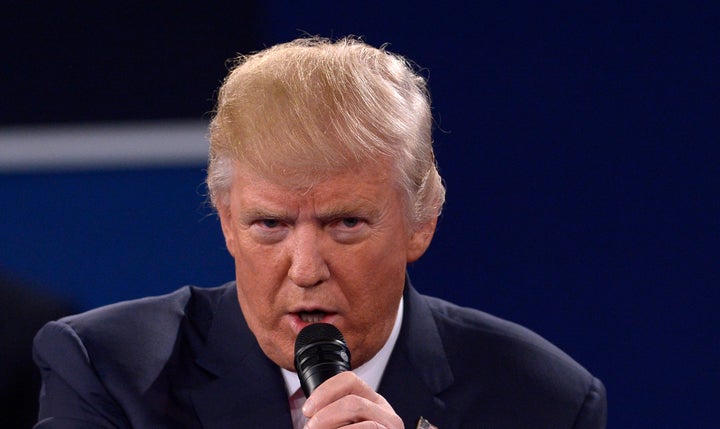 WASHINGTON ― Throughout his presidential campaign, Republican nominee Donald Trump has promised that he is beholden to no one but himself. He likes to point to his self-financing of his campaign as evidence of this.
In the second presidential debate Sunday and at a rally Monday, Trump continued to claim that he is self-financing his campaign, unlike Democratic nominee Hillary Clinton.
"I will have in my race more than $100 million put in of my money, meaning I'm not taking all of this big money from all of these different corporations like she's doing," Trump said at the debate. "What I ask is this. I'm putting in more, by the time it's finished, I'll have more than $100 million invested. Pretty much self-funding. We're raising money for the Republican Party and we're doing tremendously on the small donations — $61 average or so."
The problem with Trump's statement is that his self-financing stopped being a major part of his finances after he racked up enough primary and caucus wins to guarantee the Republican Party nomination. From June through August, Trump contributed just $6.1 million to his campaign. The rest came from donors not named Donald Trump.
Overall, Trump's official campaign has reported $83.1 million in receipts from June to August ― the latter month being the most recently disclosed to the Federal Election Commission. His own contributions account for just 7 percent of the total.
Trump did largely self-finance his primary campaign through large loans that were later converted to contributions. He gave a total of $47.9 million from his June 2015 presidential announcement through the end of May 2016. Those contributions significantly scaled back after he secured the party's nomination.
The largest source of Trump funds is small donors giving under $200. In total, these small donors have given $45.2 million when including all contributions under $200 listed as transfers from the joint fundraising committees linking his campaign to the Republican National Committee. That's more than 50 percent of all contributions to Trump's campaign.
Donors giving more than $200 gave $31.8 million in the summer months. Of that amount, $10.4 million came from donors giving $2,700 or more. (Donors are limited to giving $2,700 for each a primary and general election, making the official limit one could give prior to the Republican National Convention $5,400.)
Trump's share of fundraising coming from small donors is no doubt the highest percentage for a general election presidential candidate. His problem, however, is that it is difficult to compare his fundraising to past candidates in the modern era because he has raised so little money.
The Clinton campaign ― just the official Hillary for America account ― had received $377 million from donors through August. In just the same summer months when Trump started fundraising, the Clinton campaign raised $145 million from donors. When including transfers from her joint fundraising committees, Clinton even raised more from small donors than Trump, with $54.3 million coming from donors giving under $200.
As for Trump's claim that he will end up donating $100 million to his own campaign, he would need to either have already contributed or plan to contribute another $50 million from September through Nov. 8.
Support HuffPost
The Stakes Have Never Been Higher
Popular in the Community