WASHINGTON -- The Democratic Senatorial Campaign Committee is out with a new ad tying vulnerable Republicans to Donald Trump, the first in an initiative that will no doubt pick up in the coming weeks.
The ad shows senators such as Kelly Ayotte (R-N.H.), Mark Kirk (R-Ill.) and Pat Toomey (R-Pa.) -- who all face tough re-election races -- saying they plan to support the eventual Republican nominee or admitting that the GOP presidential front-runner taps into a force among the base.
"Republican Senate candidates helped build the 'Party of Trump' by refusing to stand up to Donald Trump, and now these Senators and candidates are tied to the frontrunner's toxic rhetoric and offensive comments," DSCC national press secretary Lauren Passalacqua said in a statement. "Republicans know that Trump threatens their already fragile Senate majority, but they are unwilling and unable to do anything to stop the car from driving off the cliff with Trump at the wheel."
DSCC said its "Party of Trump" campaign will feature spending across television, radio and the Internet. The ad released Tuesday will be online only for now but could be edited and used on TV against specific candidates in the coming months, according to the DSCC.
Democrats have to defend only 10 seats in 2016, the residual benefit of the shellacking they took in 2010 when tea party Republicans swept into office. The GOP, meanwhile, needs to defend 24 -- and six of them are in states that President Barack Obama won twice. The two Democratic seats most at risk are in Nevada and Colorado.
Vulnerable Senate Republicans have tried to downplay Trump, an effort that will get much harder if he wins the party's nomination for president. According to a count by The Washington Post, 31 senators have so far said they will support Trump if he becomes the nominee. Sen. Ben Sasse (R-Neb.) is the only senator in the party who has absolutely ruled it out.
Before You Go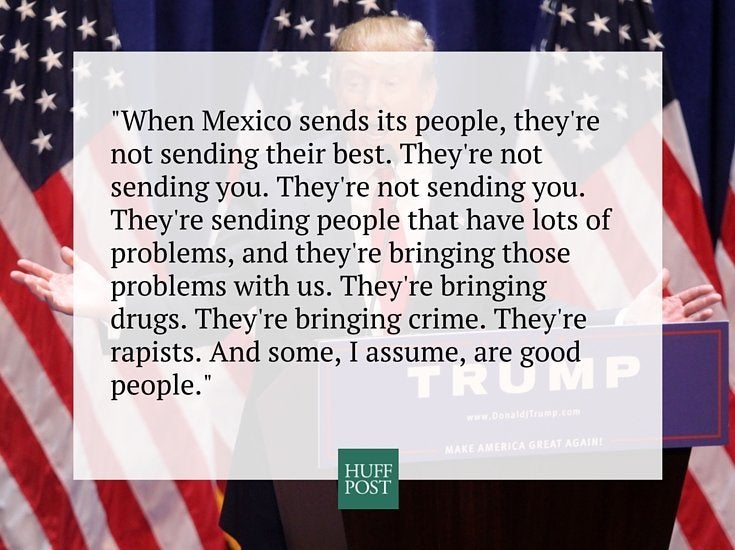 9 Outrageous Things Donald Trump Has Said About Latinos
Popular in the Community