President Donald Trump has faced backlash after his 2020 campaign team launched a new fundraising drive to send bricks to the offices of Speaker Nancy Pelosi (D-Calif.) and Senate Minority Leader Chuck Schumer (D-N.Y.)
"Since Chuck and Nancy keep stonewalling the President, why don't we send the wall to them, brick by brick, until they agree to secure the border!" tweeted Trump Jr.
The website itself encourages people to "send a brick to Chuck and Nancy" as part of the "fight to fund" Trump's proposed wall on the U.S.-Mexico border.
Its home page offers people two options to either "send Nancy a brick" or to "send Chuck a brick." It features a photograph of a red brick superimposed with an SMS number to which people can text to donate to the cause — and the claim that enough fentanyl entered the U.S. in 2018 to "kill every American."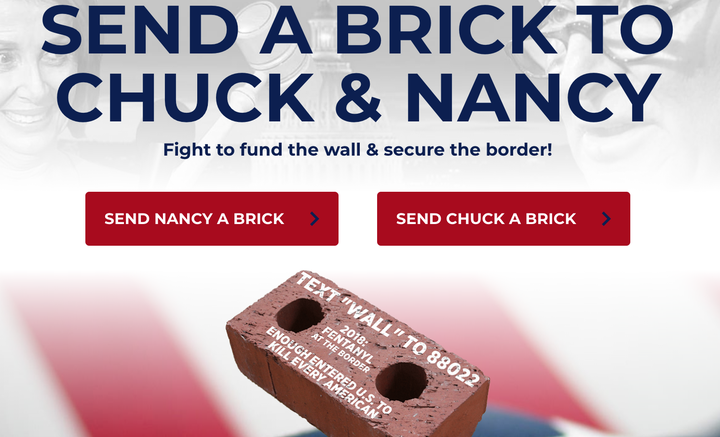 "President Trump came up with a brilliant idea to make sure Chuck and Nancy have no choice but to listen to the American people," reads the text on each of the "send Nancy a brick" and "send Chuck a brick" pages.
"We have set a goal to send 100,000 BRICKS to their offices to prove that WALLS WORK!" it adds. It allows people to "send" one brick for $20.20. Subsequent bricks work out at $20 each.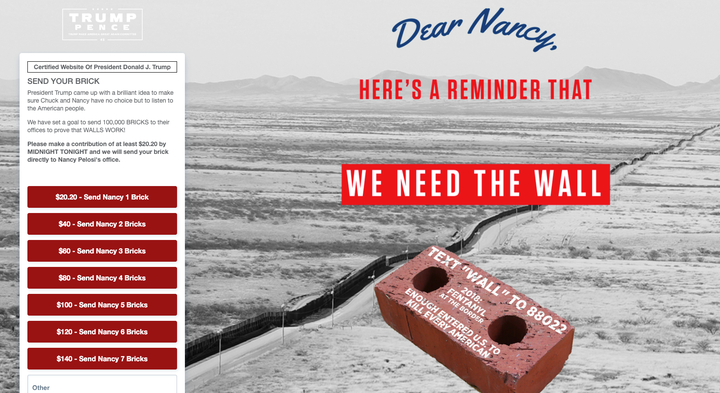 However, the small print reveals the bricks will be "faux." It also notes the money will go to the Trump Make America Great Again Committee ― "a joint fundraising committee composed of Donald J. Trump for President, Inc. and the Republican National Committee."
The stunt drew ire on Twitter, where people suggested ― among other things ― that the act of sending a brick (faux or otherwise) could have more sinister undertones: