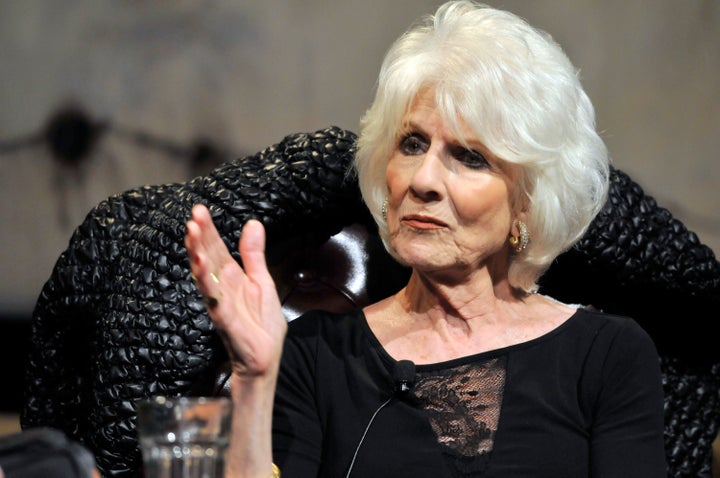 WASHINGTON ― For millions of people across the country who've been victims of sexual assault, the presidential election became unusually personal in the past several weeks, as Republican nominee Donald J. Trump bragged about his ability to grope women without their consent.
That boast was followed by at least a dozen women coming forward to say Trump had acted toward them in the way he described in leaked audio. The episode, said NPR talk-show host Diane Rehm, triggered memories of her own assault as a child, she told The Huffington Post in an interview.
Rehm said she chose not to share her story on "The Diane Rehm Show" in the context of Trump's remarks because she'd talked about it for a 1999 profile in The Washington Post, and had also written about it. "People have known about it, and what happened to me is in no way in comparison to what happened to these young women as they've been forced against their will to be manhandled by him," said Rehm.
At the age of 9, Rehm met a man who turned out to be a congressman. The man won her parents' trust and took Rehm out for the day by himself. He lured her to his hotel room and molested her. "I was a child, young enough yet smart enough to get out of that room and get out of there quickly," she said.
She was traumatized for years. "Every time I got on the streetcar, I was scared I might see him again. Every time I walked from my house on Tiller Street down to the Tivoli Theater on 14th and Park Road, I was scared I'd see him again. I mean that lasted a long long time," she said.
And then came Trump, whose behavior toward women Rehm finds deplorable. "That's despicable behavior that nobody, man nor woman, in this country can condone," she said. "And when Trump says these women are all lying or they're all seeking publicity for themselves or they're too fat or they're menstruating, I mean, that's just ugly, ugly talk."
""I'd have to sit with [Trump], I'd have to see his face, his body language. Unlike Terry Gross, who I know prefers to do interviews by phone or by ISDN, I really like to sit with people.""
Rehm said she has reached out to Trump's campaign to invite him for an interview. Were Trump running a typical campaign, he might be eager to sit down with Rehm to reach her massive audience. "We've asked, but his campaign has not responded," she said. If Trump did agree, she'd insist he come to the studio rather than phone in.
"I'd have to sit with him, I'd have to see his face, his body language. Unlike Terry Gross, who I know prefers to do interviews by phone or by ISDN, I really like to sit with people," she said, referring to the host of NPR's "Fresh Air." "I cannot imagine not asking him why in the world he wants ― why in the world he thinks he could be a great president. But I really would want to sit with him and hear his voice not through a teleprompter, not over a microphone in an auditorium, but face to face."
Trump's campaign, Rehm said, has been "just hideous. It has been such a shadow on our whole society and such a really ― kind of a feeling of what has our society come to? Rather than speaking out daily about issues that we might cover, it's just been this horrendous back and forth, and this awful claim of legitimacy and lack there of, and saying to the America public that the election is rigged. And that sort of thing really, really bothers me because it puts doubts in people's minds and makes people worry their vote doesn't count or doesn't matter, when in fact every vote counts."
Rehm, 80, is retiring from her day job after the election. She is the upcoming recipient of the International Women's Media Foundation Lifetime Achievement Award. "I felt it was time to bring a younger fresher voice in and to bring some new ideas in," she said.
She said she will continue acting in the play "Surviving Grace," producing a weekly podcast, and helping WAMU, her local public radio station in Washington, raise money for programming. She also plans to become more active on behalf of the death with dignity movement.
Rehm said her strong feelings about Trump's behavior toward women have not led her to speak out forcefully against him on her program. That, she said, is not her job. "I always have tried to bring people in who represent that point of view so that the American public can hear it directly from them. My role is to question both sides and to be as fair and as straightforward as I can be," she said.
I asked Rehm about a moment from a show I'd heard years ago, in which she chastised Mother Jones' David Corn for calling conservative activist Grover Norquist a liar on the air. The media have wrestled during the 2016 campaign with how to handle reporting on blatant lies.
Rehm vividly recalled the exchange. "I don't think you need to behave that way in public. You can say, 'You know, here are the facts as I see them,' rather than, 'You are a liar,' because that's ad hominem and I don't see the usefulness of that kind of direct unpleasantness on the air. That's the kind of behavior that I think ought to be relegated to somebody's personal living room. If they want to call somebody a liar at home, that's fine, but not on my program, thank you very much," she said.
"David was contrite afterwards. He apologized," she added.
That kind of discourse tends to degrade, she argued, and foreshadowed the current campaign. "And now to hear these words coming out of Trump's mouth, calling Hillary 'crooked Hillary,' it's just awful," she said.
Rehm said she understands, however, why Hillary Clinton has not gotten more traction. "I certainly understand the American people's frustration with the fact that Hillary has not put out every single word of her speeches, understand that because of her statements and the huge amount of money she's earned that there's mistrust about her," she said. She added: "I think it's totally unfair for the Trump campaign to try to pin her down because of the actions of her husband, who is not running for office."
Looking back on her 37 years on the air, Rehm said she was aware of the significant role that chance played. "I'm so honored to win this lifetime achievement award," she said. "I've truly been very fortunate in my life. I know luck has played a great big part in it."
Rehm said she took a course as a young woman at George Washington University called "new horizons for women," and her classmates encouraged her to get into broadcasting.
"I've never been to college, never taken a single course in broadcasting. Well, within a week, a friend of mine told me she was volunteering at this tiny little radio station less than two miles from my home and a light bulb went on in my head," Rehm recalled.
"I asked if they needed more volunteers and I went in the next week and the host was out sick and I was on the air the very first day," she said. "If you're not ready to open yourself and move forward when that luck comes your way it's all for naught."
Having the financial resources to volunteer also made it possible, she added. "The other thing I feel really lucky about is the fact my husband could support me through those years. If he hadn't been able to, and I had to go to work to support the family, I could never have done this," she said.
Popular in the Community