UPDATE: Sept. 4 ― During a news briefing on Wednesday, Yoshihide Suga, Japan's chief cabinet secretary, denied reports that President Donald Trump had brought up Pearl Harbor to Japanese Prime Minister Shinzo Abe at a meeting in June. 
"While I refrain from commenting on each and every media report, in any case this isn't true," Suga told reporters, according to Bloomberg. 
Japan has been regarded as one of the United States' strongest Asian allies, but President Donald Trump has made comments to Japanese Prime Minister Shinzo Abe suggesting he doesn't necessarily consider their relationship to be harmonious. 
"I'm on to the Japanese," the president reportedly added, after evoking the attack on the U.S. naval base back in 1941.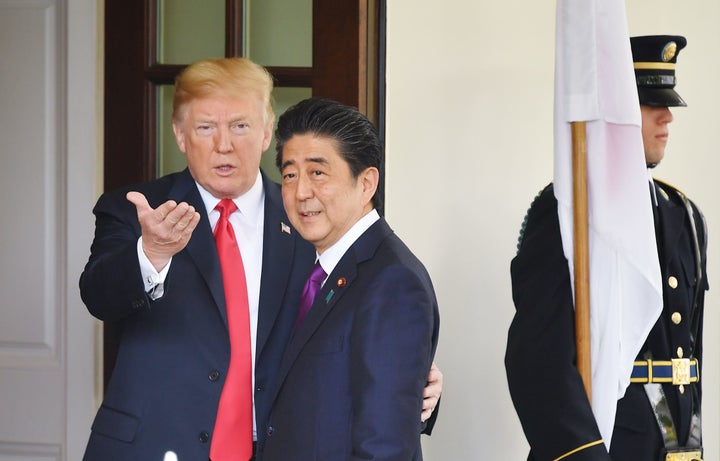 Abe had visited the U.S. just ahead of Trump's summit with North Korean leader Kim Jong Un in Singapore. The prime minister, a hardliner against North Korea, attempted to keep Trump from caving to any pressures from Kim, according to Reuters.
Their meeting grew tense, the Post reported, and Trump proceeded to condemn Japan's economic policies, bringing up the U.S. trade deficit with the country. 
"I've never heard him [trash]-talk Abe. And you can't say that about a lot of the world leaders," a U.S. official told the publication. 
The escalating trade war and Trump's relationship with North Korea have continued to be points of contention between the two countries. Japan has been concerned that the United States could threaten national security and throw off the balance of power in the region by cozying up to the Hermit Kingdom. 
Trump touted the summit in Singapore as a success, calling the signed joint agreement "very important" and "comprehensive." However, multiple North Korea experts labeled the document, which merely said North Korea would work toward denuclearization, as "vague" and "old news."
And though tensions in the region seem to have eased a bit, the Japanese defense ministry released a white paper on Tuesday saying that North Korea's "military actions represent an unprecedented serious and imminent threat to Japan's national security. There is no change in our basic recognition about the threat of North Korea's nuclear weapons and missiles."
Calling all HuffPost superfans!
Sign up for membership to become a founding member and help shape HuffPost's next chapter